This Poppy seeds and raspberries cake. is my birthday, well, it is not really mine, but the blog.'s cake Four years ago we started this journey, and I never never thought anyone else apart from my mother, my sister, my cousins and my friends would read what I write here.
It has rained a lot since then and although I want to think I have not changed, the blog has really changed a lot and my life also! This past year, which is where we celebrate, life has returned me to surprise and my face draws a smile almost at all times.
Last year TV Channel Canal Cocina rang again at my door, this time to offer me the most beautiful and amazing adventure that I have lived with the blog: my own television show. MakingShine with Loleta was a best gift, a luxury that I never dreamed of and of which I am very proud. Whenever I think of Shine with Loleta my face glows. The best of all, was your response, knowing that you follow it, that you are all vigilant to the recipes and to see me on TV.
Then came many precious projects, such as the video that I recorded with Dani Garcia, videos for WMF or the TV advertisement for The Rustik Bakery with Bimbo. All these projects and many more that I can't list here because I don't want to bore you, made me very happy, I've learned a lot from every one and ll of them will be with me forever.
But mostly I take this opportunity to thank you. This would not make any sense if you were not there on the other side, wondering, encouraging me, and making sense at all these hours I steal to resting to be here with you. Heartfelt thanks for cheering me up, following me, criticizing me when there is something you don't like but above all thank you for your time and your words of love, which are many and that I keep with me. You make me wake up every day very happy willing to meet you here, and making spending all this effort the best way to see time passing by. Happy birthday to everyone, because this birthday is yours also!
And as man does not live by words alone, I bring you a surprise, a good one, well four, one for each year, to celebrate with me this anniversary.
Starting next Monday and in the coming weeks, we will have various gifts in the form of sweepstakes blog. So I've prepared everything fondly looking for surprises with great enthusiasm, to try to give you back everything that you have given me, so hope you enjoy it.
The first will start the coming week and will be a lot of products BRA, which will consist of:
Infinity skillet 20 cm

Infinity skillet 24 cm

Efficient express pressure cooker
Infinity skillets are the star of this season's Bra. They have removable handle which makes that we can use them both in the traditional fire the oven. The pressure cooker is the comfort in the kitchen, to make a dish for hours of cooking in just half an hour will help you to be able to eat well more easily. So you'll have a few products that I have love.
Then will come the turn of Lékuéwith which you will try the microwave kitchen , and I hope you enjoy it as much as. I do The batch of products to overcome are:
Removable mold for charlotte

Kit ovo

Popcorn

Steam Hondo case
With these products you can Cook eggs in 40 seconds, make soups in 10 minutes and prepare some healthy popcorn in 3 minutes. A quick kitchen for micro complemented with the mold for shallots and cheesecakes that you will love just like my.
The third draw is a very special one. It comes from the hand of Exotic Fruit Box, a Málaga company, that brings fruit to your table directly from the tree. They are specialized in exotic fruits: mangos, kumquats, longans, granada, custard apple, papaya, guava and the best Avocados in the world, and they will get to you home so you can add color and flavor to all your dishes. The draw will be a box Exotic Fruit with an assortment of 4 kg of the best tropical fruit in season selected exclusively for you. In addition, they include a jtasting ar of homemade tropical jam so you lick your fingers. You ca also enjoy a lot of Loleta recipes in their blog.
And finally we will draw from Le Creuset that this year brings you a 24 cm cocotte of their new tone Riviera blue, a beautiful turquoise blue color that will add color to your table, and which must be accompanied by a spatula to make cooking easier. You know that I am a lover of Le Creuset products so I hope you have good luck.
I hope to see you here the year coming for my birthday, and that we are more, many more. One thing you can be sure: andof: I promise to continue striving, to bring you more recipes, to take you to travel to incredible sites and to give you the best. And all I ask in return is that you stay here with me.
I know that the coming year we will be celebrating another bunch of good things. That why am I so sure? Well, because the best, is always to come.
All my love,, and now let's get started with this poppy seeds with raspberries cake , We have to blow the candles!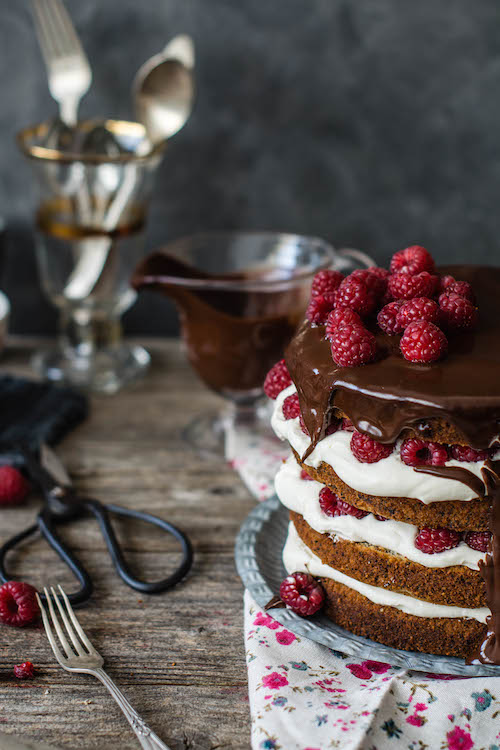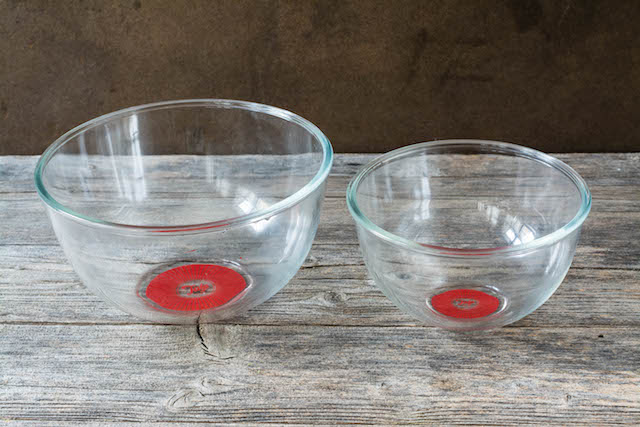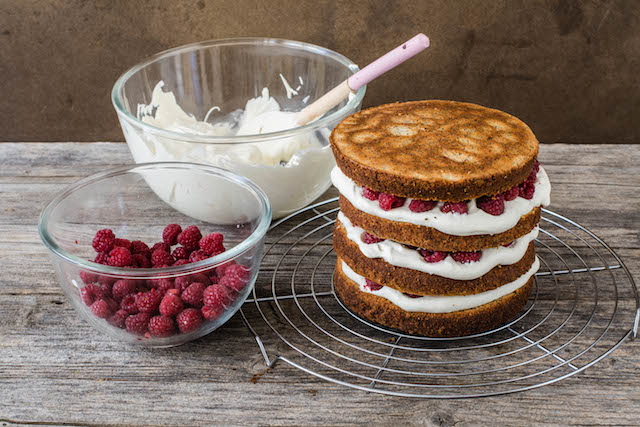 Ingredients
75 g poppy seeds €1.00

250 ml milk €0,20

butter at room temperature 250 €1.23

440 g sugar €0.35

6 eggs €0.80

300 g flour for pastry Santa Rita which is more like €0.25

2 teaspoons of powdered yeast €0.15

240 g of crushed hazelnuts made dust €1.50

240 g of liquid cream or sour cream €0.80
For the filling
250 g of mascarpone €1.85

300 ml custard cream (here the recipe) 0, €55

80 g of icing sugar €0,24

200 g chocolate finely chopped €1.00

375 g of raspberries €3,90
Total €11.83 that divided among 14 pieces that we will get from this delicious cake, it is €0.84 per each serving. Isn't it the best birthday cake at an unbeatable price?
Bowls and wooden spoon from from Tala Cooking
Directions
1 preheat the oven to 175 ° C. grease 4 round pans. If we don't have four equal mold, best to bake cakes separately. Grease well and put a paper to the bottom of each tin.
2. in a bowl put the poppy seeds and milk and let stand for at least 15 minutes.
3 Beat butter and sugar with an electric mixer for 6 minutes or until pale and fluffy. Then add the eggs, one by one, until they are well incorporated. In a bowl, mix the flour and the yeast.
4. Add the flour, hazelnuts flour, cream, and poppyseed milk mixture. Beat on low speed until combined. Distribute the dough between 4 moulds, or divide the amount between 4 in order to then get 4 equal biscuits.
5. bake each cake for about 25 minutes until when testing with a toothpick this comes out clean.
6 remove from the oven and let cool on a wire rack for a few minutes before removing from pan. Let cool completely on a wire rack.
7. Meanwhile, we can prepare the filling. Put the mascarpone with half the custard cream and powdered sugar in bowl of electric mixer with rods and beat on medium-high speed until firm peaks form. Divide the cream into three parts. Divide raspberries into four parts saving one for decoration.
8 put the chocolate and the remaining cream in a small saucepan. Move over heat until it is melted and cream is soft and smooth. Cool for 5 minutes.
9. on a pretty plate or serving platter (ideally a cake stand), put a first layer of our cake with raspberry poppy seed cake. It is important that the Biscuits are all equal. I use my harp to balance them. Place a portion of cream over and cover with raspberries. Repeat with the other two layers and finish with a cake up. Let fall a layer of chocolate cream and decorate with raspberries saved.
Tips and Tricks
We can bake the cakes from the cake with raspberries a few days poppy seeds before wrapping the cold cake in plastic wrap.

We can also freeze

Preparation time: 2 hours

Difficulty: easy

Servings: 14
& nb
Esta receta está basada en la del libro Super Gateaux que mi hijo Javi me regaló en Navidad y que me ha pedido que haga para celebrar este súper cumpleaños. Le encantó la foto del libro así que va por él