The Lagkage is a Danish multilayer cake (usually has two layers of cream but I wanted to make one more) which is very typical in birthday parties and dinners. Danes tend to use cream of vanilla, whipped cream and strawberries, marzipan and crushed macaroons to populate this cake. I chose to fill it with a cream of butter and a whipped mascarpone as well as all the berries I found: blackberries, strawberries, blueberries and raspberries.
The beauty of this cake is its lovely rustic look. It is very easy to assemble even if it seems impossible!
The cake is soft and sweet. It is made with brown sugar, which gives it a very nice toasted color, and with vanilla and spelt flour. Spelt flour is one of the most used in the confectionery of the Scandinavian countries, and since I discovered it, I use it often in my recipes to replace the traditional wheat flour normally used in most Western recipes.
Spelt is a grain that brings much energy but provides fewer calories than wheat flour. It has many proteins and a good amount of vitamin B, although it is not suitable for coeliacs. Its flavor is very nice and reminds a little of walnuts and is mostly used in the elaboration of breads.
Nothing I can't think best for my dinner cooks bloggers 2014. A cake at the height of the dinner that we served. I hope you enjoy it as much as I enjoyed in my house.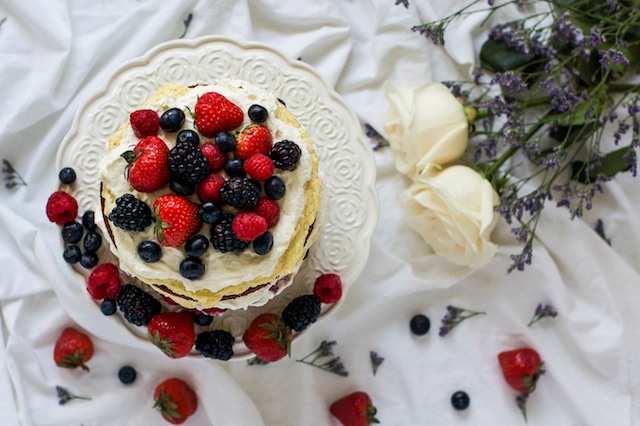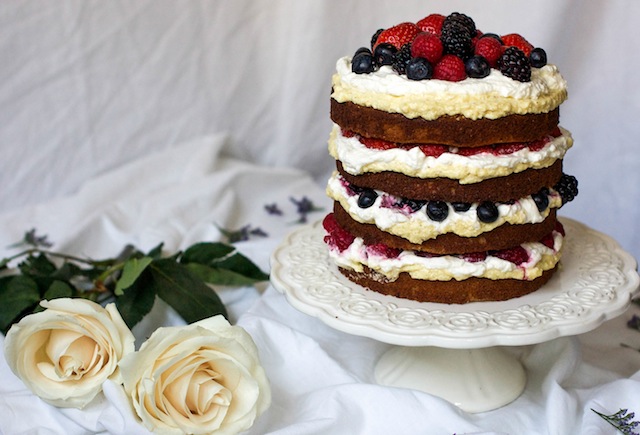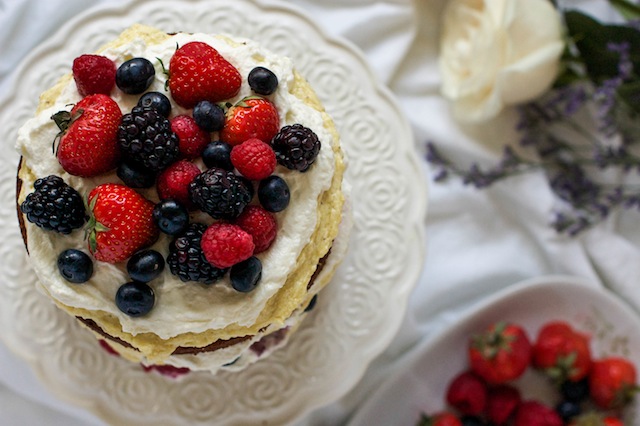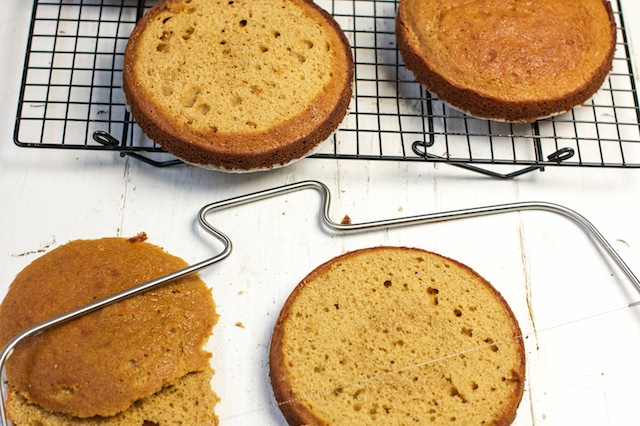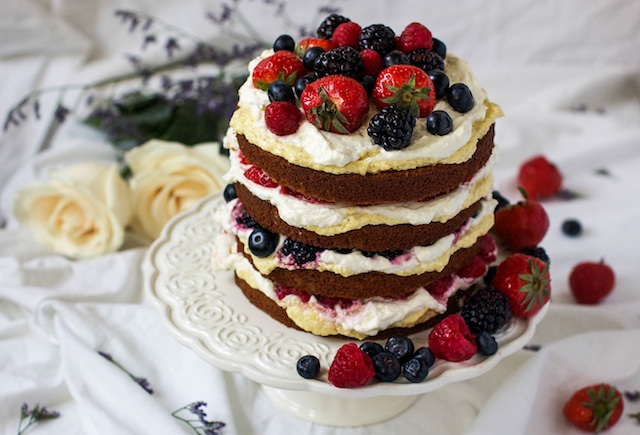 Ingredients
For biscuits
4 medium eggs €0,47
250 g of muscovado sugar €0.30
1 tablespoon pure vanilla extract €0.30
150 g butter €0,75
100 ml buttermilk (if you cannot find buttermilk, you can replace it by a creamy nonfat danone yogurt or the same amount of milk with the juice of half a lemon. The milk will be sour and that is what we want) €0,4
250 g of spelt flour €0.38
1 teaspoon and a half of powdered yeast €0.15
a pinch of salt €0.03
For the filling
150 gr of sugar €0.14
125 g butter €0.62
30 g of flour (I used florette who is a French flour that contains vanilla. You can also use cornstarch diluted in a little cold milk) 0.15
1 egg whole and yolk €0,20
220 g milk €0.11
1 tablespoon pure vanilla extract (I used vanilla bourbon paste) €0.30
100 g of strawberries €1.00
raspberries 100 g €1.00
100 g blackberries €1.00
100 g of blueberries black €1.00
For the cream with mascarpone
300 ml cream €0.85
150 g of mascarpone cheese €0.95
5 tablespoons sugar €0.30
1 teaspoon pure vanilla extract €0.15
Total €10.88 posed among the 12 parts that come out this delicious cake, €0.90 per serving. Spectacular, delicious and very pretty. Surprise with it at your next party!
Directions
1 Preheat the oven to 170 º hot air.
2. In the bowl of an electric mixer, beat the butter until it is soft and creamy and has doubled the volume and a clear color.
3. Then add the sugar and whisk for a couple of minutes on high speed. Then add the eggs one at a time beating well before adding the next. Add the buttermilk, vanilla, and salt and beat well.
4. Mix the spelt flour with the yeast and add it in tablespoons slowly taking care that there is nothing left on the walls of the bowl without mixing.
5. I wanted to make the cake with four layers. I used a mould of 15 cm and used 245 g of dough for each cake approximately. You can do it from 20 cm by dividing the dough into 3 equal amounts. It is important to well grease the mold (I do it with spray oil since it s very easy) and put a baking paper in the bottom of the pan to make it very easy to unmold each cake. Bake each cake for 15-17 minutes until a toothpick comes out clean when inserted in the middle.
6. Allow to cool on a wire rack until completely cool.
7. In a bowl, beat the eggs. Add vanilla and milk and mix with a whisk. Add the flour and sugar and put to fire medium non-stoppping moving rods until the cream thickens. If you see any lumps, you can sieve the mixture through a sieve and put back to the fire until the cream is well thick. It is important to do so over medium heat so that the cream won't burn.
8 Move the mixture to a bowl and allow to cool completely. Once the cream is cold. place the butter in the bowl of an electric mixer. When the butter is creamy, add the vanilla cream and beat at medium-high speed for about 5 minutes until the cream can be spread.
9. Wash the fruit well and even the cakes with the help of a knife or a cake lyre.
10. We make now the mascarpone cream. For this purpose it is essential that the cream is very cold (if it is not to low temperature, the cream will not rise well). So we put in a bowl the cream, vanilla and sugar and start beating with an electric whisk. When the cream has begun to thicken, add the mascarpone cheese and continue beating until the consistency is firm.
11 Assemble the cake beginning with a cake, place over a layer of custard cream and then some mascarpone cream. We finish covering with fruit and we start another layer until finishing with all the layers.
Tips and Tricks
Use only the fruit that you like. You will get a nice unicolor and uniform tone
Replace the mascarpone cheese with your favorite cream cheese.
Make a chocolate mousse instead of the cream cheese
Difficulty: easy
Preparation time: 1 hour
Seating: 12 servings