"The sacrifice of today is the success of tomorrow"
And after giving us a wonderful walk by the Trovehallerne market in Copenhagen, where we have already crushed everything, like a little dessert? We are going to take us a few delicious petit caramelized choux and are going to form this beautiful Tower.
When I did it, my son told me that he had to have gone to a TV cooking competition because he was perfect, lol, but on TV, nothing is easy.
The pasta choux It has always been traditional in my house. It is the things that my mother has always embroidered and I have been very lucky to have a good teacher. Since smaller I learned them to make and my friends sucked the toes when each year celebrating my birthday and put purple petit choux filled with creams with different flavours.
It is said that the Croquembouche (do not confuse with Saint Honoré) was popularized by the pastry chef and French chef known as the architect of the kitchen, Antoine Carême (1784-1833), offering it at a wedding and setting as well as a tradition, but there is no certainty that the originator of the recipe.
The recipe that I present today is a mixture of several I've used at various times: Thomas Keller, Paco Torreblanca and my mother is that I like most of all. My son love vanilla and I decided to form the pyramid with them to celebrate the Holy of my mother. I bring them to you, and I assure you, requires technique and patience, but... you get! And to top it off, this prescription participated in the challenge of cooking channel which is Cook for less than five euros a recipe for two or four people... amazing, isn't it? Look how well do so.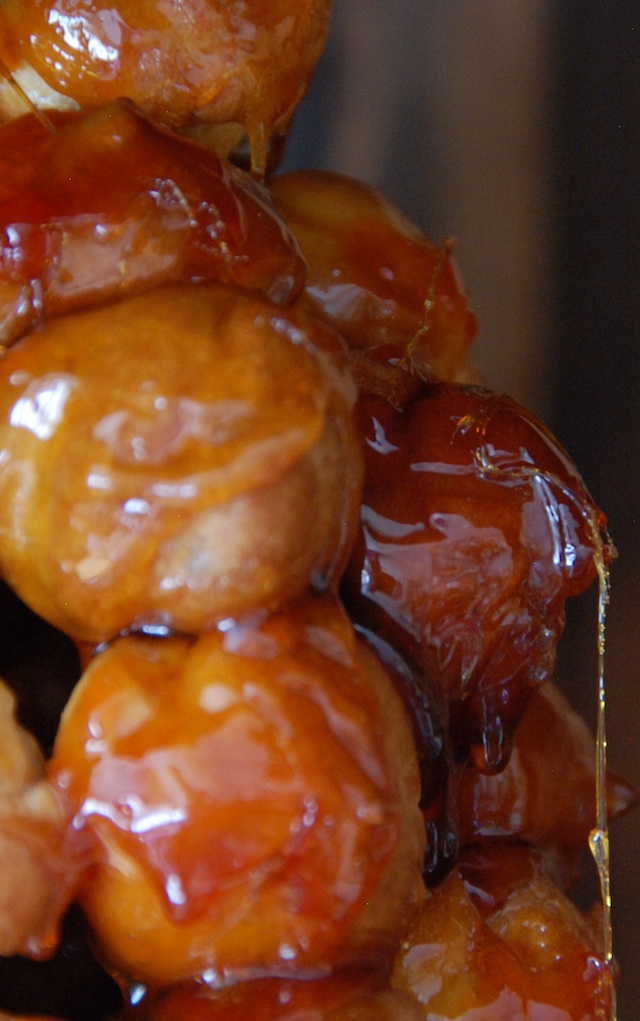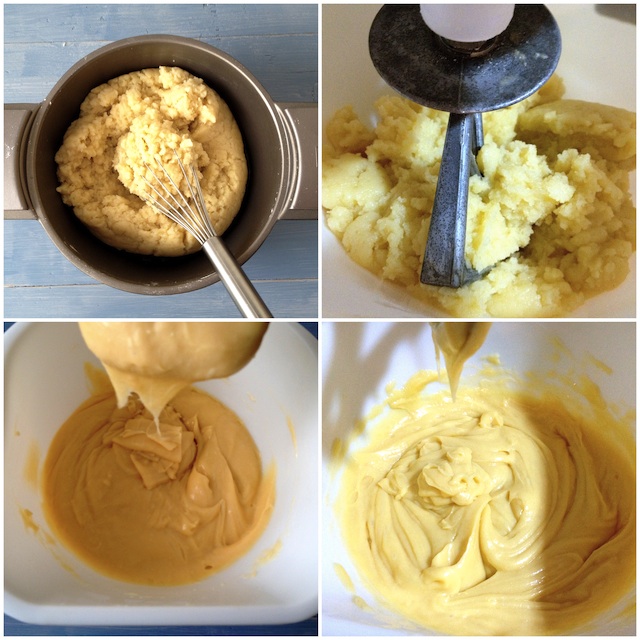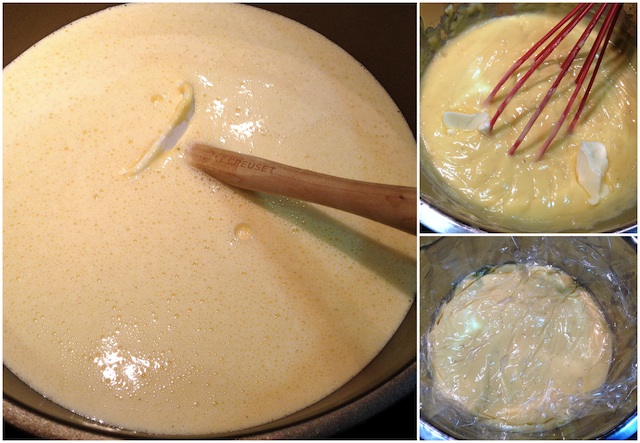 Ingredients
For the pasta choux:
500 gr of milk €0.25
250 g of butter €1.20
5 g of salt €0.01
275 g of flour sifted €0.12
20 g of sugar (optional because this mass can make sugar-free)
between 500 and 550 g eggs (in my case I used 9 large eggs which weighed 515 gr) €0.89
For the pastry cream:
4 egg yolks €0.30
1 tablespoon pure vanilla extract €0.15
110 gr of sugar €0.09
85 gr Crème Patissière or mixture of vanilla custard (usually cornstarch is used and if you want you can use it, but I prefer to enrich the cream in this way and not missed the opportunity to bring more flavor and color) €0.74
550 gr of milk €0.30
25 g butter diced €0.12
For the caramel:
800 g of sugar €0.66
280 ml water €0.03
Total € 4.86 that among the 4 proposed commensal, is € 1.22 per serving, that is baratísimo! Here the secret is in the labour force, technique and patience.
Directions
1 start with the small cabbage: prepare different trays of oven with baking paper or plant and spray anti-stick or greased with a little butter. I use trays that I have to bake cookies and I have several prepared at the same time. Book
2. prepare a manga pastry tip and book.
3 place in the electric mixer mix attachment (it is a blade similar to a T but above all it is important not to mix with a whisk if possible) and book.
4. in a saucepan put the milk, butter, sugar (if opt for add it) and the petit choux salt and heat to medium temperature. Be careful not to leave it to very high temperature since it boiled, and part of the milk of the ladle would evaporate, and need it all our dough. Move with the help of a wooden spoon until the butter is melted. The time that elapses until the butter melts will depend on temperature of butter and milk (if it was fridge or not) when you have used it. It is important that cooking time check it when the butter is melted.
5. once butter is melted, turn the heat to medium-high until it boils. Then remove from the heat and add the flour in the form of rain.
6. continue moving with a few rods for two minutes or until the flour is well incorporated.
7 return to the fire temperature medium and continue stirring with wooden spoon or a rod for a couple of minutes more until dough separates from the saucepan. The dough will look soft and glossy but not dry.
8. immediately move dough to a bowl of the electric mixer and begin to beat on low speed for 30 seconds.
9 gradually start adding eggs one to one. Beat well to integrate fully into the dough before adding the next egg. Continue adding eggs until the dough is off of the walls of the bowl. The number of eggs is never accurate because it depends on the humidity of the mass, so we must be attentive to the moment in which the mass off the bowl. At that time we will stop add eggs.
10 upload speed and beat for half a minute more. The dough should have a creamy consistency and form soft peaks when the plow is raised.
11 fill a glass with water and reserve.
12 move the dough to sleeve pastry and let cool.
13. once the dough is cooled to form small balls with our manga pastry. If a peak above slightly wet the tip of a finger in the glass of water and touch the surface of the ball to remove the beak and smoothing. If we do not wet the finger in water, us it will stick to the mass and the surface will not be uniform. Form approximately 6 rows of 6 balls on each cookie. In total, more than 100. It is important that all the balls are the same. To my I like tiny even if it means more work. If you do them very large when they are stuffed weigh much and our Tower will not withstand the weight.
14 Bake at 200 degrees in the oven mode air turbine for 20-25 minutes. If we don't have turbine will heat up and down, but in that case will have to be aware of them in the first batch to find out how many minutes we need to be ready.
15. While the petit choux of baking in the oven, we will prepare the pastelera crema vanilla. In bowl of electric mixer prepared with sticks, put the egg yolks and vanilla. Beat on medium for 1 minute speed.
16 slow down to a minimum and gradually add sugar. Increase speed and beat for two minutes. Down with a spatula that has been on the walls of the bowl and beat on medium for another three minutes speed again. Lift rods mixture should form small mounds.
17 return to start the mixer on low speed. Add the Crème Patissière and beat for one minute. Down with a spatula that has been pasted on the walls well moving background.
18 return to start-up the mixer to low speed and gradually add milk. Beat for one minute. Download which has been pasted on the walls with the help of a spatula, and beat on low speed for another minute more.
19 move the mixture to a saucepan and boil over medium heat until the cream begins to thicken. Beat with rods in a circular motion around the Pan taking care that the cream will not burn. Once the cream has bubbles on the surface move without stop and cook for five minutes until the cream is well thick. Remove from the heat.
20 pass the cream through a fine sieve to remove small lumps that have been left.
21 fill cold water sink a few inches (you can even put ice). Carefully place the bowl of cream inside that water does not wet the inside.
22 continue beating cream with rods for a few minutes to cool the cream a little. Then add the diced butter in twice.
23 pass the cream to a bowl and cover with plastic wrap. The plastic wrap should touch surface that does not form a crust of hard cream. Leave to cool.
24. Meanwhile, we will have taken the petit choux in the oven after 20-25 minutes, and let them cool completely before filling them.
25. with the help of a number 1 nozzle or with a wooden skewer, make small incisions on the bottom of the petit choux so that we can then fill with ease.
26. When is the cream completely cool, come back to beat a few rods to recover its creaminess.
27 put cream in a sleeve pastry nozzle preferably fill (are some special nozzles that have very long mouth to be able to penetrate into the petit choux). Begin to fill all the petits choux.
28. prepare a cone mounting. To cover a Cork (porexpan) with silpat or baking paper cone. This paper will have the function that candy will not stick to the cone, which serves as a "blocker". We adhere it to the cone using paper zeal. We take care of that zeal paper is inside because if we let it out, with the heat of candy will it melt and eat it literally our Petit choux. They even sell special kits for mounting the cone, but I I workaround with a cork lined with a silpat finite cone.
29. when have finished filling the petit choux, do the candy. To do this, place the ingredients of the candy in a pan and caramelize for about 15-20 minutes until the caramel is golden and shiny. You have to reach the temperature of 160 degrees and then remove it from fire so it won't burn. If it burns, it would have to start from scratch because bitter right away.
30 and now, we start with the installation of the tower. In my case, I made a horizontal base of petit choux on which I placed the pyramid, but you can use a cardboard tray or a base of pastry which is more convenient to place the Tower of petit choux and it is balanced. We are bathing the petit choux in Candy Gold on two sides so we can paste it one to another on the cone. Then dip in candy other petit choux and paste it with we have on the cone. It will have to work with each other to complete a row, and then start another. Thus ending the full cone.
31 cool at least 30 minutes candy before removing cone. It must be done carefully so not to break the pyramid. Ideally, that you will help a person between the two, one remove the cone below, and the other hold the croquembouche.
32 note that tower is kept in balance, but I you would not take much to present it. Be careful also with the heat and humidity, that makes you dilate and slide. Moreover, ready and... surprise your guests!
Tips and Tricks
Level of difficulty: high

Preparation time: 2 hours approximately
Seating: 4 persons
Used as base a sheet of rolled puff pastry by cutting the diameter of our cone of Cork.
Use a frosting instead of candy. The effect is just as nice although you will lose the crispy. It is a good solution for the summer and have a very humid climate.
Fill your favorite cream, perfuming this same cream with lemon, Orange, strawberry, coffee, chocolate...
With this delicate dessert I am going to recommend a sweet Muscatel wine. Zumbral Bodegas Dimobe made 100% from grapes Moscatel de Alejandría It is a type of grape that occurs in the Axarquía malagueña. A bottle that will accompany many desktops. Your price €13.80. Serve it cold.