"Do not seek success, find happiness"
Now is the coveted summer, and with it a very demanded recipe... two months ago that it was not published a tart. Soon we will enjoy the holidays (some do already...) and with them in the Sun and the beach. One of the pleasures that I enjoy more and more. But never tired. And it is that I am addicted Sun and suitcases, and the beach... What can we do!.
I've lucky enough to visit many beaches, some of them national and many others in distant countries, in stunning corners surrounded by wild nature. Here you have two of my favorites, of the best beaches in the world so you can see the wonders that hides our planet.
At this time we began to look in the mirror and wonder what this will be in bikini This summer. The answer is almost never positive, and we torture ourselves wanting to lose a few days those pounds that almost nobody seems to him we are unnecessary but that we we strive to want to lose. This is my whim, my rest between so much lettuce. A bit of pleasure in the form of a lovely cake which is delicious. Call it cake watercolor because the first time that I I did, my mother saw her said "but if it looks like a watercolor! ", and so remained, with the name of cake watercolors, as the colors of the sea and the beaches we visited.: blue, water violet and Navy." I hope you enjoy it as much and you enjoy it as much as mine do it whenever I do it. Let's go for it!.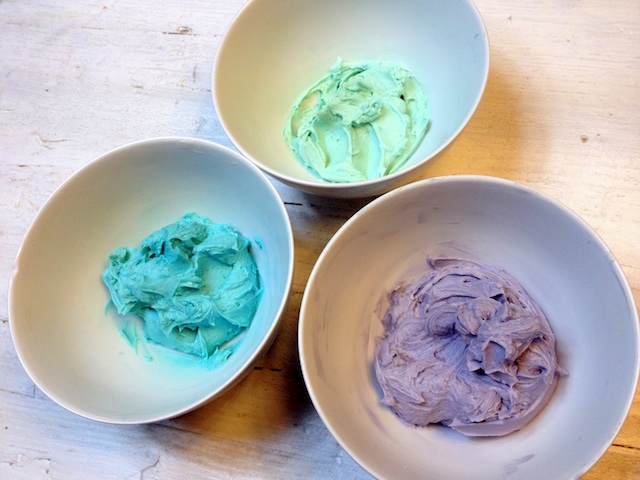 Ingredients
For cake
1 cup and a half of flour €0.35
1 cup and 1/3 of sugar €0,50
1/2 cup of pure cocoa powder €0.70
1 teaspoon and 1/4 of baking powder €0,05
1 teaspoon and 1/4 baking soda €0.07
1 pinch salt €0.01
140 ml buttermilk - if you don't have buttermilk can replace this amount for the same amount of creamy nonfat yogurt Danone or the same amount of milk with a dash of vinegar. €0.30
hot 130 ml of water with a tablespoon of dissolved maple syrup, Cola-Cao tablespoon and teaspoon of nescafe (you can use the same amount of black coffee but to my I like more so) €0.25
75 ml of vegetable oil €0,20
2 eggs at room temperature €0.24
1 tablespoon pure vanilla extract €0.52
For the vanilla and cheese
375 g of butter at temperature room €2.40
400 g of icing sugar €1.44
45 ml milk €0.03
15 ml of pure vanilla extract €0.52
a pinch of salt €0.01
a couple of drops of blue dye, a green and a violet.
Total €7.59, or what is the same, €0.75 per serving, which is a great price for a cake that will leave everyone with their mouths open. That if I work if you have a lot, but if you do it you, surely you will be more than satisfied and rewarded.
Directions
1 Preheat the oven to 180 C degrees.
2. prepare 3 molds of 15 cms, lubricate with grease spray and placing a tracing paper on the bottom to prevent sticking. We shall also paper to make sure that the cake Pan perfectly. If we don't have 3 molds, repeat this operation three times whenever we horneemos a cake.
3. in bowl of an electric mixer, add the dry ingredients: flour, sugar, cocoa, yeast, baking soda, and salt. Mix with a spoon.
4. Add the remaining ingredients (buttermilk, oil, eggs and vanilla) and mix with an electric mixer for 2 minutes on medium speed. Add the water with hot coffee and mix well for a couple of minutes more.
5 spread mixture in 3 molds (or 3 bowls) if we don't have 3 molds, all out of the same size. The mixture will look like liquid.
6 bake for about 25-30 minutes. Pierce with a toothpick to see if they are made. Let cool on a rack, turning them over so the cake compact.
7. in bowl of an electric mixer Beat butter on speed media for a few minutes until the butter is creamy and pale.
8. Add the remaining ingredients (powdered sugar, milk and vanilla) and mix on low speed for 1 minute and then average rate during 6 minutes more.
9. to assemble cake, well level three biscuits so that all are the same thickness.
10 place the first cake and cover with the frosting or Buttercream.
11 place the second cake on top and cover with the cream.
12 place the third cake and completely cover the cake with a thin layer of cream.
13 let refrigerate 15 minutes.
14. Meanwhile spread the rest of the frosting or Buttercream into 3 bowls. Put a drop of blue dye in the first, a drop of blue and green in the second and a few drops of violet dye in the third. (Depending on the type of dye that you use, you will need more or less amount to achieve the desired tonality. I use Wilton)
15. with a large spatula start with blue dark to cover the lower lateral half of the cake. A thick layer on principle should be.
16. with the blue clear by pulling green cover the upper side. The layer should be thick.
17. with the cream that we have purple we'll cover the top of the cake, taking care that is thin and well smooth.
18. with the help of a spatula we will be polishing the sides of the cake. A turntable is ideal for this operation because we will make it much more easy to operation. The spatula should be almost upright to go polishing full height the cake. With patience you will be a beautiful cake. Not temasi of mixing colors with that a little bit effect will be a mixture of colors that you will remember the beach...
Tips and Tricks
-A mold of 20 cm use 1.5 times the recipe of the cake and one of frosting

-You can decorate the top of the cake with decorative ball of colours in tune with the rest

-Once the cake, you can freeze it completes without any qualms. You will hold perfectly in the freezer. The time of defrosting it will be about four or five hours, or you can also pass it the night before to the fridge.

Level of difficulty: difficult
Preparation time: 2 hours
Seating: 10 servings
What if this very rich trafficking in us take it a delicious lemonade?. Of course that which we prepare at home are the best, but we don't always have time. Ice cream parlor are incredible but are rather faces if we have picnic to 8 people. So I always have at home a common lemonade frozen gluten sold in Mercadona (very good and cheap). Frozen lemon granita with no added sugar Brand Farmersold it in packages of 6 vessels and its price is €1,95, i.e. €0.32 each glass. A very good price for a natural drink and refreshing ideal for this time of the year.
Tarta Sweetapolita Pastel Swirl cake