The tacos Al pastor are almost always made of pork, sometimes beef and rarely fish. I was fortunate to share with Chef Dani García (two Michelin stars), one of the most fun and interesting days in my life. This was a multi activity organized in the hotel Puente Romano in Marbella and which consisted in a ronqueo of tuna fish freshly fished that morning by Gadira (Barbate) in the almabrabas of Cadiz, an Iberian pig butchering and a workshop of artisan beer. Then Dani gave us a master class in which he taught us how to cook some dishes new to the menu in his restaurant for the new season.
Here is the video that his production company recorded for this special day and guess who participated actively in he video to cover he event!
Tuna, pork & beer By Dani García from Dani Garcia group on Vimeo.
We ended up with a wonderful dinner with over seven dishes made with tuna and pork. Owesome!. Among them a taco al pastor made with tuna.
Inspired in him once again, today I bring you these tacos Al pastor of bonito.Bonito is a finer fish than tuna but its meat seemed ideal to me for this dish. This is not the Dani García recipe, but in remembrance of that fantastic day, here's my version, my recipe.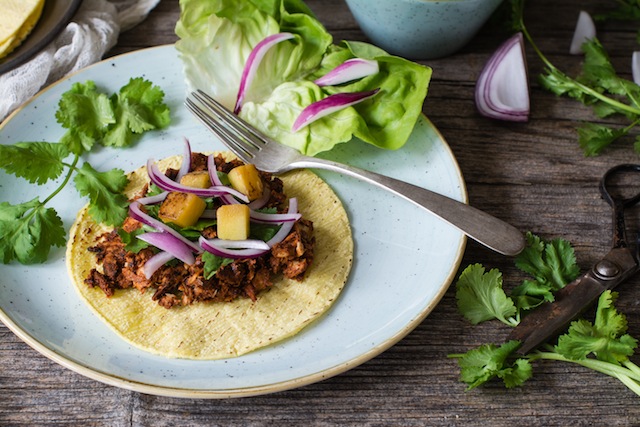 Ingredients
For the sauce
600 g of bonito meat - must ask the fishmonger to clean it completely from bones and skin
Salt €5,00
2 Chiles (20 g) €0,20
3 slices of pineapple shell without heart €0.25
1 orange €0,20
1/4 bar of Achiote paste (25 gr) €0.35
1/2 teaspoon Oregano €0.05
1/2 teaspoon of cumin €0.05
2 tablespoons of Apple Cider vinegar €0.10
1 clove of garlic €0.15
Pepper to taste €0.05
1/4 red onion €0.10
To assemble the tacos
1/2 red onion €0,20
2 lemons €0.35
10 corn tortillas €0.85
4 branches of coriander (40 gr) €0.30
1 tablespoon of olive oil €0.05
Total €8.7 for 10 portions, meaning €0.87 for each taco. Cheap as usual and rich as it could not be otherwise. Enjoy the recipe!
Directions
1. in a saucepan put the chiles and let boil in water for a few minutes until softened. Open them and remove the pips. book.
2. clean pineapple and leave it without skin and without the Center. Book
3. In an electric mixer Bowl put clean chilli, 1 slice of clean pineapple, orange juice, 1/4 red onion, garlic, oregano, cumin, 2 tablespoons of Apple Cider vinegar, a little freshly ground black pepper, and achiote paste. Blend well until you get a uniform paste. Book.
4. Cut the tuna into strips. Add salt. Cover with the sauce and let marinate for a few hours. As always in the Marinades ideally let a whole night. At least must be 4 or 5 hours marinate.
5. Chop fresh coriander and set aside in a bowl. Cut the rest of the red onion finely and place in a dish. Cut a few lemon wedges and set aside.
6. In a large, Hot Skillet sauté the tuna until it is ready. It is not necessary to add the paste since the fish will have taken the flavor of the marinade, but depends on how intense that you like the taste you can add more or less.
7. Cut pineapple slices into cubes. In a pan sauté the pineapple roasting on all sides a couple of minutes until lightly browned. Book
8. In another pan, heat corn tortillas on both sides.
9. To assemble tacos, take a tortilla, put some strips of tuna, over a bit of cilantro. Over it a little onion and pieces of roasted pineapple. It is important to add the ingredients in this order. Enjoy!
Tips and Tricks
Tacos Al pastor are almost always open on the extended tortilla, but you can take them as you want!
Try to make them with beef instead of tuna
Difficulty: easy
Preparation time: 30 minutes more time of marinated
Servings: 7 tacos