"There is nothing so daring as ignorance"
One of my favorite streets in Madrid is the street Fernando VI. This street, which for a long time as well as the entire neighborhood plunged into a decadent atmosphere, is from a few years ago, one of the most comprehensive in the capital. In its 270 meters welcome some of my favorite shops in Madrid, some recent and some great slab, which today will tell you.
I hope that on your next visit to Madrid you bother to visit it because as you can see... it's a very complete street!. But today I bring you a Bundt cake lemon with poppy seeds and icing You licking your fingers. A different way to take a biscuit snack that will delight the entire family.
Bundt is a type of striated ring mold. It is originally from Germany but spread its use in the United States in the 50 and today they are made everywhere. Pans best for them are the of Nordic WareAmerican brand that manufactures them in different sizes and with different ways (even established on 15 November as the day of the Bundt Cake since since they began to manufacture it have sold more than 60 million of this type of moulds!). I hope you like it as much. Poppy seeds give a crunchy touch to this soft sponge cake that will be one of your favorite.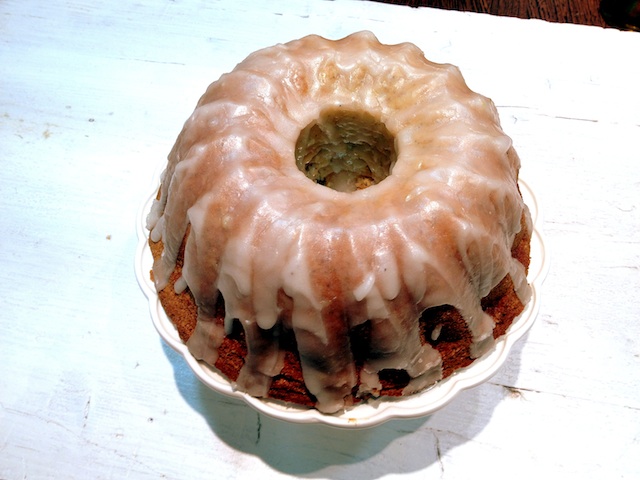 Ingredients
For cake:
130 grs of at room temperature unsalted butter €0.45
375 GR sugar €0.41
zest of two lemons and a half (in total we will use for the recipe the zest and the juice of three lemons) €0.08
23 grams of more poppy seeds 1 tablespoon more for decorating €0.45
250 ml of milk at a temperature ambient €0.10
350 g flour €0.34
3 teaspoons baking powder €0.23
1/2 teaspoon salt €0.05
5 egg whites €0,47
1 tablespoon sugar €0.15
For syrup:
the juice of a lemon and a half and the zest of half a lemon €0.12
75 GR sugar €0.08
For lemon glaze:
the juice of a lemon and half €0.06

375 g of icing sugar €0.41
Total €3.44, which divided among the 10 generous servings that come out of this cake price is € 0.34 ration. There is no breakfast or cheap and delicious snack.
Directions
1 preheat the oven to 170 ° C and grease the Bundt Pan very well.
2. in the bowl of an electric mixer, put the butter soft, sugar cake, the zest of two lemons and half and poppy seeds. Beat at medium speed until all ingredients are well incoprporados. Do not worry if the mixture seems a little divided.
3. gradually add the milk and beat on medium-low speed until everything is well mixed. Don't worry if the mixture is still a little divided.
4. in another bowl, mix flour, baking powder and salt. Add this mixture three times to the butter mixture: add one-third of the flour mixture and batiremos well on medium speed until well incorporated. Then with a spatula descend what has been glued to the sides of the bowl and add another third of the flour mixture. Return to stir and lower walls what is left without mixing and add the last part of the flour mixture. Mix at medium-high speed until the dough is soft and fluffy.
5. in a separate bowl we batiremos whites and when they start to foam, add the tablespoon of sugar. Continue mixing on medium-high speed until soft peaks form.
6 Tip whites about the mass of Baba stirring with a spatula and outflanking to avoid the mixture down.
7 tip dough onto Bundt mould leaving the surface as level as possible. Bake about 30 minutes, or until it runs clear when pierced with a skewer or the tip of a knife, and if remains of cake.
8. While the cake is in the oven, we will make our syrup. In a saucepan put the lemon zest, juice and sugar to a boil over low heat. Once it boils increase heat and boil until the volume is reduced by half, or until syrup has become a bit rank.
9. when we take the cake from the oven, pour the syrup over it. Leave to cool slightly in the pan. Once you have lost part of the heat, unmold and cool completely on a wire rack.
10. While the cake cools, we can prepare our glaze. In a bowl, mix the lemon juice and the sugar icing until it has a smooth but thick consistency (the mixture will be very thick but it will be possible to pour it. If it is too thick add a little water to dilute it a bit.
11. with the help of a spoon go pouring the glaze over the cake that will be placed on a grid. You must make multiple passes so that the icing acquires thickness and the same white color becomes more intense on the sponge. I gave about six passes to get the color you see in this Bundt. Sprinkle if you will with poppy seeds. Allow to dry for half an hour the glaze.
12. when the cake is completely cool and icing has hardened, pass it on to a plate of cake.. .and enjoy!.
Tips and Tricks
If you have a Bundt pan and you resist (I don't know how!) to buy one, you can use a mold of thread but Bundt molds are higher so if you do it in one thread will be leftovers you mass. If that happens we use the excess dough to fill capsules of cupcakes you can also glaze. They are delicious.
The brand Nordic Ware Bundt molds are very good. They have a very thick layer of metal that makes heat very well distributed and the cake rise equal everywhere. They are precious and there are different sizes and shapes. They sell them at Taste of America, El Corte Inglés and in some shops specializing in pastry.
But if you can not or do not want to spend so much, they also sell them in Lidl and are good. I wouldn't recommend you the moulds of the Chinese because the cake almost always will be you raw on the inside or burned out since they are not of good quality.
If you use a Crown-shaped Silicon mold will be opened and the cake will not be so beautiful since they have no strength to support the weight of the mass.
If you want to make a softer cake lemon, process the lemon juice to make the syrup for the same amount of water (about 3 tablespoons). So the cake will have a smooth lemon flavor, although to my I love the flavor of this Bundt.
Difficulty level: intermediate
Preparation time: 60 minutes
Servings: 10
It is a typical sweet of breakfast and snack I am going to recommend taking it with a white chocolate. You don't have the consistency of our chocolate to the bowl, but rather a Cola-Cao, but its sweet flavor is delicious and goes well with the lemon. Which I recommend is the brand Whittard and is Luxury White Hot Chocolate. You can find it on Amazon and in shops and supermarkets English. Its price is €6.00 the pot of 375 grams for many cups of the delicious warm drink.