Having no need magic tricks
Today we will not travel to any place, today we will travel in time. It seems incredible but the blog already meets two years!... and sorry that you can not resist to take stock of what have been these last twelve months (here's the of the) first year). It has been a very intense year in publications of recipes and travel which, thanks to you, a lot of great things have happened. If you want it all saberlo wind here
To celebrate this anniversary, and coming from this blog, that the best gift that a delicious Multilayer cake with cake and banana Italian meringue which are you taste in mind for life... Congratulations to you also!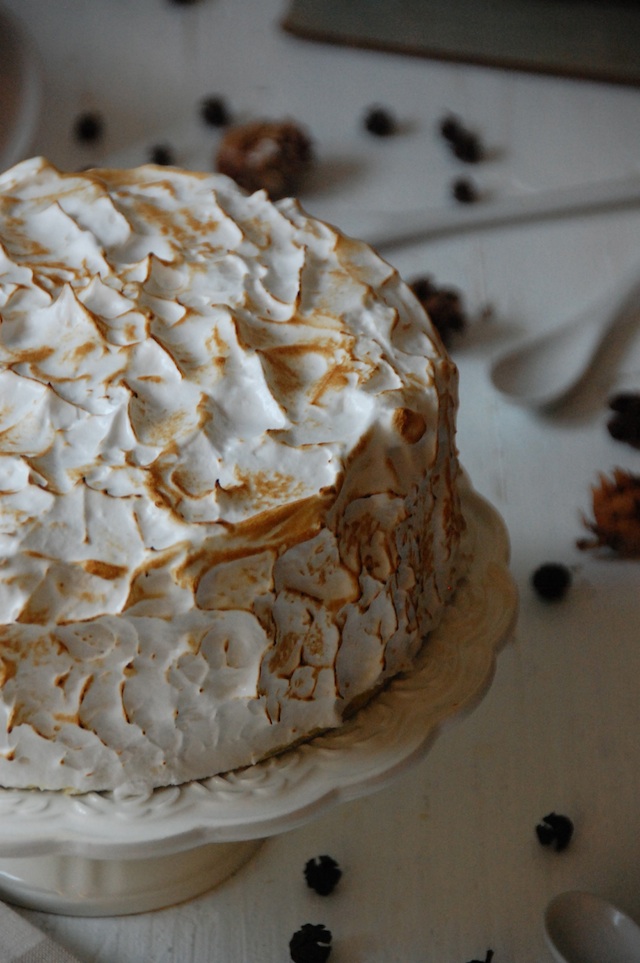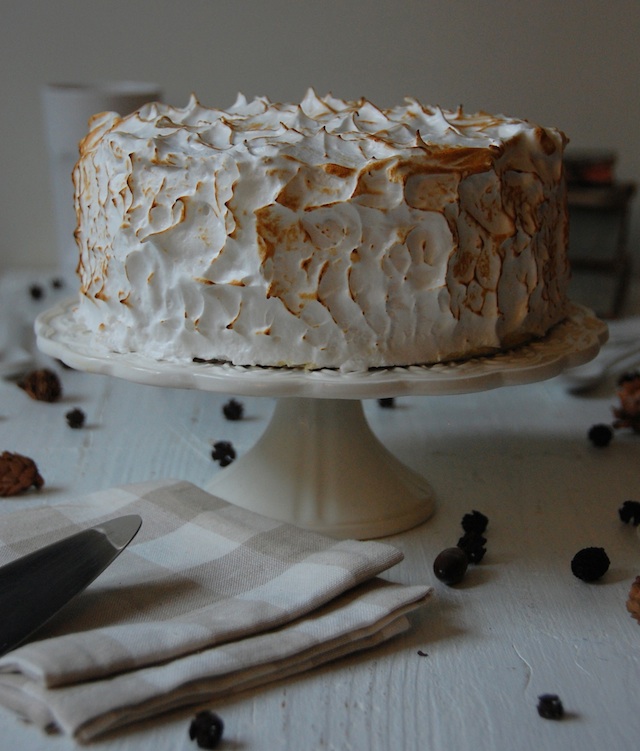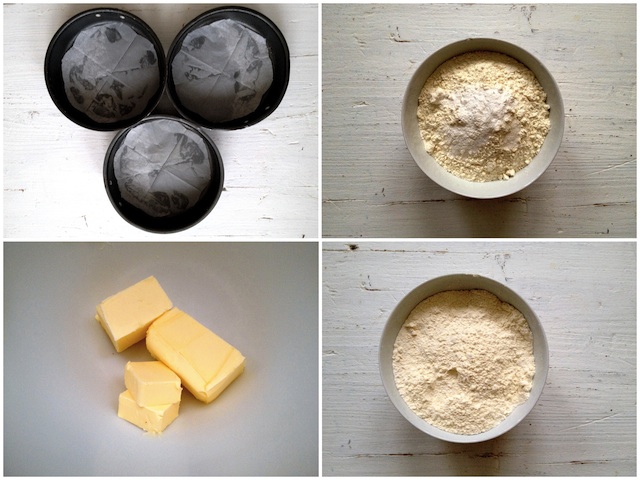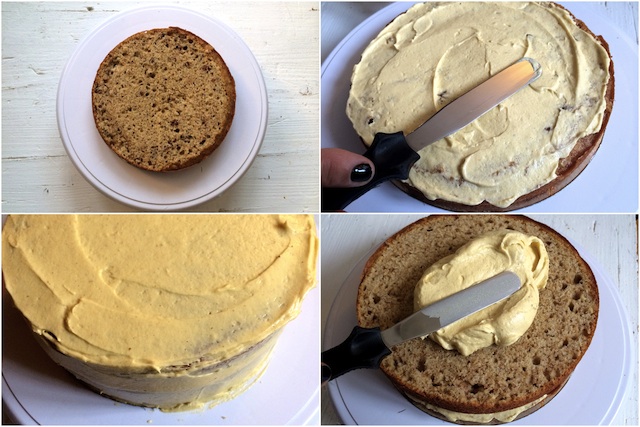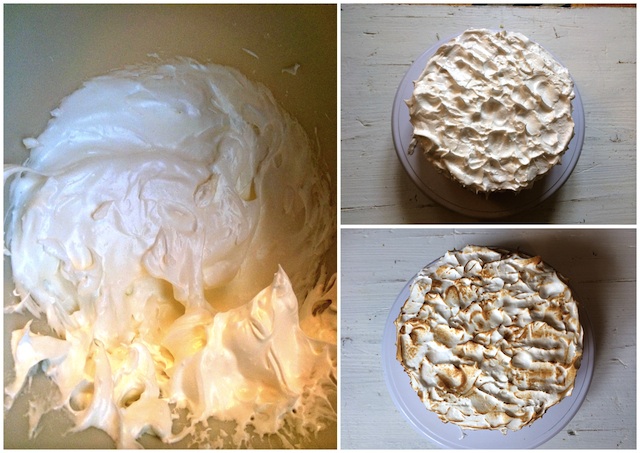 Ingredients
For the sponge:
390gr flour
1 teaspoon of yeast
1/4 teaspoon salt
1/2 teaspoon baking soda
225g soft unsalted butter
465g sugar
3 large eggs
350g crushed bananas (as my son doesn't like bananas at home, I trick him by passing bananas through the minipimer so that there are no lumps left and so he doesn't notice that he wears them)
115g buttermilk
1 tablespoon pure vanilla extract (15 ml)
For vanilla cream:
150g sugar
125 g butter
30g flour
1 whole egg and a yolk
220g milk
1 tablespoon pure vanilla extract (I used bourbon vanilla paste)
For the Italian meringue:
2 large egg whites
150g sugar
38g water
/ box]
Directions
1 Preheat oven to 165 degrees. Grease two 20 cm molds (I chose to do two-story cake so I bake 3 molds instead of two by dividing the amount of dough into 3).
2. in a bowl mix the flour, the baking soda, salt and yeast.
3. in bowl of electric mixer, beat the butter until you have a texture creams and you switched to a lighter color.
4 gradually add sugar and beat on medium for 3 minutes speed more until the mixture is fluffy.
5 Add eggs to temperature environment one at a time beating well after each one so that the mixture is always homogeneous.
6. Add the bananas (in my case pureed). Mix well.
7. Add half of the mixture of flour and beat until everything is well incorporated, down with a spatula that has been left glued to the walls of the bowl.
8. Add the buttermilk, vanilla and the rest of the flour mixture and beat until batter is smooth.
9. I to add some texture added at this point a handful of walnuts stalks chopped into the mixture and removed by hand with a spatula to distribute them well by the entire mass.
10 pour mixture spreading it over the moulds (if you are going to make three cakes, should be about 560 grams of mixture for mould)... Bake for 25 minutes until click the sponge, needle comes out clean. If you are going to bake only two biscuits, you will then need more cooking time in the oven. As about 10-15 minutes more.
11 let cool outside the oven for about 10 minutes before removing from pan. This past time, unmold and cool completely on a wire rack.
12. once cold and with help of a liraYou can match them all at the same height so that our cake is perfect.
13 now turn to prepare the custard... Mix the flour and sugar in a saucepan.
14. in a bowl, beat the eggs. Add vanilla and milk and mix with a whisk.
15 Add to the saucepan and bring to medium without stopping of moving rods until the cream thickens. If you see any lumps are you, you can pass the mixture through a sieve and put back to the fire until the cream is well thick. It is important to do so over medium heat so that the cream won't burn... Move the mixture to a bowl and allow to cool completely.
16. once the cream is cold. place butter in bowl of electric mixer.
17. When is butter creamy, add the cream of vanilla and beat on medium-high for about 5 minutes speed until the cream can spread.
18. now we will prepare a meringue by putting boil water with sugar (syrup) when the syrup reaches 100 degrees start to beat the whites with the help of an electric mixer.
19 when the syrup reaches 120 degrees, remove from the heat and start adding it to our meringue. So descend the speed of the mixer to the minimum speed and add the syrup in the form of continuous thread but little by little.Once added the syrup, increase mixer speed and continue beating until meringue is smooth and shiny and it has lowered temperature.
20. Now assemble the cake. Place a sheet of sponge cake and cover it with buttercream.
21 place another cake. So until you finish. With the vanilla cream that has been us, cover the cake entirely and put it in the freezer for 10 minutes to allow the cake to settle.
22. with a spatula, cover our meringue cake.Finally with the help of a torch, burn meringue irregularly. Ready to take.
Tips and Tricks
Bake only the cake for a snack. 'Ll find it you delicious with tea, hot chocolate or even an ice cream shake. Rich, rich.
Replaced the vanilla cream with a chocolate. The contrast is very rich. -If you want you can add some nuts (I added Pecans), or hazelnuts or pistachios. Experiment with your favorite dried fruit.
Prepare the cake in advance (holds up to 3 days well wrapped in plastic wrap or you can even freeze it).
Get the eve the custard so it cools to room temperature and then refrigerate.
Difficulty level: intermediate
Preparation time: 2 hours approximately
Servings: 12
With this soft delicious cake I am going to recommend a creamy liqueur for the white chocolate lovers: Mozart White Chocolate with a delicious touch of vanilla and caramel. Rich, rich. €16,50.