"I have come at last to what he wanted to be Mayor: a child"
We have fulfilled a year!… It seems incredible how quickly that time passes, and it sounds like a cliché, but it is true. Loleta and I have to walk together in this new path that has taken my life a year ago. In a year it's been a lot of things, but I have no conscience of which 12 full months have passed. My impression is that it has very fast, been a while although it has been very intense.
The blog began to walk a fair year (end of February). It arose as a means to be able to communicate my two passions in life: the agency and cooking. In principle spent you the time which had a free but gradually began to take up more and more time to what it is today: my world.
The first push came from the hand of Telva. They called a contest, the London Blogging Day to celebrate the opening of the Olympic Games of London 2013. He had to prepare a post focused on London. I I decided by Would you like a cup of tea?a post on the art of taking tea. There were many participants from throughout Spain, some very settled long ago. I received one of the best gifts I have ever received: was the winner of the contest with all that it meant to me, both personally and professionally.
Later came some interviews, such as La Opinión de Málaga that the journalist and writer prepared with so much affection. Alfonso Vazquez He made. It was my first interview and Alfonso managed that it felt comfortable to me and I forget that I was talking to a journalist!. (Thank you Alfonso)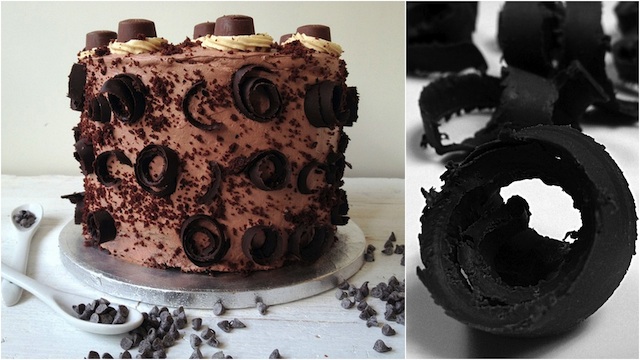 Aneto broths I also recognized in its first paella contest, classifying me Finalist (imagine, 12 in all Spain) and that many said that in the world of rice had little to say... There is the blog, among which they more recipes of different rice paella it has on the web... and that will come.
Then I began to collaborate on Cooking Classes in Inossidable (thank you Jesus), the first school of cuisine of Malaga and with Cuco Eventscompany - which have much love - specializing in events and celebrations (thanks Maica). With them I did my first cooking courses at the end of summer. You can never thank them enough trusting me, having opted for Loleta when almost nobody knew me.
Then came various reviews in several local newspapers and special interview "Follow that girl" that so carefully prepared Marina Martinez in the journal South. (Thanks Marina and Lorraine)
The radio also remembered me, both Rafaela Sanchez on Wave Zero, as Celia Bermejo Blue wave, they made me spend a few moments with Tickle in the stomach, but that was very much worth it. (Thanks Rafaela and Celia)
He stayed on the drawing board interview my friend Paco Rengel offered me his digital newspaper Ymalaga.com, but could never get to perform. We'll talk Paco. A strong Kiss!
Arrived projects of dessert tables, or as my I like to call them because they go beyond: Sweet Dreams, (look at that ebook It left there) as performed for a 40 birthday at the Beach Club of the padlock (thank you suck) which proved a success, or that I prepared for a wedding at the restaurant Limonar 40 where the intending spouses and guests were very happy (thanks Arancha and Carlos).
Since then, I have expanded my collaborations. Earlier this year I started with Taste of America (Thanks Laura, Nacho and Jorge), the American store of my dreams which opened franchise in Malaga at the end of last year and that so successfully is starting their way in our city. With them I make pastries and American food workshops every week giving an original and distinct products use.
I have also begun to collaborate with laboratory of flavors. One of the schools of cuisine that following the momentum of the gastronomy in our city opened last year. This new school located in SOHO from Malaga, gives a different format so far unknown in our city: students cook their own food as directed by the teacher. When you complete the course, students sit at the table to eat the dishes they have cooked themselves. (Thank you Mercedes, Elisabeth and Antonio)
Finally, wouldn't be anyone without you. I'll tell you a secret, you know from how many countries follow me? More than 20... Yes, really, from Australia to India, passing through South America... This network is barbaric. Without all those who are there, one by one, beyond the 80 post published this year, apart from the 100,000 hits to the website, which you have subscribed, more than 600 friends on Facebook, many others on Twitter, Pinterest and Instagram, alentáis and fancy with your comments, or your visit, and your attendance to the courses. Thanks for your generosity for sharing with me the most valuable thing we have: our time. Thanks for following me, by your loyalty and your affection.
Let me also thank my family, and among them more even to my husband and my son, who are those who suffer with me falls and enjoy with me successes. Without them this project would not have been possible. Me would have given up long ago if it weren't for the unconditional support and unlimited faith in my.
For my part, I'm still with the same delusion the first day. I still think that I have a lot to tell, much enthusiasm, and eager to learn doing new things. I hope that every time may be more who you are there to see it. I have some projects that I hope to be confirm shortly (I will tell you) and I am sure that "best of the road is coming".
Thank you so much to all who have accompanied me throughout this year. Thanks to all who have trusted in my in one way or another. I promise to give it my all, I like transmit and I have the good fortune I passionate what I do. In return, I just I ask you to continue with me and that you will share it with all those who think that cooking and travel, may like it as well agrandaremos family of Loleta.
That is why I want to invite you to my party, that you become part of the celebration, so I have prepared a super birthday cake to share with you. As always, and how can it be otherwise: different and original. One to which I have called Cho-Ca-that. It's a tart multilayer of FOR(colate), CA(ramelo and peanuts) and THAT(so). It is very laborious, I notice, but the reward is worth it. Are you ready?... You can prepare in different phases and leave it frozen up to a month. I hope you enjoy it! For many more years!
Level of difficulty: difficult
Preparation time: 120 minutes
Guests: 22 people
Ingredients
For Tarta cheese:
30 chocolate peanuts diced butter (I used mini Rees but you can also use the large) €4.50
230 g butter soft €0.90
1 cup sugar €0,20
900 g of type Philadelphia cream cheese (I use the mercadona which I like a lot, but you can use any queno have added flavor, odea, natural) €4,00
1 packet of 75 g prepared custard cream or vanilla cream (I used an envelope of Birds Custard Cream I bought at a supermarket in English, but you can use any that is a preparation of vanilla, even one with vanilla custard cream or dessert) €0.49
4 eggs €0.46
2 teaspoons of powdered yeast €0.15
2 tablespoons peanuts fried Skinless €0.15
Cake cheese, €10,85 total. There are two delicious cheesecakes that we can prepare for independent dessert.
Cream candy:
800 grams of milk condensed €1.79
200 grams of brown sugar €0.40
320 grams of butter €1.28
200 ml of cream (35% FAT) €0.47
10 toffee candies €0.30
Caramel cream total: €4.24 with which we can also meet any cake we make
For Brownie: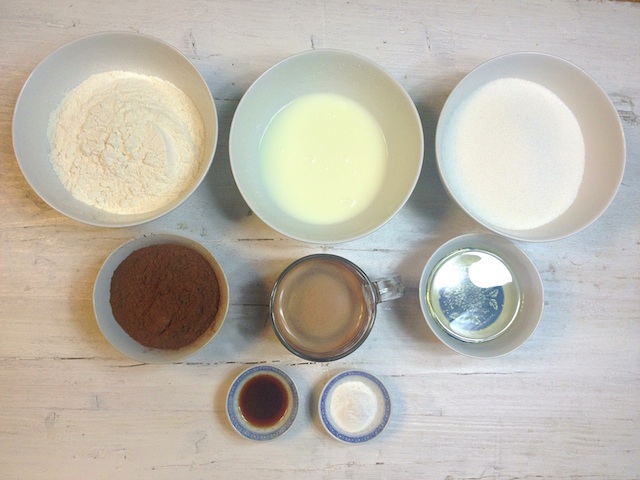 1 cup and 3/4 of flour €0.25
2 cups sugar €0.30
3/4 cup cocoa powder €0.25
2 teaspoons of powdered yeast €0.15
1 pinch salt €0.03
1 cup buttermilk (or the same amount of creamy nonfat yogurt Danone) €0.25
1/2 cup sunflower oil €0,10
2 eggs €0.23
1 tablespoon vanilla extract €0.15
1 cup very hot water with a tablespoon of maple syrup and a scoop of cola cao €0,20
2 tablespoons peanuts fried Skinless €0.15
Total for the two Brownies, €2.06. Leave two biscuits that we can also prepare for a snack and serve them alone because they are very very good and juicy.
For Chocolate ganache:
2/3 cup of chocolate semi sweet chips (chocolate black but not bitter or milk chocolate if you prefer) €1.10
1/2 cup cream €0.25
1/2 teaspoon maple syrup €0.10
Total for the chocolate ganache €1.45.
Chocolate frosting: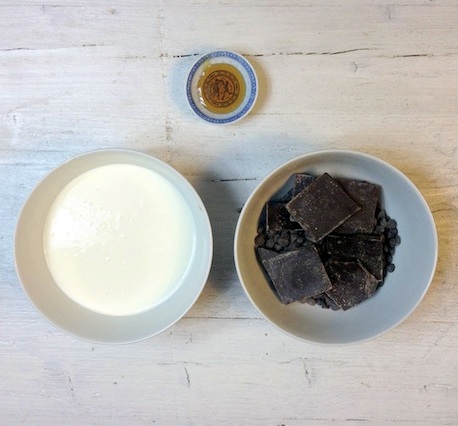 1/4 liter of preferably vegetable cream (which to my I like is called room) €0.80
2 tablespoons Cola-Cao and one of pure cocoa powder €0,20
a little bit of Brown colouring (optional if you want to give a darker tone to the frosting) €0.05
Total for the frosting, which also can be used to cover a few cupcakes, €1.05.
Chocolate curls:
1 cup dark chocolate chips €1,40
For Peanut butter cream:
1/2 cup peanut butter €0.45
1/3 cup of softened butter, €0.25
1 cup icing sugar Tate €0.41
Total for cream €1.11.
Total for the cake: €22.16, which divided among 22 generous rations that come out of this cake is the price of 0€92 the ration. There is no dessert or snack more cheap and delicious, and less an occasion so special, as for a birthday celebration.
Equipment
A 22 cm mould
Some American measuring cups
Oven
Several bowls
Microwave oven
Electric mixer
Spatulas
Sleeves pastry and no. 21 of Wilton nozzle or similar.
Is, covered, etc.
Pairing
It is a typical sweet dessert or snack I am going to recommend taking it with a sweet wine. Today I recommend Pedro Ximénez 1927, a wine of Alvear ideal to accompany desserts, sweets and foie gras and pates. Its price is €9,99.
Directions
Prepare cheesecake:
1 Preheat oven to 165 °. Grease two molds 22 cm and place a tracing paper baking at the bottom trimmed with the same shape of the mould. Also grease the paper above.
2. in the bowl of a blender, put the butter and sugar and beat for a few minutes on medium speed until the mixture is creamy. Down with a spatula that has been pasted on the walls of the bowl.
3. Add the cheese cream spoonful at a time until everything is incorporated. Down with a spatula that has been pasted on the walls of the bowl.
4. Add one one the eggs at medium speed. Add the package of dessert of vanilla and yeast. Mix well.
5. remove the blender and add the pieces of chocolate peanut butter with a spatula. Dump the mixture of cheese over the prepared moulds. Flatten with the help of an espatulala surface and bake for 55 minutes. The cheesecakes are inflated and fall during baking.
6. once baked directly place cheese pies in the freezer without waiting for it to cool. Once frozen, remove them from the freezer, unmold and remove the role of baking. Take a role of new baking and this time without cutting it place on the mould so that it protrudes from the sides. Place the cheesecake on it and return it in the mold in the freezer while the caramel.
Prepare Cream candy:
7. There is to divide the ingredient in two parts because we will first use a part and then the other.
8. in a saucepan put the ingredients and heat moving well until sugar is well dissolved.
9. once dissolved sugar went up the fire and let boil without stirring so that it won't burn at the bottom. When we see that to stir the mixture will take off from the sides already it will be ready. You must have a golden color and a smooth consistency.
10. Once frozen cheese cakes, pour over candy spreading it between two molds and sprinkle of salted peanuts fried Skinless in halves. Return to the freezer.
Prepare now chocolate cake:
10 Preheat oven to 175 °. Grease two molds 22 cm and place a tracing paper baking at the bottom trimmed with the same shape of the mould. Also grease the paper above.
11. in the bowl of a mixer, put the butter and sugar and beat for a few minutes on medium speed until the mixture is creamy. Down with a spatula that has been pasted on the walls of the bowl.
12. in an electric mixer Bowl, mix all dry ingredients: flour, sugar, cocoa powder, baking powder and salt.
13 pour oil over mixture and beat on speed soft start. Gradually add the buttermilk and eggs one well incorporating all the ingredients before adding the next egg. Add the vanilla extract.
14 lower the speed of the mixer and carefully incorporate gradually the glass of hot water with the Cola-Cao and maple syrup. The mixture will be very liquid.
15 divide in two equal parts in moulds and bake for 40 minutes. The cake is ready when Pierce with a toothpick, comes out clean.
16 remove from the oven and let cool for a couple of minutes into the molds. After this time, unmold carefully and place on a rack to cool them completely.
17. Once cooled. leveling with a knife the biscuits to leave them even in height on all sides (cuts not digital them).
18. place paper baking above the moulds so that the paper protrudes from the sides in the same way we did before with the cheesecake. Place the biscuits in the molds.
19. prepare the second batch of caramel cream. Pour caramel cream spreading it between two molds and sprinkle peanuts into halves. Put the cakes in the freezer until the candy has hardened (15 minutes)
20 remove the freezer all the layers of the cake. Remove biscuits and cakes of cheese molds by removing the baking paper. Place below a layer of chocolate, over a tart of cheese cake, over the other chocolate cake and finish with the cheesecake.
We now turn to prepare the Chocolate ganache
21 boil the cream and pour onto chocolate chips, stirring until completely melted.
22 Add the syrup and mix well.
23 remove the freezer one of the cheesecakes and pour the chocolate ganache onto it. Return to the freezer.
24. to prepare the trufa de chocolatewhip the cream and add the cocoa and the Cola-Cao. If you need to add a bit of Brown gel coloring to achieve desired color. (I don't put).
25 remove the freezer all the layers of the cake. Remove biscuits and cakes of cheese molds by removing the baking paper. Place below a layer of chocolate, over a tart of cheese cake, over the other chocolate cake and finishing which put the chocolate over the cheesecake.
26 cover the cake with a spatula chocolate truffle, so that is a thin layer of cream and is completely covered by the sides and top.
Put in the fridge.
27. now we will do the chocolate curls. To this end, we derretiremos a cup of chips of dark chocolate in the microwave for 30 second intervals to ensure that the chocolate will not burn.
28. with the help of a spatula of elbow, place the chocolate on a plate of oven (keep in mind that it is arañará in the process of making the curls, so that it is better to use an old or one on which we are not going to use as a mold). Should be a uniform layer not very thin but not very thick, about 5 mm.
29 place the plate in the fridge for about 5 minutes. Remove from the refrigerator and let sit 15 minutes.
30. with the help of a metal spatula, form the curls. If the curls are broken in the process is that the layer of chocolate is too cold. Let a little more. If it breaks as well, is that the chocolate layer is too thin and will have to start from scratch again. It is normal that not out in the first, but I assure you that when it comes out... the satisfaction is complete!.!
Remove the cake from the refrigerator and place our curls as more like it.
31. I did a peanut butter cream for decoration in a bowl of electric mixer, beat the butter and peanut butter. When creamy (about 4 minutes at medium-high speed), stop the mixer and add the sugar. Mix with a spoon or spatula before returning to start the blender. So we will avoid that whole kitchen is covered with a white blanket of sugar.
32 beat on high for 5 minutes speed until the cream is fluffy.
33 put cream in a sleeve pastry with six-pointed nozzle and make some roses on the cake. Placed on each one of them a Bonbon of candy or a rose of peanut butter.
Striking, laborious but delicious. But you merecíais less for this first year isn't it?. Millions of thanks!
Tips and tricks:
1 you can prepare it in phases and freeze each of the layers that make it up.
You can prepare 2 with single layer of cheesecake and a single layer of chocolate cake. So shall you easier to cut and serve it.
3 you can make cheese cake alone because it is... delicious!. Simply use a detachable mould. Cover with biscuit powder mixed with a little melted butter. On this cookie pour the cheesecake mixture and bake as the recipe indicates. It is incredibly creamy.
4 you can also just the cake for snacking. It is a very juicy and light cake that you can take with a you any afternoon.
Would you like to review all my recipes? Look in the index
Do you want to see my ebook of desserts, cakes and sweets? Enjoy of the Sweet Dreams
– You can follow the day-to-day of the blog also on social networks: Facebook, Twitter, Pinterest, Flickr and Instagram
-Also you can subscribe to receive news in your e-mail, Subscribe HERE.
Thank you for your support!
Finally, I leave you the link of the next courses I have programmed in March:
In Taste of America (Taller de Brownies)
In Taste Lab (Vietnamese and Lebanese cuisine)
In Cuco Events (Desserts Workshop)
In Inossidable (Thai Kitchen)