I decided to don't wait for opportunities, but look for them. I decided to see every problem as an opportunity to find a solution
Things happen because they spend, and as I said Picasso "inspiration exists, but it has to find you working." I have a great friend who was New YorkCris, that suddenly sent me some pictures of the last snowfall... and I said to myself: that cold!... it's like being at the North Pole.
And I did not stop until you find the Igloo cake or tart igloo that I bring you today... So today is a post very, but very white. This cake whose taste is reminiscent of the Pink Panther, will make you sweeter cold winter afternoons. I hope you enjoy it.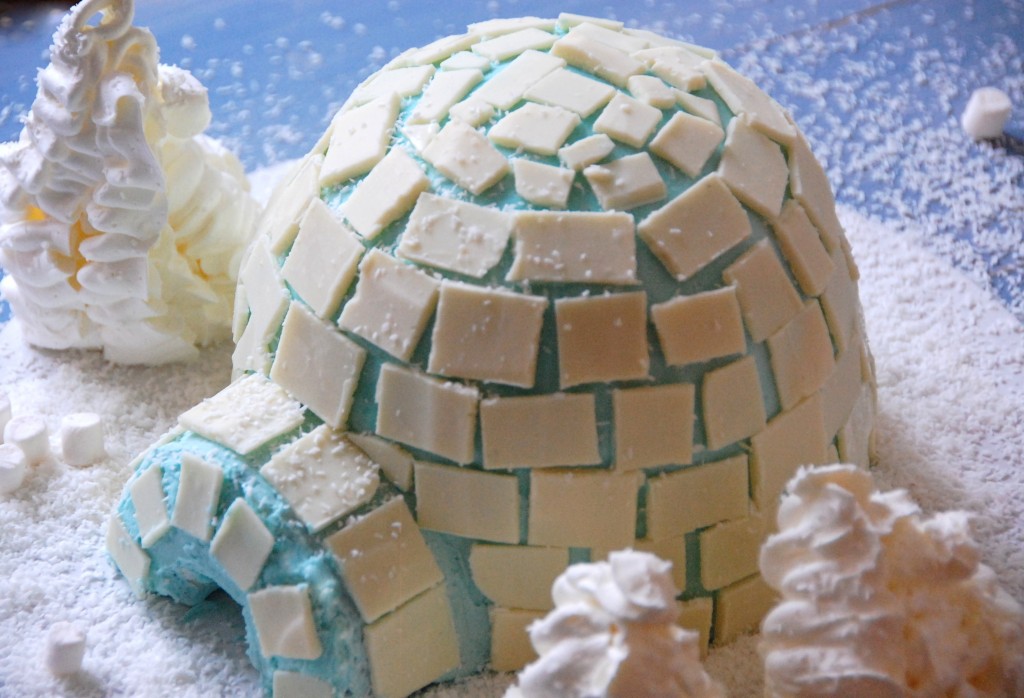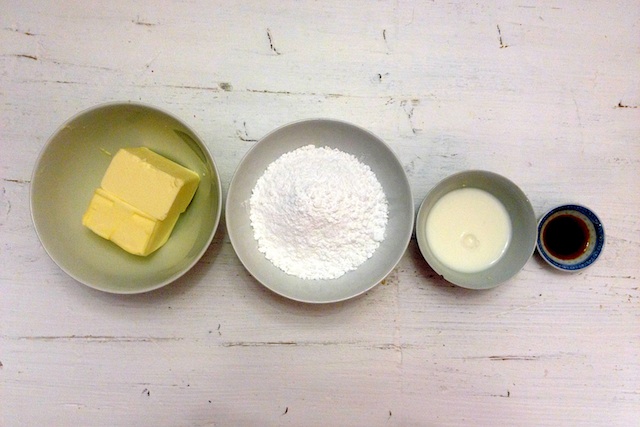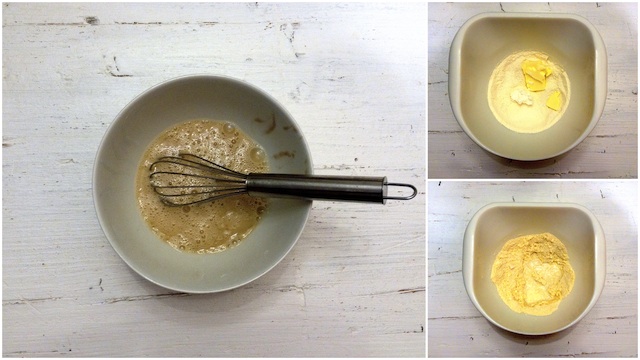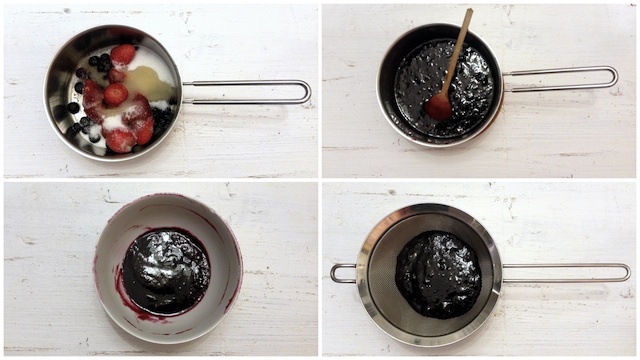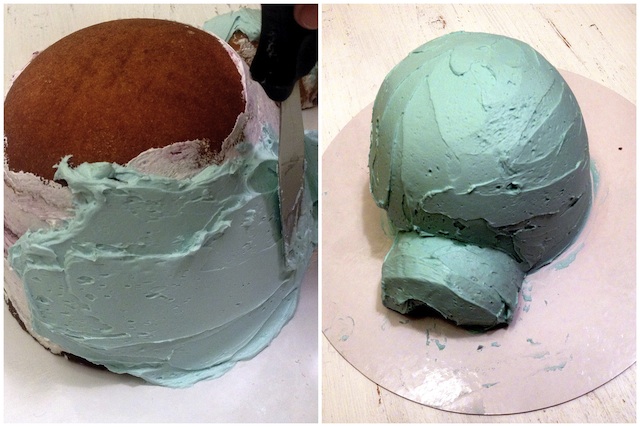 Ingredients
For the sponge:
120 ml of milk at a temperature ambient €0.06
2 (65 g) egg whites at room temperature €0.14
1 egg at room temperature €0,13
10 ml Princess Cake & Bakery Emulsion or pure vanilla extract €0.30
150 gr of flour €0.07
155 gr of sugar €0.15
8 gr of baking powder 0.05
4 g salt €0.02
60 g of butter at temperature room €0.30
30 gr margarine or crisco. Crisco is a brand of vegetable butter seed of soya which is used a lot in United States in the kitchen and that is commonly found in American supermarkets and specialty stores. If you don't have it or don't want to use, you can use margarine failing €0.25
For the Marmalade of blueberries and strawberries:
120 g of blueberries €1.00
120 g of strawberries €0.25
100 g sugar (as my fruit was very sweet, I decided to add only half but is matter of taste) €0.12
30 ml of juice of Orange €0.15
a pinch of salt €0.02
For the mascarpone cream:
300 ml of cold cream to 35-37% of fat (not served) €0.90
30 g of icing sugar €0.09
5 ml of pure vanilla extract €0.10
a pinch of salt €0.02
1 tub of mascarpone cheese (actually half of cheese would be enough but I find the taste of this cream with more delicious cheese) €2,00
For the frosting that covers the igloo:
375 g of butter at room temperature, cut into dice €1.87
400 g of icing sugar sifted €1.20
45 ml of milk at a temperature ambient (I not I added milk because my butter was very very soft and did me not lack. If you see when you've beaten cream can extend well, it is not necessary that you put milk) €0.02
15 ml of pure vanilla extract €0.30
a pinch of salt 0.02
1 drop of blue dye Gel €0,05
For the white chocolate chips:
150 g white chocolate or candy melt white €1.00
Total €10.58, or what is the same, €0.75 per person. It is a great price for a full, beautiful, delightfully irresistible cake.
Directions
1. preheat the oven to 175 degrees based on hot air, or 180 degrees if it is with resistance up and down.
2. in a bowl combine the egg whites from egg, whole egg, 2 tablespoons of milk and emulsion or vanilla. Mix well with a few rods. Book
3. in bowl of electric mixer, combine flour, sugar, yeast and salt. You have to beat on low speed until the mixture is uniform.
4. Add butter and margarine or crisco at low speed for 30 seconds.
5. then add the rest of the milk and beat until mixture is integrated. Climb power at medium speed and continue mixing for a couple of minutes.
6. with the help of a spatula down the mixture that has been attached to the walls of the bowl and add the mixture of eggs and milk that we had booked three times. We will add a part, we batiremos for 20 seconds. Then another part and do the same until you finish with the last part.
7 fill our molds 3/4 sides and bake for 20-25 minutes or until by pricking the cake with a needle, it comes out clean. We must be careful that the cake is not pass, so after 20 minutes, check if it is made. But it is let two more minutes and so until it's all done
8 cool 10 minutes in pan. This past time, unmold and cool completely on a wire rack.
9. in a ladle put fruits, sugar, salt and orange juice. Bring to boil and often move to help the fruit to dissolve and cook the jam.
10 after 15 minutes, the fruit will be undone and much thicker. It is time to remove the fire.
11 pass through a fine sieve to remove seeds and skins of the fruit. Leave to cool.
12 we now turn to prepare the mascarpone cream
13. in a bowl hydrate the gelatin leaf in cold water.
14. using an electric mixer, whip the cream with sugar and vanilla extract. When is at medium mount (form soft peaks that fall out of the rods) add the mascarpone cheese and whisk until the cream has a hard consistency (of peaks that are kept in the rods to lift it). Book
15. now we will prepare our sugar and vanilla frosting.
16. in the bowl of an electric mixer Beat butter for 8 minutes on medium speed. The butter will be very pale and creamy.
17. Add the remaining ingredients for the frosting (I have already said that I milk no added it because I preferred to have a somewhat more hawkish in which texture then paste my pieces of chocolate without problem, but if you are not going to make the shape of the igloo with pieces of chocolate, then you must add milk because the texture will be far more spongy). Mix with a spatula before beating machine so the sugar to mix with the butter. If you do not will fall on all the kitchen a veil of sugar because sugar will jump to start the blender.
Once mixed by hand, beat on low speed for 1 minute, then at average rate during 6 minutes. The frosting will be very light, creamy and fluffy. Add dye to taste (I added a drop of Americolor blue dye to get a blue light)
18. Now assemble the cake. Cut the cake into layers all the same thickness using a lira.
19 place first cake plate, face up, on a plate or tray. With the help of a spatula, cover the surface of the cake with our jam.
20. with the help of another spatula, cover the jam with the mascarpone cream. Place another layer of cake over and repeat with the jam and cream of figureheads. You have to repeat this operation until you finish the layers.
21 cover entire cake with mascarpone cream, leaving a thin layer. Do not worry if the mascarpone cream stain jam because then we will over a layer of icing and it will not be. It is important that the cake is completely covered so that the icing lugo is securely and do not pick up cake crumbs. Pass cake in the freezer for one hour or refrigerate for a couple of hours.
22. with the help of a spatula, cover the cake with our frosting. To form the implementation of the igloo I used a white donut cut a little less than half and embadurné it's frosting to stick to the cake.
23 if you top it off with the pieces of the igloo, you only have to melt about 150 g of white chocolate in the micro or the bath and put it on a plate to cool. When nearly cold, and with a sharp knife, begin cutting the chocolate chips. You can make them squares or you can cut it with your hands for a more irregular finish. Very cool!
Tips and Tricks
Prepare the cake with time and congelala well covered with plastic wrap so Buttercream not take flavor. Then defrost in the fridge overnight and remove a couple of hours before taking it. It will be as freshly made
You can flavour the cake with your favorite flavor instead of almonds and Vanilla-scented (Princess Cake emulsion). If you like, you can flavour it with juice and zest of lemon or orange, coconut milk and grated coconut, etc.
Test to be filled with your favorite jam with this soft delicious cake I am going to recommend one of my favorite liqueurs. This is Melody, a Catalan cream liqueur that only thing that must be taken into account is that although you want one, you should not drink is the whole bottle in one sitting. Your price €8.80.
Difficulty level: intermediate
Preparation time: 90 minutes approximately more two hours of cold
Guests: 14 people