Today I bring you the best macarons. And coconut with black sesame cream. The most amazing thing about this recipe is the black sesame cream. Long ago I learned from a chef of Singapore based in Australia, Tony Tan, an ice-cream of black sesame which left me completely hallucinating (I promise to share it when arrive hot flashes). Since then, whenever I can, I find this flavor to black sesame paste family members and friends who put rare face when I tell them what and illuminate once they have tried it. The taste is incredible, sweet and really original and still there has been no who can resist repeated.
Thinking on what to bring you the best macarons, I remembered this fantastic ice cream and I said why not? We are going to try and see what happens. The result is that today I bring. For the first time I dared to modify the uncommon shell or biscuit to give more flavor to black sesame and coconut, and although I admit that I had little faith that came out well. they came out perfect and the first! A well balanced and original macarons that once again, flew home. A doom!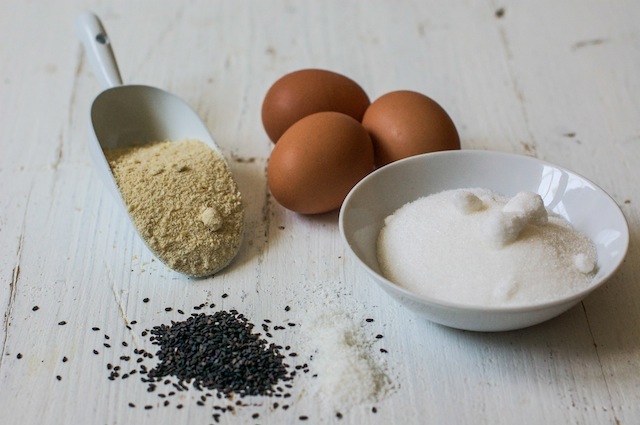 Ingredients
For the macarons cookies
125 g almond powder (also called almond flour) €3.60
15 g of black sesame seeds for garnish €0.25
15 g of grated coconut €015
150 g icing sugar. It doesn't which is made at home in the thermomix or which sold in the supermarket of sugar Spanish. The grain of these sugars is much thicker to that which is required to make macarons. I use one English called Tate Lyle Icing Sugar €0,50
55 g of egg whites. Ideally, as old whites: they freeze a few days and then are thawed and are 4 or 5 days in the fridge. Whites endure up to 10 days in the fridge €0,20
150 g white sugar €0.34
38 g mineral water €0.02
55 g egg whites €0.15
For the black sesame cream
60 g of white chocolate (the better the chocolate more good will be the cream filling) €0.40
120 g of custard)in this link you have the recipe for pastry cream) €0,75
1 teaspoon of paste of black sesame (or two if you want a more intense taste like me) - the black sesame paste is located in Asian grocery stores and some supermarkets €0.10
2 tablespoons full of coconut grated €0.25
Total €6,71 for about 48 macaroons you get with these quantities, i.e. €0.13 per unit. Do you know something more delicate and more good for so little? Not me.
Directions
1 Preheat oven to 165 ° C convection function. (If you don't have a convection oven or want to have more basis, I refer you to the tutorial Macarons: my secret incofesables)
2 spray the coconut grated with sesame seeds a few seconds with the help of a thermomix or a good clean coffee grinder. Add the almond powder and icing sugar to get the possible finer texture. Sieve over a large bowl. Mix well.
3. make a hole in the center of the Bowl leaving some of the flour mixture and powdered sugar at the bottom, and tip the 55 g of egg whites with the aroma of coconut and combine with the spatula. Mix well, making sure that it is not anything on the walls of the bowl without mixing. Book.
4. put the other 55 grams of egg whites in bowl of stand mixer.
5. in a saucepan, bring to a boil to fire half the 38 g mineral water with the 150 g of sugar until the syrup (and called to the water with the sugar mixture) reach up to 110 ° C. Keep the fire the syrup.
6 begin to beat on medium-high speed until they reach soft peaks. Then add a pinch of sugar which will help to heat the egg whites and prevent protein separates from water containing when we batamos too.
7. when the syrup reaches 120 ° C, remove from the heat and lower the speed of the mixer to medium-low power. Add the syrup little by little. The meringue will come down but is normal. Then increase mixer speed and beat for about 5 minutes. After that time, the whites should be firm and shiny and although Bowl will still be warm to the touch, merengue temperature will be lowered to room temperature (at least to 45 degrees). If it is not, continue beating until the temperature has fallen.
8. using a spatula, turn over one-third of the meringue in the mixture of almond powder. Mix with outflanking. Continue adding meringue to our mix that should not be not very smooth or very hard, so if we make a curl with a spatula, keep the form without moving or RID.
9 pass the mixture to a pastry bag with nozzle of a centimeter sleeve. Place our template of circles on a sheet of oven. Place a clean on the template tracing paper so that we can perfectly see the circles under dibijados.
10 place the sleeve filled to 1 cm above the oven plate and begin to press the sleeve by moving it circularly until we fill the circle. Stop pushing the sleeve. Lift and move to the next circle. Sprinkle with the help of a colander with a little grated coconut and black sesame seeds. This operation is optional and does not add flavor to the macarons, but they are very beautiful.
11. when we have all made circles, carefully slide the template under the macarons and pull it out. Tap firmly on the countertop oven tray so that the peaks that have been left to make the circles disappear. Sprinkle with grated coconut.
12 there who let it rest 30 minutes macarons, but I just leave you 5 minutes because I have not found a difference between stand them longer or not. Bake for 10-12 minutes until surface is bright. The first shelf needs about 12 minutes but the following tend to be good with 10 minutes.
13 put the tray on a wire rack until completely cool. Place in the oven the next tray of macaroons.
14. melt chocolate with Sesame in the micro paste (if it is of good quality will be enough about 30 seconds). Add the pastry cream and toss until mixture is uniform. Move to a sleeve pastry and let cool a few hours.
Tips and Tricks
If you prefer you can fill out the macarons with a row of white chocolate with coconut
You can find the black sesame paste at Oriental food stores
Difficulty: high
Preparation time: 90 minutes
Portions: leave about 40 macaroons