There is no thing that I like more than inventing recipes. Talking with a master artisan butcher (Cesc Reina), we had a conversation about enjoying inventing mixtures of flavors, and mixing ingredients that are not at first made for mixing...
In that conversation, he threw me out a challenge, and the idea of a few macarons with sobrasada came out. I know that usually we eat macarons as a dessert but I always made them salty with foie gras fig jam,, of cheese with mango, and this time of sobrasada with cheese of goat: true sobrasada Mallorcan inlaid in gut with the best cheese of goat cream that can find. It's a goat's cheese Malaga goat King done with mastery in Cuevas del Becerro and Carlos Mirabona praised in one of his articles. I love to do macarons and whenever I get to bake them, I enjoy them a lot because they are always a challenge and I like difficult things.
I did several tests until I found the flavor I was looking for, and today I am bringing you the result. A few original macarons that you can snack on your special occasions and I assure you will surprise everyone. I hope you like them as much as I do. Let's get started!!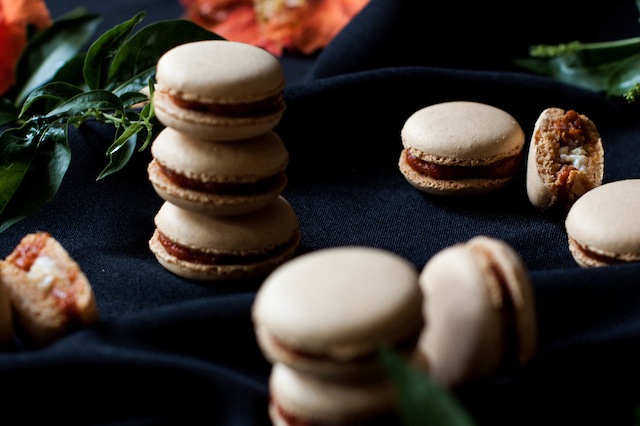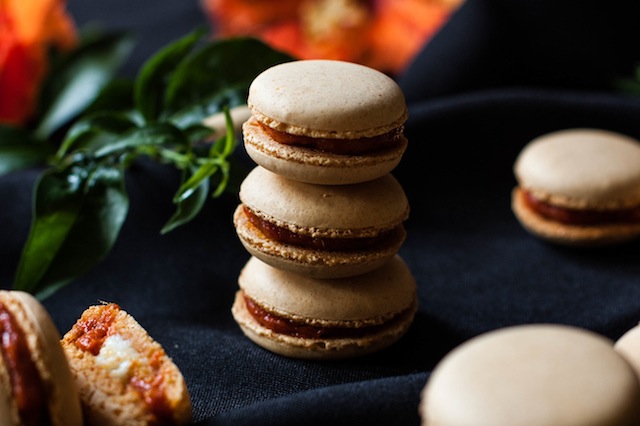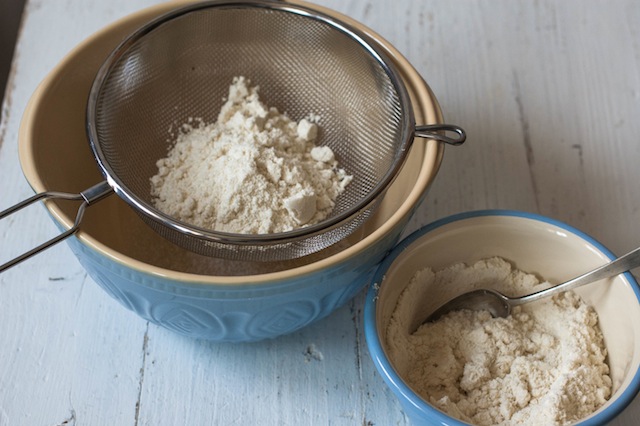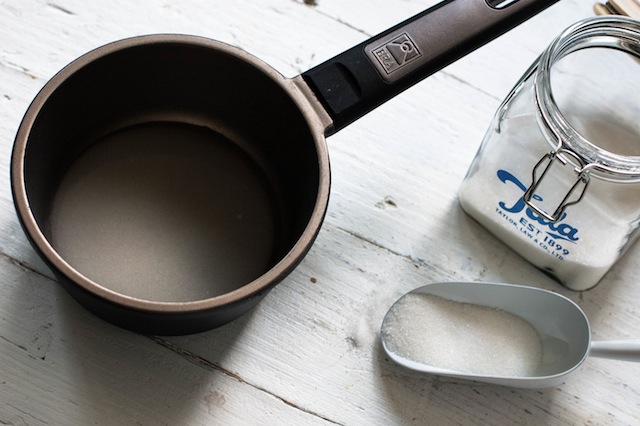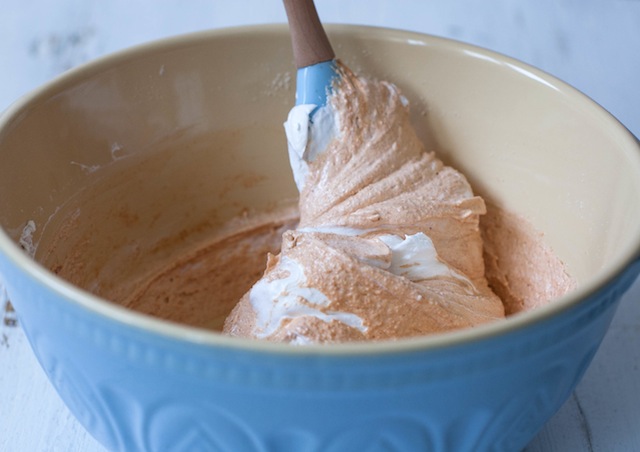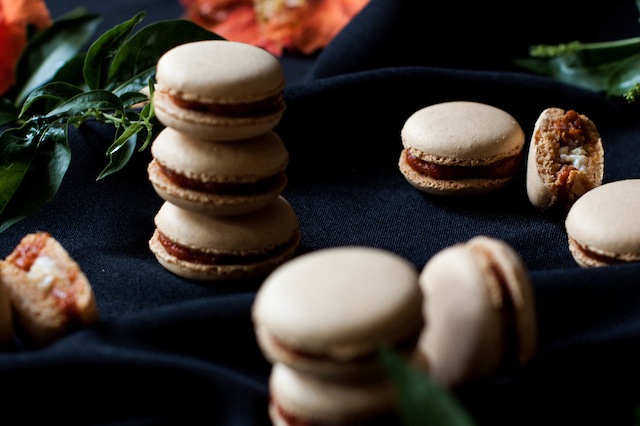 Ingredients
For the macarons cookies
150 g almond powder (also called almond flour that you can buy in many supermarkets and online shops) 1,00 €
150 g icing sugar. Not any icing sugar will make it. The grain of some sugars is much thicker than the one we need for the macaroons. I always use an English icing sugar called Tate&Lyle Icing Sugar. You can find it in some stores and supermarkets and in some online shops €0,50
55 g of egg whites. Ideally, as old whites: freeze egg whites for a few days and then leave them for 4 or 5 days in the fridge. Whites will last up to 10 days in the fridge €0.10
4 g of sweet paprika from la Vera €0.15
You will also need for the macarons
150 g of white sugar €0,24
38 g mineral water €0.02
55 g egg whites €0.10
For the filling
200 g of Mallorcan Sobrassada at room temperature €2,30
100 g of Rey Cabra goat cheese cream in extra virgin olive oil: take a few pearls of goat's cheese in olive oil and crush them. A real delight €1.62
Total € 6.03 equals 0€19 per macaron. Nothing compared to the pleasure that awaits you!
Directions
1. Preheat the oven to 175 ° C convection function or 180º if it is heat up and down.
2. In the bowl of the Thermomix or a food processor, put the icing sugar with almond flour and powder them at full power for 10 seconds. If you don't have a Thermomix, you'll have to use an electric coffee grinder. Always grind them together the ground almonds icing sugar (if you do only the almonds, they will turn into a paste that we cannot use for macarons)
3 Sift the icing sugar and almonds over a large bowl. Put them aside.
4 Make a hole in the center of the bowl of powdered almonds and icing sugar, and tip the 55 g of egg whites. Combine with the spatula. Add the paprika and mix well, making sure that it is not anything on the walls of the bowl without mixing. Cover with a piece of plastic wrap. Keep aside.
5. Put the other 55 grams of egg whites in the bowl of an electric mixer. Set aside
6. In a saucepan, bring to a boil the 38 g of mineral water together with the 150 g of sugar until the syrup reaches up to 80 ° C. Keep the syrup on the fire.
7. Add a tablespoon of sugar to the egg whites which we have prepared in the bowl of the mixer and beat on medium-high speed until they reach soft peaks start. (This sugar will help to heat the egg whites and will prevent that protein to separate from the water contained in case we beat too much).
8. when the syrup reaches the 115 ° C, remove from heat.
9 Lower the mixer speed to medium-low and add the syrup little by little. The meringue will come down but that is OK. Do not panic Then increase mixer speed and beat for about 5 minutes. After that time, the whites should be firm and shiny and although the bowl will still be warm to the touch, the merengue temperature will be lowered to room temperature. If it is not, continue beating until the temperature has fallen to 50 degrees.
10. With the help of a spatula, turn over a third part of our meringue into the mixed powdered almonds, icing sugar, colouring and mix without beating. Mix carefully with soft movements in circles. Continue adding meringue to our colored mixture. The mixture should not be very smooth nor very hard, so if we make a curl with a spatula, it will keep the form. Add coloring if necessary. Pour the mixture into a pastry bag with a plain 1 cm.
11 Place our template of circles below a baking sheet .
12 Begin to press the baking bag making a circle the same size of the ones in our template. Lift and move to the next circle.
13. When all circles are made, carefully slide the template under the macarons and pull it out. Tap firmly the tray over the table so that the peaks that may have been left disappear.
14 Some set aside the macarons for half an hour before baking. I don't do it because I have not found any difference between standing them aside or not but if you prefer you can let stand half an hour before baking.
15 Bake for 10-12 minutes until surface is bright. I usually leave the first batch for 12 minutes, and the following one one minute less (10 or 11 depending on how they come out). It is important to control the temperature of your oven because they are not all equal. You may need a minute more or less depending on the heat of your oven.
16 Leave the tray on a wire rack until completely cool.
17. Put the next tray of macarons in the oven.
18. Once cooled, prepare the cream cheese. Drain the olive oil of the cheese and using a small rod or a fork, beat until you get a uniform cream. Pass the cream cheese to a small pastry bag.
19 Fill a pastry bag with a 1cm nozzle, with Sobrasada at room temperature
20 Put some cream cheese in the center of the macaron, and surround the entire cookie with sobrasada.
21 Cover with another macaron unfilled. Repeat the filling with all the macarons.
Tips and tricks:
It is best to freeze the macarons before serving them so that the flavors settle
If feel brave, replace the sweet paprika with cayenne pepper to get an extra of rock & roll!
Level of difficulty: high
Preparation time: 2 hours plus the time of necessary cool down
Servings: about 40 macaroons