"An effort is less one failure"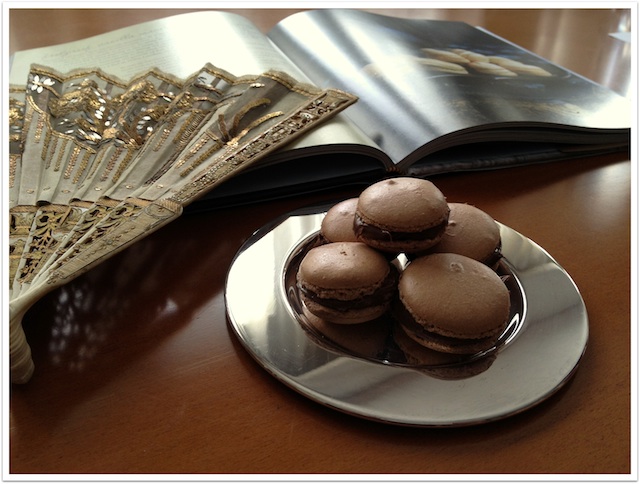 When you have read many books and tutorials, and there have been many different recipes of macaronsone gets to have some control over these indomitable pastelilos that... crazy!. There are many factors that affect the end result of this sweet and many variables that may occur. In this tutorial I summarize what I have discovered with the experience. Some things you are going to surprise equal to that surprised me to my day. Others are just conclusions to make easier the task after you have tried many different methods.
I share it with you. I hope you enjoy it and useful to you.
1. the secret of the oven.
After having tried to make the macarons at different temperatures, different levels and in different functions, I have come to the conclusion that the macarons are better made in a Convection ovenat medium altitude and without opening or closing the door haste that has passed the cooking time.
Resistance furnace can cause imperfections in the surface of the macaron but this does not mean that macaroons can be done if you don't have a convection oven, but that to achieve a good result will surely be more complicated
If you use a Convection oven temperature preheating and baking is 175 ° C.
When baking the macarons in a conventional oven resistance, should lower the baking temperature: from 200 ° C which is the temperature at which preheat the oven, to 160 ° C temperature will be baked.
The time from baked varies between 9 and 12 minutes. The surface should be uniform and bright, and if there are imperfections, we must not then torture us: will be just as good although perhaps not so pretty. But it is likely that that is due to the type of furnace and not our ineptitude to prepare them.
After removing them from the oven, ovens of resistance must be to raise the temperature to 200 ° C before placing a tray covered with macarons, moment in which we would return to lower the temperature to 160 ° C
2. the tools necessary to get the desired result
The exact weight of the ingredients is essential in the process of elaboration of the macarons. It is not worth to use the weight of the Thermomix, because when it comes to weigh grams Thermomix will not do it. Its weight is designed on a scale of 10 in 10 grs. In addition, and we are sure that you may have also noticed it, not always weighs well.
Is imperative that a Precision weight kitchen to be able to accurately weigh grams we need from each ingredient. They are not weights that weigh 10 in 10 grs. or who weigh 20 in 20 grs., as that I had.
Then should we spend a fortune on a weight?. No. For that are those fantastic stores with low prices that you can find them without problems and without putting at risk the arrival at end of month. I bought one in Lidl for €9.95 and you going phenomenal.
It is also imperative to have a cooking thermometer. If we are to make the macarons following a procedure without Italian meringue (without preparation of syrup to meringue), then we won't need it. But if we are going to follow a recipe from Pierre Hermé, Jean-Michelle Llorca or Thomas keller for example, then we need a thermometer to measure the temperature of the syrup. They are also very useful in the preparation of meats in the oven because they measure accurately the point of cooking meats and poultry.
Again, I recommend that you do not spend more than necessary. I have two: one of WMF resistant to heat and cable that goes very well and whose price is around 20 euros, and another of IKEA, digital cable that you can put inside the oven and which I love and which is worth €8,99. It is very accurate.
3. the macarons should have all the same size so they are beautiful.
To get it sold some silicone mats that bring the circles drawn with edges so that the mass out of the circle.
In my early days with macarons I bought one thinking so would come me all the same. In fact I got it. However, the thickness of the silicone mat made the temperature which reached the basis of macarons in the oven, not adequate and often failed to climb well.
After much do and undo, I have come to the conclusion that all the macarons out equal, it is important to make a template. On a sheet of baking paper or a sheet of plastic is hard, make circles of approximately 3 cms diameter, including separating 2 cms. Make circles you can help one ring or a glass. We will place this template on the baking tray and on the template will place a clean vegetable paper so below we see the circles. When we go to give sleeve-shaped pastry, we will see the silhouette of the drawn circle that easier us to not get out of the drawing. In this way all the macarons will come out of the sized with in the same way
4. the standing time: truth or myth.
Different kitchen manuals and many confectioners of high French pastries I have heard them always the macarons standing time is a key process in achieving a good result and so its characteristic crust that makes that they Squeak to the bite occurs.
However there are great cooks and confectioners who consider this step doesn't add anything to the product and that the result is the same if not allowed to rise. And it is true?
I can only tell you that I have made macarons leaving them to stand for 30 minutes, but on other occasions I've done tests in the process of rest of the macarons: I tried with a tray to rest them for 12 minutes, and the other deck to let stand 30 minutes of rigor. To my surprise it came exactly equal. Next time I'll try not to let any rest. I will tell you... This is the magic of the kitchen and try to find our "ideal" process.
5. the macarons are stuck.
When the macarons have just come out of the oven almost always tempted to take one and try how are I have. And although I repeat this mistake again and again, it remains that, a mistake.
It is very important not to try separate of macarons greaseproof paper until they are completely cooled, since otherwise the macaron can be still attached and break, leaving half attached to the paper. This does not mean that all will have hit us. Or much less. What that tells us is that they are not yet tempered enough to be able to take them off. Patience a few minute more and will take off without problem.
6. the macarons are delicious freshly made.
Yes, it is true. Freshly made when they are at room temperature are requisimos, not only because in truth they are not, but because we also tasted the sweetness of success: they are beautiful, I made them and I love them.
However, it is also true to taste of macarons to improve as time passes and the macaron sits with its filling.
The the maximum are living and they change over time. Once the macaron is finished its flavor is good, but it will be better if we let it rest.
After a hit of cold its flavor will reach the highest point, but we must not pass us because reaches a point where the quality and the taste of the macaron falls inexorably.
Therefore, the ideal way is to freeze them between 1 and 15 days. Then pass them to the fridge 3-4 hours, and finally to get them to room temperature an hour before taking them. The freezing process makes them more "chewy", that texture so feature of these sweets. The flavor of the filling will be much more intense and the result will be much more full.
Anyway, surely that I find much more as you go to extending the experience making more and more macarons. And don't hesitate, I will share with you all these secrets. All, everyone, all.
– You can follow the day-to-day of the blog also on social networks: Facebook, Twitter, Pinterest, Flickr and Instagram
-Also you can subscribe to receive news in your e-mail, Subscribe HERE.