I leave until September but with a delicious recipe of of insurance have so far not proven, and I say one thing... as the day at the beach: spectacular! Pass very happy summer!
The ice cream is creamy thanks to the corn syrup. This can be replaced by invert sugar or glucose and prevents they forming crystalline when frozen and that it is really as if it were professional ice cream.
This summer I will visit a lot Maro beaches. They are a heavenly place only a few kilometers from the Malaga capital. A natural landscape in which we might feel to be like in a deserted island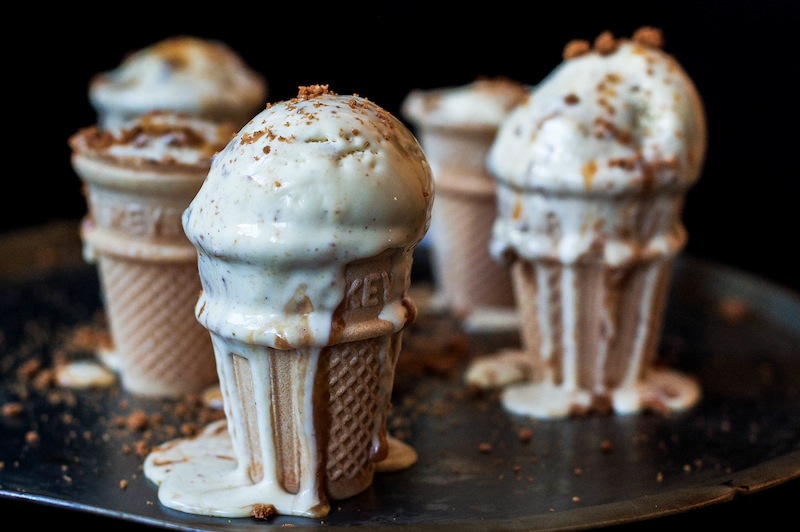 Ingredients
For the cream with vanilla mascarpone
675 ml of milk whole €0.33
6 large egg yolks €0,75
1 tablespoon and 2 teaspoons of cornstarch €0.25
2 tablespoons mascarpone cheese €0,50
1/2 teaspoon salt thin €0.03
45 ml of pure vanilla extract (in this case I recommend to use summary and not vanilla pods because both natural extract and vanilla paste contain alcohol which will help us to avoid the ice cream to crystallize and is creamy and smooth) €1,50
230 g of cream double €1.00
160 g sugar €0.14
30 ml of glucose or corn syrup (this ingredient will help prevent ice cream from crystallizing and is creamy and smooth. We can replace it with myelo, but my I personally like more as glucose or corn syrup) €0,20 a handful of galetas speculoos - are caramelized cinnamon cookies typical of Belgium and that you will find in almost every supermarket. In Spain sold them. for example, the Lotus brand €0.25
For whiskey caramel sauce
140 g sugar €0,13
175 ml double cream €0.63
30 ml whisky or bourbon €0.30
1/2 teaspoon salt €0.03
Directions
1. Prepare an ice bucket with ice and put aside.
2 first prepare the pastry cream. In a medium bowl, pour two tablespoons of milk, yolks and cornstarch and mix until the cream is well integrated. Book.
3. In another bowl mix cream cheese salt and vanilla until cream is uniform.
4. in a medium saucepan over medium-high heat, heat the remaining milk with the cream, sugar and syrup of maize (glucose). When break to boil start to move and leave to cook for about 4 minutes.
5 remove from heat and slowly pour this milk boiled over the bowl of yolks stirring constantly to prevent the yolks are cooked. Return to place this mixture in the pan to fire medium for 5 minutes (average temperature is 84 degrees, which is the temperature that the egg yolks and milk must arrive to avoid poisoning).
6 Strain this mixture and beat with cream cheese until everything is well mixed Put in a freezer container (a simple frozen zip lock bag will be) and leave to cool in the ice for 30 minutes. Spending a mix so hot to the refrigerator or the freezer, it may cause that the temperature drops drastically threatening the conservation of food.
7. Put the ice-cream maker bowl in the freezer After 30 minutes, pour the mixture of our ice cream and cream, until ice cream has the right consistency. If you don't have an ice-cream maker, you'll have to move the ice cream with a spatula every 60 minutes.. Repeat this operation every time as many times necessary until the ice cream is with the proper texture.
8 We will now begin to prepare the caramel whiskey. This heat the cream. It is important that the cream is not cold since otherwise, sugar will crystallize and become hard.as candy.
I9. in a saucepan, bring sugar to heat over medium heat. The sugar will gradually be melting. You have to be patient until a golden color. If the temperature is too high, we run the risk of us burning, in which case we would have to start again, as burnt sugar sour quickly.
10. Once you have the golden color, remove from heat and add a tablespoon of the hot cream. It should be very careful because it will come out much water vapor and could burn. Mix and add a part of the cream and then the rest.
11 Return to the heat and add the alcohol. Let it cook for a minute or two so the alcohol evaporates. We will get a soft and subtle taste of whisky in our caramel-toffee. Set aside.
12 Take a handful of speculoos cookies and crush them with the help of a mortar.
13. When ice cream is ready, turn ice cream into a container with a silicone spatula (I used a rectangular mould cake). Optionally, add a generous caramel splash and a handful of pieces of speculoos and mix. Press a baking paper on our ice cream: this paper will prevent crystals in our ice cream and remain creamy and velvety. Cover and leave in the freezer 3 or 4 hours. If you prefer you can leave the ice cream without mixing anything.
14. Once the ice cream has been about 3 hours in the freezer, defrost 5 minutes before serving. Make balls and serve with a splash of whiskey sauce and a few small pieces of speculoos. Simply spectacular.
Tips and Tricks
Replace speculoos for your favorite cookie
Add brandy or baileys instead of whisky
Replace toffee with hot chocolate sauce
Servi with iced coffee