"Don't let anyone tell you're unable to do something, or if I want to." If you have a dream, you must keep it. If you want something, salt to search it, and point. Do you know?, people who fails to achieve his dreams often tell others that they will not meet yours"
(from the film"In search of happiness")
For a week of film and festival we have in Malaga a year, does not deserve less chance that prepare these... film Macarons!. The Festival de Málaga, which is actually called Festival Malaga Spanish Film (FMCE), it is a cinematographic exhibition held annually in the city since 1998. Do you want to come?
In addition to projecting most important releases of the year of the Spanish cinema, the best films of the year are rewarded and granted several honorary awards. To celebrate each of these awards, the Festival emits films and most important short films all of them.
The main award is the Golden Barrel Cactus (flower that is a hallmark of the city, and is made with the stem of a cotton Thistle with jasmine flowers and smells that he falls). The jury varies every year and is always formed by actors, screenwriters, producers, directors and other professionals of the Spanish cinema.
The Festival takes place in different parts of the city (Teatro Cervantes, Echegaray Theatre,) Albéniz CinemaRoom Alameda,...) that during those days are you adorned especially for actors and directors of the film, showing its face more friendly and cultural, to feel all visitors and Media Showcase. Also joining the event different cultural, musical and culinary initiatives which, together with the presence of the stars of the big screen, flooded Malaga film taste all over the city. It is a very good opportunity to enjoy of the pleasures which exhibits always the capital of the Costa del Sol.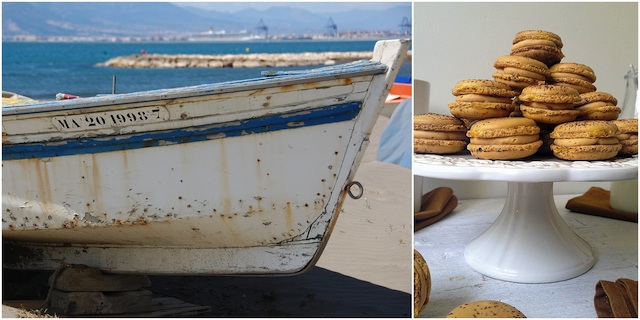 In gastronomic terms, in addition to the numerous events and references in the MAF and the FMCE, nearly five hundred Malaga catering establishments joined in the initiative "A plan of cinema". "Jamón, Jamón", "The red carpet", "Morena Clara" or "Bigas Luna" will be the names of some of the created covers in Exclusive for the occasion. As it could not be otherwise, this Film City had to put a film brooch... and I came to join the event by casting a nod with these Macarons with salted butter and caramel cream... of cinema!
I tried them on my last visit to Paris, in Pierre Hermé. They are delicate and very original flavor. It's like eating a toffee with subtle salty It creaks. Delicious, are a hit whenever I prepare them... Salt butter & Caramel Macarons. I hope you like them and you tell it to me. Now... Let's work!.

Level of difficulty: high
Time of preparation: 1 h. processing, plus 1/2 h. rest and 1/2 h. Cook (*)
Seating: Leave 70 seashells, i.e. about 35 macarons.
(*) I would also add to achieve the fullness of flavor: 24 h. minimum in freezer, more 3 h. fridge, more 1 h at room temperature.
Ingredients
For macarons:
150 g almond powder (also called almond flour) €3.60 (for example, Mercadona)
150 g icing sugar. It doesn't which is made at home in the thermomix or which sold in the supermarket of sugar Spanish. The grain of these sugars is much thicker to that which is required to make macarons. I use one English called Tate Lyle Icing Sugar. You can find it on Taste of America, El Corte Inglés, in Iceland, the sweet flowers, commercial Minguez cottage and in a lot more than shops American and English. €0,50
55 g of egg whites. Ideally, as old whites: they freeze a few days and then are thawed and are 4 or 5 days in the fridge. Whites endure up to 10 days in the fridge €0,20
7 grams of instant coffee or coffee extract (I used half a teaspoon of soluble red Nescafe)
8 grams of food dye yellow (I used coloring gel yellow Wilton) €0.25
In addition we will need:
150 g white sugar €0.34
38 g mineral water €0.02
55 g egg whites €0.15
1 tablespoon of pure cocoa powder (optional-for garnish) €0.05
For creme caramel with salted butter:
150 g of powdered sugar €0.34
170 grams of fresh liquid cream €0,30
35 g butter salt €0.12
140 g unsalted butter €0.55
Total €2.73 or what is the same cost of €0.078 per macaron. Nothing compared to the pleasure that awaits you!
Equipment
(The digital Ikea van phenomenal) cooking thermometer
Cuisine of precision weighing (digital and that weigh in gram gram)
Electric mixer
If you have a thermomix, well, but a coffee grinder.
Sifter
Pastry with smooth nozzle 1 cm. of diameter sleeve
A couple of bowls
Baking paper sheets
Oven
Several bowls
Spatulas
Spoons, cutlery, etc.
Pairing
It is a typical sweet of the snack, I would recommend you that the tomarais with a tea, coffee or tea. I recommend one of my favorite teas: Twinings Chamomile and honey (Camomile and Honey). A tea without caffeine of delicious flavor. The price is €2.40 box of 20 sachets, i.e. €0.12 per Cup. A Cup so delicious you want to repeat non-stop, and only 4 calories per Cup. For comprensar!.
Directions
1 preheat the oven to 175 ° C convection function. (If you don't have a convection oven or want to have more basis, I refer you to the tutorial Macarons: my secret incofesables)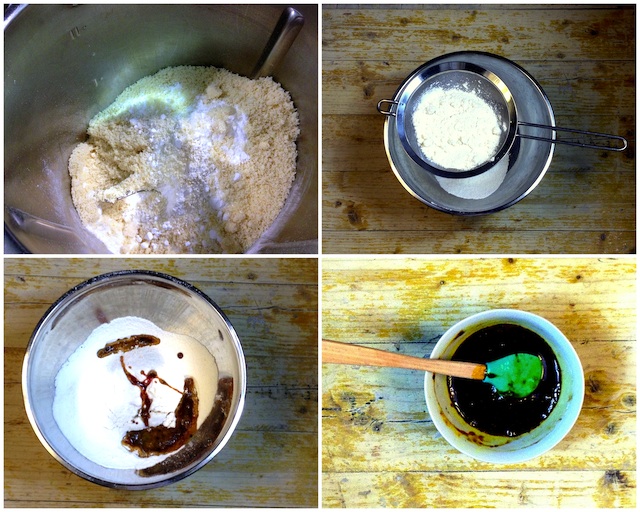 2 spray a few seconds the almond powder to get the possible finer texture.
3 sift the icing sugar and powder of almonds over a large bowl. Mix well.
4 make a hole in the center of the Bowl leaving some of the flour mixture and powdered sugar at the bottom, and tip the 55 g of egg whites with soluble coffee and combine with the spatula. Add coloring and mix well, making sure that it is not anything on the walls of the bowl without mixing. Book.
5. put the other 55 grams of egg whites in bowl of stand mixer.
6. in a saucepan, bring to a boil to fire half the 38 g mineral water with the 150 g of sugar until the syrup (and called to the water with the sugar mixture) reach up to 110 ° C.
7 keep the fire the syrup.
8. Add a pinch of sugar to the egg whites which we have prepared in the mixer Bowl and begin to beat on medium-high speed until they reach soft peaks. (This pinch of sugar help heat the egg whites and will prevent that protein separates from water containing when we batamos too).
9. when the syrup reaches 120 ° C, remove from heat.
10 lower the mixer speed to medium-low power and add the syrup little by little. The meringue will come down but is normal. Then increase mixer speed and beat for about 5 minutes. After that time, the whites should be firm and shiny and although Bowl will still be warm to the touch, merengue temperature will be lowered to room temperature. If it is not, continue beating until the temperature has fallen.
11. with the help of a spatula, turn over a third of meringue mix powder almonds, sugar icing, colouring and clear without beating. Mix with outflanking. Continue adding meringue to our colored mixture. The mixture should not be very smooth or very hard, so if we make a curl with a spatula, keep the form without moving or get rid. If before have incorporated all of the merengue had reached that point, it's not necessary to incorporate it all, since it is preferable that the dough is a little hard to be too smooth. I weighed the ingredients perfectly and joined all of the merengue.
12 move the mixture to one sleeve pastry nozzle of a centimeter.
13 place our template of circles on a sheet of oven. Place a clean on the template tracing paper so that we can perfectly see the circles under dibijados.
14. Insert sleeve filled to 1 cm above the oven plate and begin to press the sleeve by moving it circularly until we fill the circle. Stop pushing the sleeve. Lift and move to the next circle. Sprinkle with the help of a colander with a little cocoa powder. This operation is optional and does not add flavor to the macarons, but they are very beautiful.
15. when we have all made circles, carefully slide the template under the macarons and pull it out. Tap firmly on the countertop oven tray so that the peaks that have been left to make the circles disappear.
16 let stand the macarons 30 minutes, even if I just let them stand for 5 minutes and they came out fantastic.
17 bake for 8-10 minutes until the surface is shiny.
18. fit the tray on a wire rack until completely cool.
19 placing in the oven the next tray of macaroons.
To perform salt caramel cream:
20. heat the cream to a boil.
21 put 50 grams of sugar in a saucepan to make candy. Let the sugar melts and then add other 50 grs. repeat the operation with the remaining 50 g of sugar.
22 let make the candy until the caramel has a golden brown color. Remove the Pan from the fire.
23. with great care not to burn us, add salted butter and mix well. Gradually add the boiled cream.
24 return the cream to the fire and cook cream until it reaches the 108 °. Pour the cream on a heat-resistant Pyrex (because the cream will be boiling). Let cool and cover with plastic wrap. Place in the refrigerator until the cream is completely cold.
25 put the butter without salt in bowl of electric mixer and beat on medium for 10 minutes speed until creamy.
26 incorporate half of the caramel cream and continue beating until well blended. Then add the other half half of the cream caramel and whip until the cream is homogeneous.
27 pass cream salted butter caramel one sleeve pastry with smooth nozzle and fill the macarons. If the mixture is too soft, put it in the fridge a while so it take a little bit of body.
28. once filled, or well spend the macarons in the freezer, which is better than taking them directly (I refer you to the tutorial Macarons: my shameful secrets) either store them in the fridge for a few hours. If you pass them in the freezer so they can acquire their maximum flavor, you can keep them frozen 24 hours to 15 days. When you go them ye eat, descongelad them 3 hours in the fridge and then 1 hour at room temperature. !Ready to eat and... enjoy!.
Tips and Tricks
You can see all the tricks, learning and advice in my post: Macarons: my shameful secrets or objective: The perfect Macaron
If the Macarons of Strawberry, with a recipe like Basic, this linka link
If you prefer Macarons of chewing gum, linka HERE
You can follow the daily life of the blog also on social networks:
You can also sign up to receive news in your e-mail, Subscribe HERE.
If you like photos, you can see many more in my profile of Pinterest
Thank you for your assistance. Do you you think?