"That is too small is a big pride"
There is a place in Malaga where I a lot of times, a times almost every day and which have never taken much more than one paragraph, and is worth it with capital letters. It is of the Central Market .The Market Shipyards so today with great pleasure, we stayed close. You like to meet him? Well let
I love to go to the market because it is where first change the seasons of the year. because I like to buy knowing what you buy, and because I love the smell, noise and bustle of their jobs. I recommend it... And as we already ate, let's go for the dessert. Are you ready? Let's go to the kitchen!
Today I bring you a rich rich recipe I made my friend suck by her meets. Although it may seem complicated it is not and that is certainly a human trafficking "have you ever done it?" because the different textures make it a marvel of dessert, snack or just fad.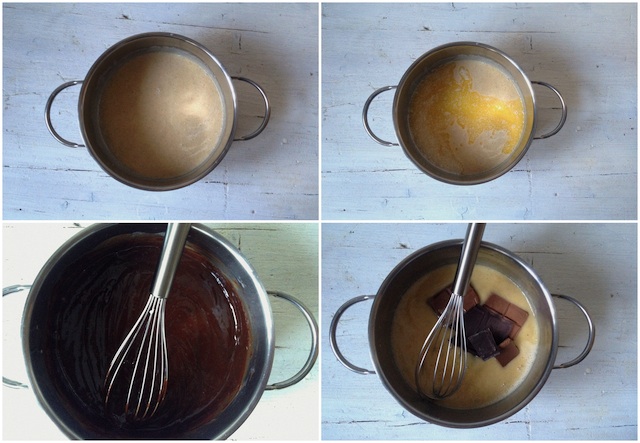 Ingredients
For the Brownies:
215 gr of sugar €0,27
25 gr of pure cocoa powder (I use value) €0.10
150 gr butter €0.60
75 gr of flour 0.04
2 eggs €0,24
1 tablespoon vanilla extract €0.51
For the Coconut cream:
35 g of milk €0.02
35 g of liquid cream €0.10
215 coconut milk €1.50
2 eggs €0,24
125 g of sugar €0,13
45 g of cornstarch €0,20
1 pinch salt €0.01
50 g coconut grated €0.70
1/2 teaspoon vanilla extract €0.25
1 gelatin leaf €0.06
For the chocolate mousse:
75 gr of butter €0.30
2 yolks €0.12
2 clear €0.12
120 g of liquid cream €0.35
1/2 tsp. vanilla extract €0.25
112 g of dark chocolate (to my like I put half of dark chocolate and milk chocolate half) €0.70
265 gr of sugar €0.30
a pinch of cornstarch €0.10
For decoration:
150 g cream liquid €0,42
50 gr of sugar €0.06
1 teaspoon vanilla €0,50
30 g of grated coconut toast €0,42
Total €8.61 divided among 10 generous portions coming from our cake are 0€86 per serving. A deliciously original tart and very good price as always.
Directions
1 melt the butter in a bowl.
2. Add the sugar and beat until well-mixed
3. Add the cocoa and flour and mix well. Add eggs and vanilla and beat until creamy with rods.
4 grease a 22 cm mould and dump the dough on it.
5. bake for 20 minutes until it by clicking it, the toothpick comes out clean. Remove from the oven and reserve.
6 to soak a sheet of gelatin.
7. in a saucepan, mix milk, cream, coconut milk, sugar, beaten eggs and cornstarch and cook for about 8-10 until it thickens.
8. once it has thickened, remove from heat. Add the gelatin leaf and move until it is completely dissolved.
9. then add the vanilla extract and grated coconut and mix well.
10 turn on the mold with the brownie mix and cool in the fridge for about 4 hours.
11 roast in oven 50 gr of grated coconut.
12. for the chocolate mousse, melt the butter.
13. in a medium saucepan whisk the egg yolks, cream and vanilla. Book.
14. Add the butter to the bowl of yolks and put to fire unless it comes to a boil until the mixture has thickened (about 8-10 minutes).
15. once it has thickened add the chocolate. Move until the chocolate is melted. Book.
16. in a bowl, beat the egg whites with the sugar and a pinch of cornstarch until meringue is shiny and hard.
17. Add a tablespoon of meringue to the chocolate mixture. Mix. Add the rest of the meringue with outflanking.
18. once all mixed pour it onto the cake and return to the fridge for the less 4 hours.
19. beat the cream with the icing sugar and vanilla to be rubber pipe (if you lift a spoon and volcáis it, the cream will not fall off).
20 cover the cake with the whipped cream and sprinkle with a little toasted grated coconut (can roast it in a pan, Browning it without adding anything and waiting until you get the desired shade).
21. to enjoy this delight...
Tips and Tricks
A few pistachio nuts peeled and crushed before baking adds to the mass of the brownie. You will add a delightful crunchy touch.
You can freeze it once and thawed in the fridge for 10 hours
Level of difficulty: medium
Preparation time: 90 min. and 24 hours to cool in the fridge
Diners: 14-16 people