With this chocolate cake and pumpkin with cream of maple syrup I welcome the autumn and that finally I have oven and oven go! One good move of House things is that I have had to change some things because not I could bring them home, and that has happened to me with the oven.
When I got to my new house the oven not helped me: a furnace of thousand years that was broken and that she could not cook. I thought about it much and gave many laps but what better option than Miele? There are many kilns, to drive you crazy, but I'm super happy with my decision. Oven multi function with which I can also do rich breads and an endless recipes because besides the functions with which we are already familiar, has a new one for me, the climate function.
This function allowing to add steam in certain moments of cooking. It is a combination of air hot plus and moisture, or up and down with moisture ((esta humedad es la que aporta la función clima) heat and makes that we can do some incredible roasts and baking almost professional in extra juicy meats and breads with a very cruji bark) entity.
What I have tried so far I has demonstrated once more that every oven is different, and that if I previously needed 50 minutes to bake a cake, now 35 enough me to have a cake that drooling.
But one of the things that most surprised me is how to clean. You will see. Miele oven installed but then you receive the visit of a technician who explains how the oven works and how to keep it perfect. When we got to the topic of cleaning, I asked which was the function of cleaning. He explained to me that he didn't. That oven almost cleaned only once used, makes the film that covers the entire inside of the oven that it's not necessary to rub and to the and after using simply must pass a damp cloth.
You can imagine my face weighing "Yes of course, when I roast a chicken and fill all fat, say with a damp cloth will clean, clear". He explained to me that it is very important to not wipe it with anything other than mild soap and a cloth, anything scouring pads, or cleansers against fat or anything. I did not believe it me. For what I am going to cheat, I do not think it me.
As well, yesterday as well a few tomatoes to repeat my tomatoes soup. Not wanting to stain my new trays have to rub them. I decided to use my old I brought a tray. But I did not realize that was cracked. The first difference I noticed when roasting the tomatoes was that they were roasted in 25 minutes, when I normally have between 40 and 50 minutes. The second surprise was not nice ta: liquid that drop tomatoes grilled is had crept by the crack of the tray, had fallen on the oven and the heat had dried. Horror! I thought! To see how to get out of this. But I remembered the technician and decided without any faith, follow their advice. Kidding is the word that best defines how I was when passing the damp cloth all the dirt came out. He did not lack or SOAP. Take already! A super extra of my oven that makes it thrilled my decision 100%. By the way now Miele wants to reward this decision that you feel most proud. Here is the information to win this contest so much fun.
And now let's look at the recipe for chocolate cake and pumpkin. A cake made with two cakes: one of chocolate and another pumpkin with an incredible flavor and that are stuffed with a cream syrup of Maple and cinnamon that has all the flavor of the fall. Also so pretty. With it we celebrate at home Halloween and all Saints day so sweet I love autumn. Let's go for it!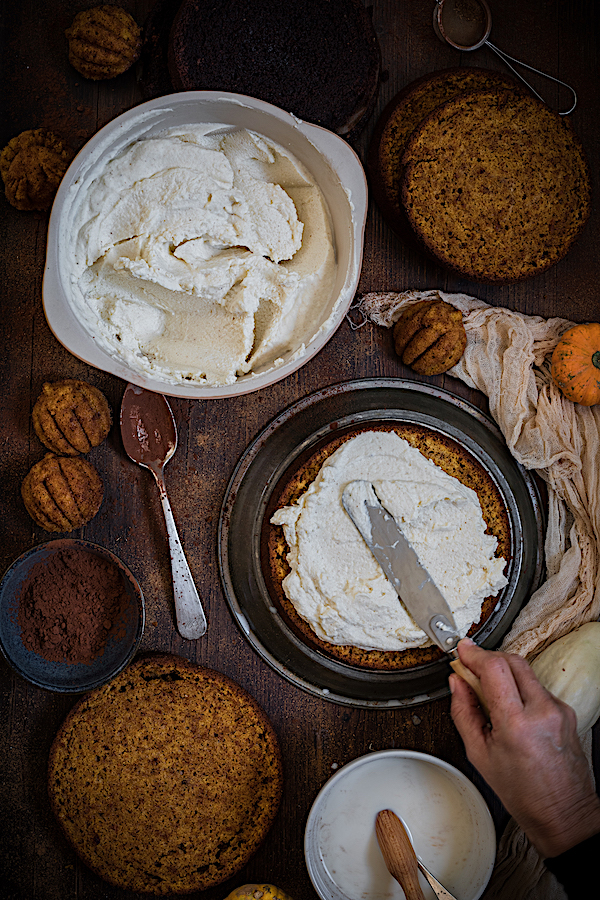 Ingredients
For the chocolate cake
80 ml dark beer
1 tablespoon of instant coffee
115 g butter
25 g of pure cocoa powder
170 g flour
225 g of sugar
1 teaspoon baking soda
1/2 teaspoon of baking powder
a pinch of salt
1 tablespoon pure vanilla extract
2 eggs
125 ml of liquid cream
For the pumpkin cake
185 g of flour
1/2 teaspoon of baking powder
1/2 teaspoon baking soda
1/2 teaspoon salt
1 teaspoon of cinnamon powder
1/2 teaspoon clove
1/2 teaspoon nutmeg
1/2 teaspoon ground ginger
160 ml of oil (I used sunflower because it is softer)
150 g sugar
2 eggs
200 g of roasted pumpkin)Here is the recipe)
For the frosting
250 g of mascarpone cheese
600 ml cream liquid whipping very cold
1 teaspoon pure vanilla extract
1 teaspoon of cinnamon powder
1 tablespoon maple syrup
200 g of white chocolate + 100 ml of liquid cream]
For milk
100 ml milk
1/2 teaspoon cinnamon
a pinch of cloves
1 tablespoon maple syrup
For the frosting
A dark chocolate Tablet
a tablespoon of maple syrup
Directions
Preheat the oven to 175 degrees
Grease 2 18 cm removable molds and cover the bottom with paper anti adherent. Book.
We started with the chocolate cake.
In a saucepan put warm beer with coffee and cocoa. Cool.
Meanwhile, in a bowl of electric mixer combine butter and vanilla sugar until the mixture is fluffy. Then add the eggs one at a time mixing well each time until the mixture has doubled the volume and is very fluffy
In a bowl, mix flour, baking soda, salt, baking powder, cocoa powder and spices.
Start adding flour mixture by tablespoonfuls alternating with the mixture of beer and the cream. Finish with the cream. Pour in mold you and bake for 40-50 minutes until sponge cake you is cooked and pierced it with a toothpick comes out clean. When the cake is ready, leave to cool completely on a wire rack.
For the pumpkin spice cake, in a bowl mix the flour, yeast, the baking soda, salt and spices.
In bowl of electric mixer, beat the eggs with the sugar until the mixture is well fluffy. Add oil and pumpkin puree and whisk until the mixture is uniform. Then gradually add the flour mixture. Pour onto greased mould and bake 40 to 50 minutes until Pierce with a toothpick, comes out clean. Let cool on a wire rack.
When the two cakes are cold, cut into two layers each.
For maple syrup cream, melt the chocolate in the microwave with 2 tablespoons of milk. When melted, add 100 ml of liquid cream and let it lose all the heat. Add maple syrup, vanilla and 1 teaspoon of cinnamon powder. Book.
In bowl of electric mixer beat mascarpone cheese until it is creamy and without lumps. Start adding the cream very cold alternating with the white chocllate. When is the cream thick to let stand half an hour in the refrigerator to take body.
In a bowl, mix all the ingredients of the milk.
To assemble the cake of chocolate and pumpkin, put a disc of pumpkin cake. With a brush, paint with the milk. Cover with a layer of cream and put a layer of chocolate on top. Repeat alternating layers of pumpkin and chocolate to finish. Cover with the rest of the cream.
Warming on le micro chocolate with maple syrup. Move well. With the help of a spoon, cover top of chocolate and pumpkin pie. Garnish with a few shavings of dark chocolate. Cool for at least half an hour in the fridge.
Tips and Tricks
You can replace the chocolate cake and pumpkin mascarpone with cream cheese
It freezes very well so you can prepare it with time
Preparation time: 2 hours and a half
Difficulty: easy
Servings: 10