I prepared this chocolate cake that I bring you today for the Good Fridaymy mother and my own Saint's day and one of the most celebrated days in my family, where the day of the Saint, as in Andalusia, is always important. And although the cake is not chocolate, that is not really a chocolate cake, there is chocolate everywhere! The name seemed fun because it was what everyone thought when they saw the cake: chocolate cake, but this cake was a surprise.
I was going to do a fraisier (I promise to bring the recipe soon), but my son wanted to make cookies. I tried to explain to him that the cookies are not the most brilliant dessert for a celebration meal, but then I remembered a cake that I once tried in United States, a delicious cake covered with cookie dough, and chocolate.
The cake is not too sweet, that I already notice is not a chocolate cake as such, but with a rich amazing buttery toasted flavor. The first time I used this butter was my Professor Cristina Tosi, Milk Bar-Momufuku in New York, and although while preparing the recipe seemed an unappetizing thing, the truth is that after trying it I was hallucinating: scraping bottom burned butter and add all those burned black and Brown particles? Yes, and you will already see the taste so rich giving to your biscuits.
When the cake is finished, it seems a chocolate cake, however when you cut a portion... ta chan... surprise!, there is a delicious and tender buttery sponge cake with hints of walnut and hazelnut which is delicious but no chocolate inside. My family enjoyed a lot this chocolate cake that is not really a chocolate cake, so I hope you also like it!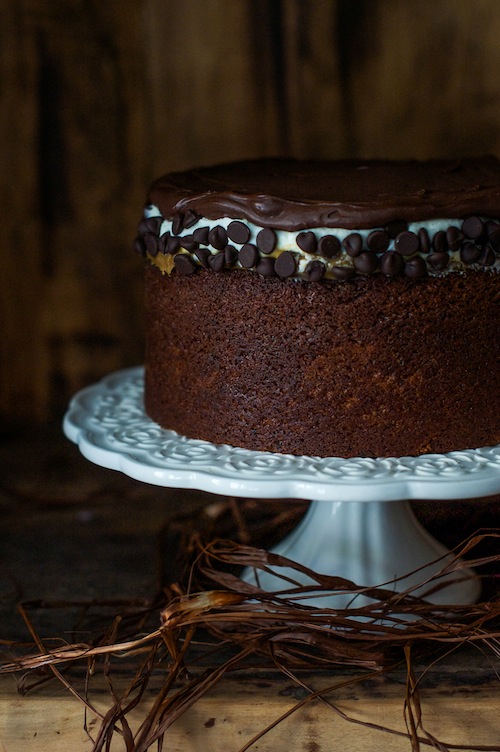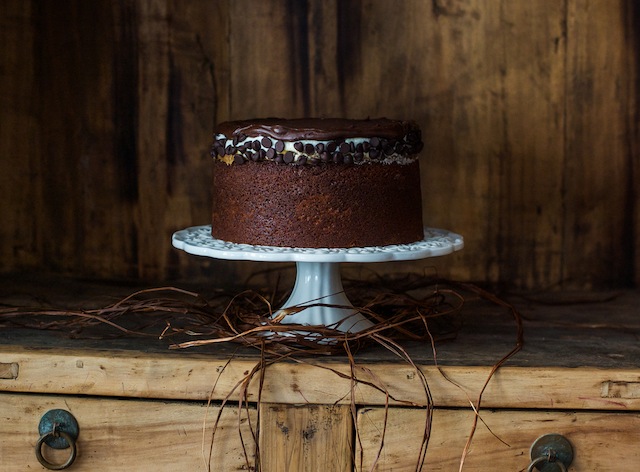 Ingredients
For cake
1 tablespoon vanilla paste €0.30
340 g of unsalted butter €1,90
340g sugar €0.30
2 eggs 4 egg yolks €0.43
330g flour €0.15
1 tablespoon powdered yeast €0.15
1 teaspoon salt €0.01
300 ml milk €0.25
For the cookie dough
120 g butter, soft €0.65
160 g of brown sugar €0.23
4 teaspoons of water €0.02
1 teaspoon pure vanilla extract €0.15
130 g flour €0.08
1/2 teaspoon salt €0.01
130 g of mini chocolate chips €1,30
For the frosting or cream coverage
170 g of icing sugar €0.40
115 g butter temperature ambient €0.60
1/8 teaspoon salt €0.01
1/2 teaspoon vanilla €0.15
1 tablespoon milk €0.05
For the chocolate ganache
300 g of chocolate into pieces (to my like I put half milk chocolate and half dark chocolate to 51%, but make it all black if you prefer) €2,00
175 ml of liquid cream €0.60
Total €9,74, i.e. €0,81 per each of the 12 generous portions that come out of this fantastic cake
Directions
1. Brown butter in a medium saucepan over medium-high heat until the butter is brown and have small brown spots. Let cool for 1 hour in a bowl.
2 preheat the oven to 170 ° and grease a cast of 18 cm in diameter which is high (about 6 cms of height).
3 Beat brown butter, vanilla and sugar at medium speed until it is soft and fluffy. Add eggs one to one.
4. In a separate bowl, sift the flour, yeast and salt (I do not usually sift because as Cristina Tosi agreed, I have not managed to find the difference in the result.)
5. Add flour and milk alternating the two ingredients: Add a few tablespoons of flour and mix well. Then add a little milk and mix well.Repeat until we have incorporated all the ingredients.
6 pour it mixture into pan and bake for 30-40 minutes until the click on the cake with a needle, this comes out clean. Let cool completely on a wire rack.
7. For the cookies cream, beat the butter with the sugar in an electric mixer. When well fluffy add water and vanilla. Add the flour and salt, and mix well. Add chocolate chips and let cool in the refrigerator while we prepare the vanilla cream.
8 Beat the icing sugar, butter, salt and vanilla until smooth. Add the milk little by little. Cover the cake with cream crackers and place over a layer of vanilla cream. Keep in the fridge.
9. Put chocolate in a large bowl. In the micro heat the cream to a boil, pour over chocolate and let stand for 5 minutes. Beat with a few rods until soft and creamy, and then leave to stand for at least 2 hours so it thickens and there is no danger go melting our vanilla cream. Cover the top of the cake and serve.
Tips and Tricks
Add a few nuggets of chocolate around cookies cream
If you prefer you can open the cake in half and fill it with cookies cream instead of putting it on top
Difficulty: easy
Preparation time: 2 hours
Servings: 12