A long time ago that I wanted to make this soup of tomato with Basil. I like a lot to use the tomato in the creams in summer and in my house already know that there is no shortage or gazpacho, salmorejo or truncheon.
But hot tomato soups are also the most. I really like your taste and also sometimes become makeshift sauces that my son is a very fan.
This is this winter after that put the recipe I have come to that after several tests and which is based on the recipe a Turkish friend gave me us at a dinner on Sunday at his home in Brussels. It was very cold and the simple smell of soup hot arriving home I already conquered.
The expectations were met and the tomato soup was a real pleasure. It's funny how it changes the taste of the tomato when it is raw, fried or as in this case roast. He had never roasted tomatoes and is a real pleasure. the House is filled with a special aroma that hypnotizes you and makes you want to open the oven and eat them all.
The secret of this recipe for tomato soup is the time of cooking and of course olive oil Virgin extra which must be of the best quality to look good tomato flavor. you know that I am super fan of oils O-Med that I recommend so don't hesitate if you are looking for a good oil.
Another key factor is the time: the more time in the oven are tomatoes taste better will have and therefore better know our tomato soup. Medium oven and unos30 minutes to make the flavor soak well. Do not makes you the mouth water? To me if so we already go for this rich tomato soup recipe.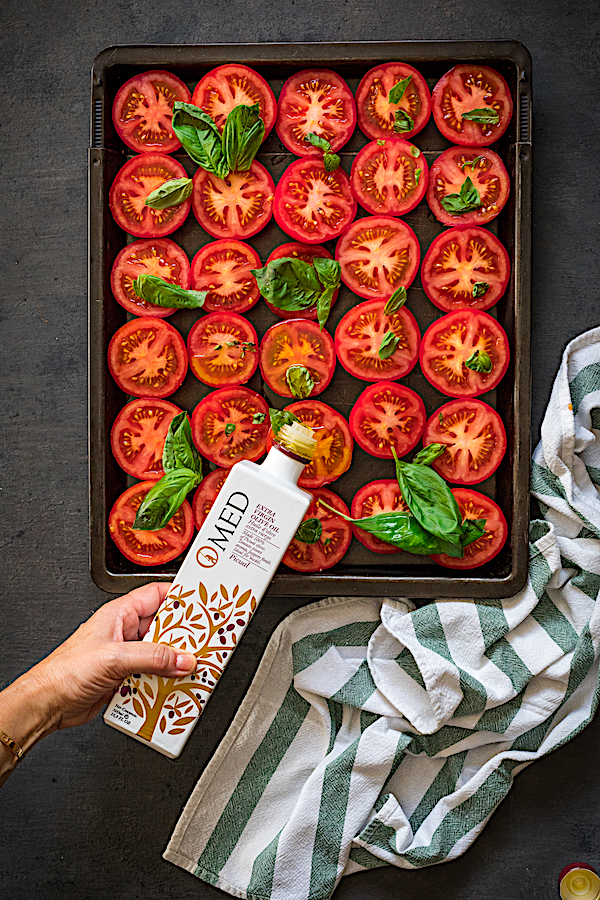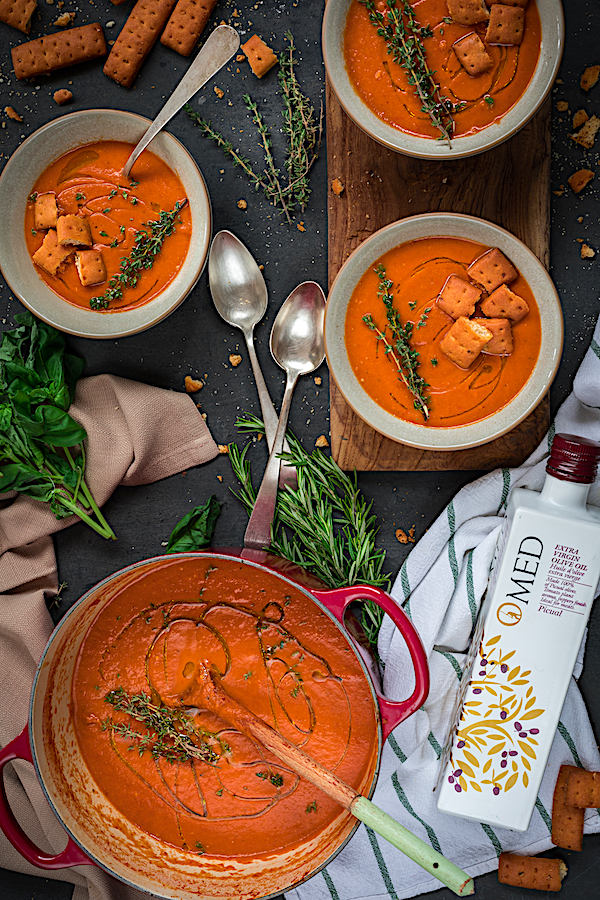 Ingredients
2 kg red tomatoes
200 ml extra virgin olive oil
1 bunch of fresh basil
1 bunch of fresh thyme
salt
pepper
2 onions
a tablespoon of balsamic vinegar
2 cloves of garlic
Directions
Preheat the oven to 185 degrees
Wash and cut the tomatoes in half. The mouth is placed above and season them. Spray a little Virgin olive oil extra. We give them spin and turn to pepper. Add basil leaves and bake for 30-40 minutes until they are well roasted.
Chop the onion and the garlic cloves. In a pan put 2 tablespoons of oil extra virgin olive and poach the onion and garlic to fire medium low, for at least 10 minutes until the onion is tender and take a soft golden color.
Then add the vinegar and tomatoes with all the water that have been released. Increase the heat medium-high and let sauté for about 5 minutes until everything is incorporated. Add a bunch of fresh basil and with help of a food processor or a hand mixer, blend until smooth and fine texture moon.
Serve tomato soup well hot with bread croutons, ry about herbs. I used fresh thyme. Finish with a good splash of olive oil extra.
Tips and Tricks
Serve with slices of toasted bread smeared oil and garlic tomato soup
Using your favorite fresh herbs
Preparation time: 50 minutes
Difficulty: easy
Servings: 8