"Smile costs less than electricity and gives more light."
Walking through Paris It is always a real luxury. Gives that same rain, because if there is a place where the rain is really wonderful, here it is. It is always more pleasant if good weather with us, but a grey day in autumn never deslucirá a walk through its streets. If you also have the chance visit when celebrated an important event, even better... Paris never disappoints and the Barrio Latino that I visited today less...
We ended up here this... small little walk. Now get to work with the "Quiche au ton", a simple and delicious recipe of salt, my version that I ate at Gerard Mulot. I hope you like it!.!
By the way, if you like the French recipes, I invite you to browse my selection of gourmet: Tartiflette with puff pastry, Monkfish en papillote, Blown queso y albahaca or the incredible Macarons.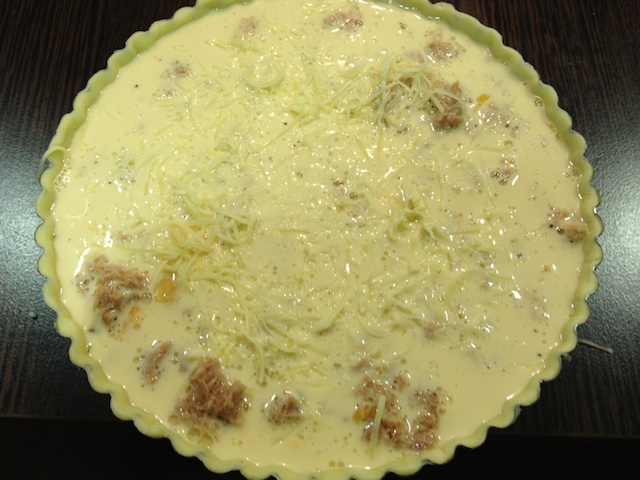 Ingredients
1 package of pastry (approx. 230 gr.) €1,00
1 leek €0,20
a bit of butter (1 tablespoon) €0,20
12 cherry or three ripe tomatoes chopped tomatoes €0.60
4 eggs €0.46
3 small cans of tuna canned €0.95
a tablespoon and a half of mustard (I used a sweet onion, but you can use any that is French) €0.40
200 ml of liquid cream €0.45
a little salt €0.03
a little black pepper €0.02
a little nutty nutmeg €0.05
2 tablespoons cheese grated €0.30 (to my I like putting cheese, Gruyère or emmental, but you can use any that you like you)
Total for six Diners €4.66, i.e. 0€78 per person. Healthy, very, very original and rich.
Directions
1. heat the oven to 180 º.
2 cover with the pastry mould for cake. This cake takes much butter, it is not necessary to grease the mold before covering it.
3 chop the leek finite, and chop tomatoes into small cubes. Quickly in a skillet, sauté the leeks with a little butter until it is soft. Put them in the mold on top of the pastry.
4. in the same Pan Saute already sliced tomatoes until they are soft and tip dealing them in the mold on top of the leeks.
5. with the help of a kitchen brush, paint the tomatoes with mustard. A thin layer on top of the tomatoes should be. Mustard will give a peculiar flavor to the cake that will give you juicy.
6. drain oil from tuna cans and put shredded tuna spread on top of the tomatoes.
7. with the help of a fork beat eggs well and add the tub of cream.
8 Add salt and pepper and add a little nutmeg.
9 pour the mixture of eggs and cream on the tuna with care. Then sprinkle on top with some grated cheese.
10 Bake at 180 ° for about 30 minutes. The cake should be golden and egg NOGGIN.
11 serve hot and if you wish you can accompany him a little salad... Bon appetit!.
Tips and Tricks
Preparation time: 50 min.
Servings: six
Use the type of cheese that more you like
The cake can be kept for up to three days in the fridge and then heat it in the oven or the micro
To reduce fat, try to replace the cream with the same amount of evaporated milk
Level of difficulty: easy
This dish would go very well with a young, white, soft and elegant wine. I recommend wine you from Rueda clásico Sanz £ 3.59. It is made of a high percentage of Verdejo and Viura rest.