"The destination is that shuffles the cards, but we are the ones who play them."
Vanilla cake (The ultimate vanilla layer cake)
Sometimes the coincidences of life lead to a "sweet" and happy ending as it did with this story. Cambridge It is a small and manageable city that stands out for its world renowned University, the second oldest of England, founded in 1209, by its history, its buildings, its life and the green of the English countryside, but I never thought that it was the place where also knew to Bea's of Bloomsbury.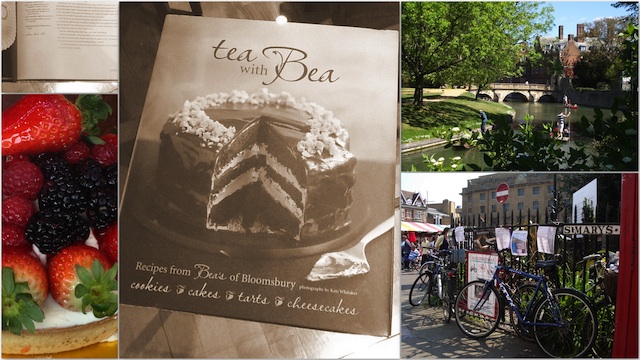 Random made to in a bookshop there know the famous London Patisserie (recommended in the) City Guide Louis Vuitton London), and immediately did not hesitate to buy his book of recipes. Not is if you have had the opportunity to meet Cambridge (at only one hour from London by train), but is one of those magical places full of life, where is found the weight of history with a vibrant population young and energetic (20% are students). I love it. It is located on the banks of the bucolic River Cam, it is University City on all four sides, where you can breathe the air Potteriano wherever one goes, houses historic buildings, chapels and schools in a just and solid architecture built centuries ago. The first schools, as the Peterhousethey were implanted in the 13th hosted by the church-related institutions and since then have been many that have been added to the College list, forming the 31 colleges where you can currently take undergraduate and graduate studies. All of them are those who are their shields, colors and distinctive form the typical picture of the British, so ceremonious student staff as always.
Only a walk along bottom Trumpington Street and King's Parade, admiring the schools, courtyards, chapels and buildings evoking the times of the ancient dynasties of English Kings; the surroundings of Market, Sydney, Magdalene and Bridge Street, with its overflowing Lung Street life, until you reach the bellisismos gardens that sit between Queen's Road and the River, allowing us to get lost in a quiet walk on bridges, meadows and spectacular landscapes where blends historic architecture with a unique environment from the river. "I encourage you to come by Newnham Road up to"The Granta boat & punt"that offers, with a good beer, with beautiful panoramic with the city in the background. To finish the tour, do not fail to do "punting"i.e. iterate the traditional boats guided by the students themselves or by yourselves if you dare, the historical part of the river discovering views, details and "secrets" of the Cambridge history and its University.
Returning to Bea´s of Bloomsbry, my discovery, I have to tell you that it is a magnificent chain of pastry shops and tea rooms located in the most emblematic places in London, and that they decided to publish his book "Tea with Bea" where they make a tour of a number of more than recommended recipes, which I do not pass the cake layer.
The layer cake another are thing that a cake consisting of a biscuit stuffed presented in layers (layer). The cake may be simple, even yogurt, and the filling can be a simple jam. But how much thinner Baba and more delicate filling, the greater the pleasure of enjoying a piece. If it is in addition to a delicious cake like this, then the calories cease to be dead (those we eat and do not provide us any pleasure to taste), to go to all the sense in the world.
This cake is a guaranteed success. The cake is soft, with a resounding taste of vanilla and its filling is a whipped vanilla, and though it sounds very French, does not imply any difficulty: whipped cream with sugar and vanilla essence. I assure you that it is a delight to everyone, children and adults. And in this case, as it had strawberries at home, and they are in season, I used them to complete the filling. The decoration is made with a pastry and a number 21 nozzle sleeve, and just make circles in the clockwise direction. Truth is not difficult, and as you can see the impressive resulting.
This type of cakes should not never miss on English tea, a snack or a birthday party, but should always have a good recipe. This in particular is my favorite because the combination of sponge cake and filling is fantastic, but you can also use your imagination and be filled with fruit, chocolate, or with a mousse... I hope you enjoy it!.

Level of difficulty: difficult

Preparation time: 1 hour and 45 minutes

For 12 servings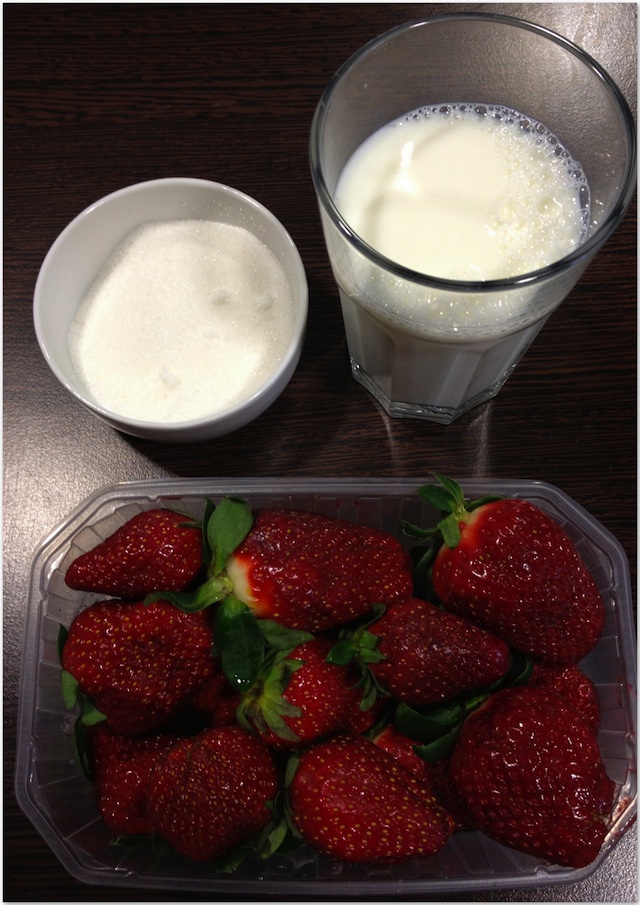 Ingredients:
200 grams butter soft €1.04
1/2 teaspoon salt €0.01
375 g icing sugar €1.63
3 eggs at room temperature €0.34
3 egg yolks €0.34
1 tablespoon vanilla extract €0,20
275 g flour €0.16
2 teaspoons of baking powder €0.21
160 ml milk tempered €0.08
1/2 litre of cream €1.69
500 g of fresh strawberries (leave some without itching to decorate) €1.38
2 teaspoons of vanilla essence transparent €0.30
non-stick spray or butter for greasing molds €0,20
Total: €7.58 to be divided between twelve servings, generous, 063 € per serving. Spectacular for the price that have the ingredients, but do not forget that if what if that takes is hard work, dedication and much affection.
Utensils:
three molds of the same size for the cake. Alternatively two (if you want to only two layers of sponge cake), or also serves one, but in that case you'll have to open the cake in half or three layers to fill it then.
a whisk or electric mixer to whip the cream sticks
a blender
a saucepan
rubber spatula
a wooden spoon, bowls, tables of cutting, knives.
Pairing
Muscat Orange, from Malaga Virgin of la Axarquía malagueña Winery. 100% Alexandria muscatel. Shells of bitter oranges or "cachorreñas". Sweet liqueur wine to be chilled between 6 and 8 degrees.
Preparation:
1. heat the oven to 170 degrees.
2. with an electric mixer mix the butter, salt and sugar until mixture is almost white, very fluffy and sugar is dissolved.
3. slowly add the eggs to the butter mixture one at a time mixing all the time at medium speed with mixer and waiting for that first is well incorporated to add the second and the same with the third. Add the egg yolks and wait for that have been well incorporated into mixture. Add the vanilla extract and beat well.
4. in a bowl, mix the flour and the baking powder and sift twice so well-mixed.
5 well greased molds to have them prepared and set aside.
6. Add one-third of the flour mixture to the egg mixture and continue mixing on medium speed with care of flour do not splash. Wait until it is well mixed. Add half of the lukewarm milk. Add another part of flour and wait that the dough does not have lumps. Then add the rest of the milk. Finally add the remaining flour and mix well.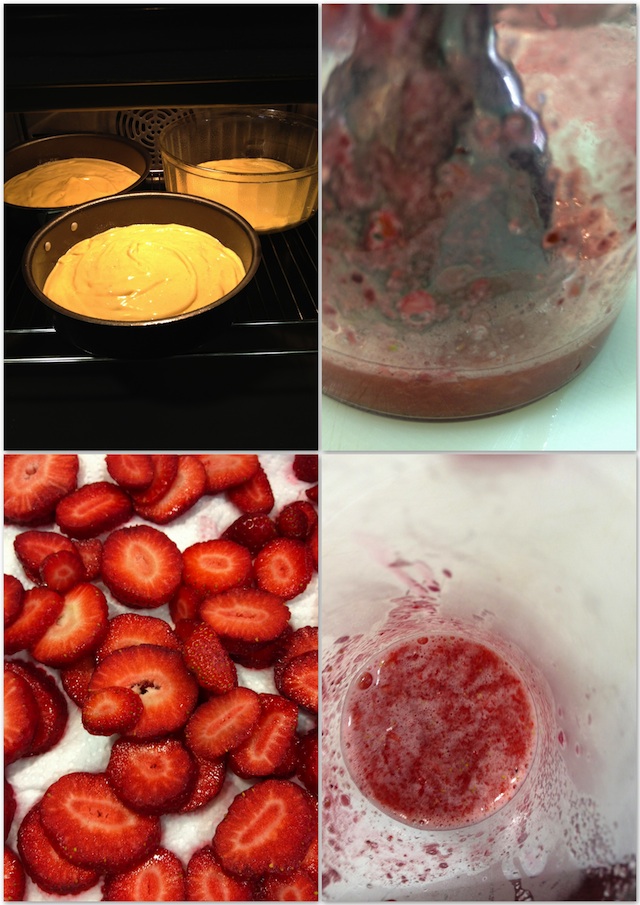 7 pour the mixture into the mould. If you are going to make a cake like this, i.e. filling, I recommend you horneéis the cake into so many molds like layers. It has three layers of cake. The reason is that it is much easier to assemble the cake if the Biscuits are a number if there is to cut them in half, even taking biscuits cutter, it is very likely that in the attempt to biscuits is desmiguen and lost firmness. If you don't have two or three of the same molds, you can use a Pyrex ovenproof having the same size. But if you are going to encourage you to make cakes, I recommend that you buy three equal, round, square or rectangular molds as you want but the same, and though it all. For this type of cake, do not need that you buy you expensive moulds. You can buy them, for example, in the Chinese stores: they are very cheap and so you can reuse them. You only have to keep in mind that you have to lubricate them well so that they don't stick (I use an oil spray sold in the shops of kitchenware that is very practical and is not wasted nothing). If you do not still think to buy them in supermarkets sold molds and throw-away that you can also use, but you'll have to lubricate them very well.
If a single mold is used, pour the entire mixture into the mold. They will use two or three molds, should be borne in mind that the mixture must distribute it among the three. When you have done this several times, you will eye, but if you are not sure or it is the first time, deal with the help of a ladle the dough by tablespoonfuls, by putting the same number of tablespoons in each mould.
8 bake for 20-30 minutes until it is fully cooked: past this time click with a needle or with the tip of a knife, and if it comes out clean is that it already is. If you spotted, it's that still lacks a little. Let him then 5 minutes and return to check the cooking. The time varies because not all ovens are just as powerful, not all the molds heated equally and also depend on whether we use one or more molds (if use one only time will be about 30-40 minutes). Ideally, that after 20 minutes in the event that they are various molds, you click to see how it goes, and if you use a single mold, may prove it to 30 minutes.
Let cool in pan for 10 minutes before removing from pan it. Place it on a wire rack and let cool completely (at least one hour).
9. While the cake is baking, prepare a coulis with the strawberries. Put a couple of tablespoons of sugar, 7 or 8 chopped strawberries and a little water in a ladle boil until the strawberries have softened. Go through the mixer until no lumps remain and it is a mild liquid. If you don't have strawberries, coulis also can be with a little water and a few drops of lemon juice and jam. Normally the coulis is used to put over a cheesecake, a panna cotta or a mousse, but my I like to soak the cakes with the same flavor of the filling. It is normal to soak them with syrup (water with equal parts sugar and is given a gentle boil until the sugar is completely dissolved) or with syrup with liqueur (in this case says "get drunk" Baba). But I've never understood why waste an opportunity as good to give more flavor to a cake. Matter of taste, so we encourage you to use a little milk with cocoa, juices... with moderation.
(10. chop the remaining sliced strawberries, leaving some without itching to decorate) and place on a paper towel so they lose water that spare and slipping us to use them in the filling over the cream. Let 5 or 6 whole for the final presentation.
11 mount the cream with the sugar using a mixer with attachment of rods, and when it is medium mount (thick but that falls if the rod is lifted), add a tablespoon of clear vanilla extract. This extract sold in specialty stores and you can also find it online at many stores (chef utensils, copper, Enjuliana...). The one I use is the Wilton brand and the advantage that it has over the normal vanilla extract, is that it gives no color, respecting the fill color that you are going to choose. If you cannot find it you can use vanilla extract normal, which is located in any establishment, but in this case, the cream will not you be white but with a light cream color.
12 place in the dish where it will be to present the cake a cake layer. For mounting, it is very important to let the cake has been the best for the final layer. The ideal is that all layers of the cake will come out perfect, but there are times that it is not so. Do not worry, the cake will be just as spectacular if left the best part for the last layer. To prove it, and as shown in the photo, I broke the intermediate layer into pieces, and as you can see, in the final result is not noticed anything.
13. with the help of a brush, go dipping all the cake with the hot coulis. It is important that it is hot because otherwise it will not penetrate into the cake and will stay on the surface, which will not help to give juiciness to the inside of the cake.
14 after obtaining, cover with the whipped cream (the whipped cream with the vanilla).
15. Insert a layer of laminated strawberries until there is no gap on the cream.
16 put another layer of cake on top and repeat steps 13, 14 and 15. Cover with the last layer of cake.
17. If it has been enough whipped cream, we can use it to cover our cake and make it even more irresistible. We will begin to cover the sides very carefully with a spatula and removing the excess that go out. Then we'll cover top. If you will, pastry can be a sleeve to decorate. In this case I used a tip number 21 and was making large roses. This is placed sleeve pastry at 90 ° on the cake and by squeezing the sleeve pastry, will turning on hand in the sense of the clock hands to complete a lap. At that moment you stop tighten the sleeve and removed upwards. Soon I promise an easy post on the use of sleeve pastry and a nozzle.
18. Finally garnish with few strawberries rolled at the bottom and place some whole at the top. The result is fantastic.