"Vitality shows not only in the ability to persist but the re-start"
One of the things I like about Sundays is to prepare a Brunch At home. As you know, the Brunch It is named after two English words: Breakfast, which means breakfast and Lunch that means lunch and is served between 11:00 and 15:00. It is very typical in the United States and Great Britain, but it is spreading to the rest of Europe and already in many cities of Spain a good brunch can be very in the style of American.
It is situated halfway between breakfast and lunch, between the sweet and the savory. Some restaurants and hotels serve brunch as a buffet with eggs, pancakes, sausage, bacon, ham, fruits and pastries. Normally includes furthermore a typical dish of lunch as quiche, roast beef, burgers, salads, chicken or salmon and all accompanied by different types of bread. Whenever I talk about the brunch, the sun terraces is come to the mind of Lincoln Road in Miami Beachwhere average tomorrow the atmosphere warm and cool, between sophistication and originality, and very conducive to take a tasty brunch before proceeding with the rest of the day on the beach or at any of the attractions that Miami. In fact, if you want to plan, rent a bike there close and enjoy a sunny morning along Miami Beach in a different way, won't you let down by its color, its beaches and its street entertainment.
However, returning to the brunch, assuredly has endless possibilities, many more than even those same specialty restaurants offer, and I I bring you one today a recipe easy, but at the same time tasty and original.
I encourage really one Sunday decide to prepare it at home. It is true that taking it in any restaurant is very pleasant because it saves us all the work having a meal of this type because you have to prepare an important variety of dishes, but you can also opt to prepare some at home and buy other facts, such as the Croissant, buns... and cooking other more original (like this). Anyway if you pass by Madrid and you want to try it, I recommend a couple of locals who implanted them long weekends and stand out due to bear in mind the New York style, as they are Nina malasana (booking advisable) and my favorite, Café Oliver (that does not support reservations) on calle Almirante.
Finally, I assure you that this recipe will be a success, and you can use it at a brunch, a Sunday breakfast or snack at an informal dinner. It is a way to take some eggs with bacon somewhat peculiar, cheap and nothing complicated in addition you can prepare with the help of your children will have fun painting the pastry with eggs.

Level of difficulty: intermediate (you can help the children)

For 4 people
Preparation time: 40 min.
Ingredients
4 quail eggs €0.35
100 ml of crème fraîche €0.69 (or 100 ml of liquid cream semi-whipped €0.22) in supermarkets, along with cream
100 gr of cheddar and gruyere cheese grated €0.59
200 grams of smoked sliced bacon €1.28
1 egg beaten €0.09
1 sheet of puff pastry frozen € 0.80
Total: €3.33 to be divided between four, 0, 83 €/ person. To that don't believe it?
Equipment
Bowls
A pan
Wooden spoon, chopping boards, a sharp knife, various containers, etc.
Brush to paint the paste
Baking parchment
Pairing
If it's a breakfast, then goes well fresh orange or mango fruit juice, but if a glass of red wine, not too hard is a brunch dish, well I advise a soft beer, such as the Budweiser American well. A red oak of the Ribera del Duero would be phenomenal. I propose the red oak Vega in Nava of the Navarrosa R.E. wineries with notes of cherry and red fruits. It is cheerful, alive, expansive with good acidity and fruity. €2.59
Directions
1 turn on the oven to 180 ° C. prepare a baking tray and cover with a sheet of tracing paper. Set them aside.
2 extend it sheet of puff pastry on a sheet of baking paper. Put another up and with help of a roller, aplanad until the blade is finite.
3. using a knife, cut rectangles about 13 cm by 9 cm. cut also 1.5 cm wide strips to be placed on the edges of the rectangles. With a brush, paint the edges of the rectangles with beaten egg. This serves as adhesive strips that we are going to put on top, and also brings brightness to the puff pastry in baking. Like many children participate in the kitchen. They can do this perfectly.
4. using a fork, prick entire surface inside the rectangle.
5. in a bowl, add the grated cheese with the crème fraîche. The creme fraiche is smoothly in supermarkets and hypermarkets and tends to be located next to the chilled cream. It is not always supported by the recipe, but in this case, you can replace the crème fraîche for the same amount of semimounted cream (mounted but not until is hard, just until it thickens and look like a cream)
6 mix well until a compact paste. Add some ground black pepper.
7. in a frying pan put to Brown the bacon.
8. once the bacon is golden, pass it to a paper towel so that it lost all the oil that has released to the FRY.
9. chop the bacon into small thin strips.
10 fill the center of the rectangles of puff pastry with cream cheese mixture. Cover with strips of bacon. Let children help you in these steps. You'll feel very proud when they see the result later.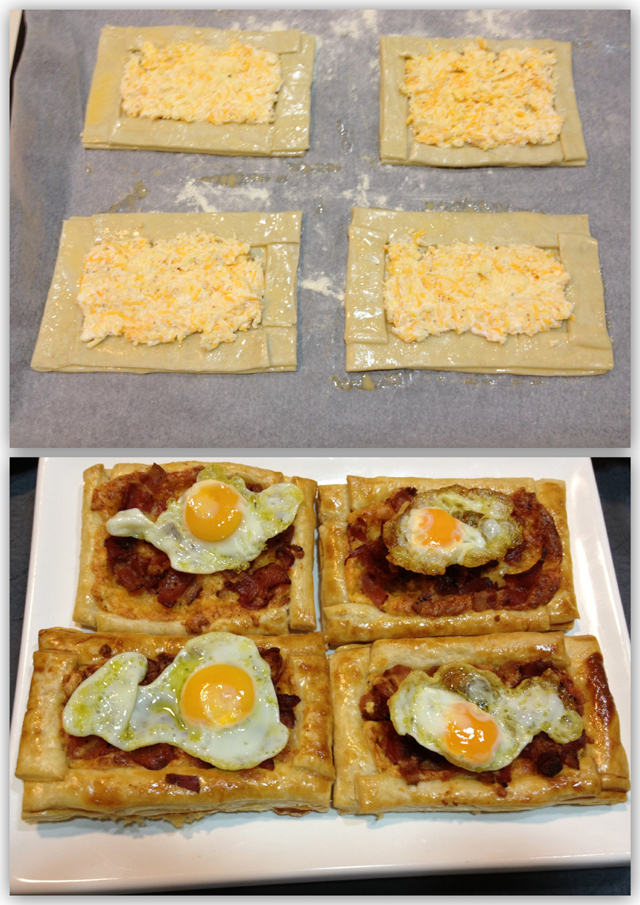 11 Bake at 200 ° C until the pastry is golden brown (about 15-20 minutes).
12. in a skillet, FRY in abundant olive oil quail eggs until they are browned on edges. Place an egg fried in every pie of bacon. Enjoy!