"Today may be a great day. Ask yourself as well"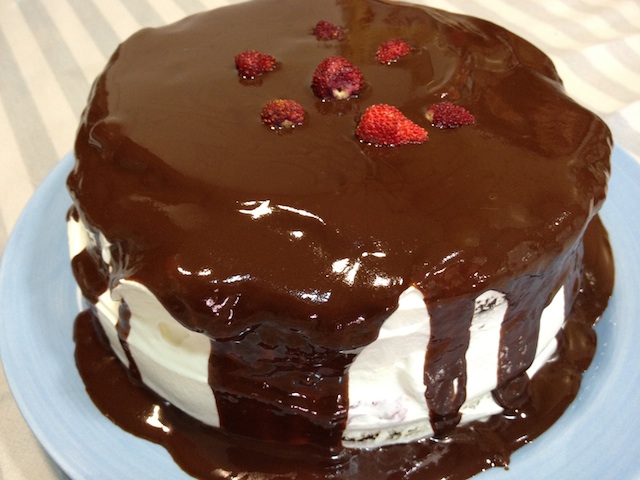 Cake recipe of chocolate, cream and wild strawberries in Spanish
Children!… Today you are lucky. I do doublet, spectacular cake of chocolate cake with cream and wild strawberries and Legoland. I think that the elderly are also grateful. Legoland is the name of the brand theme parks Lego. There are several parks throughout the world, the original in Billund, Denmark; the ultimate in Florida, and others in Germany, California, Malaysia and of Windsor (London). Do you like chocolate?... sure?... then, to whet your appetite, take a look at my recipes with chocolate here.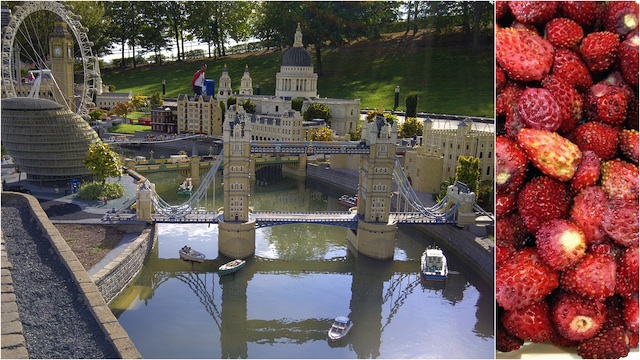 LEGO, originally from Denmark, was initiated into the world of toys at the 1918 when its founder Ole Kirk Christiansen started making wooden toys. Later adopted the famous name of "Let godt" which siginifcado in Danish is "play well", and went on to the plastic into a giant with a different business that ranging from theme parks to video games... but still enthusiastic children as the first day. Among other things, because it allows them to build own ideas and modelizarlas in the space.
The parks they are impressive, especially because they're based in the construction of the small bricks. In the of Windsor (a scant hour East of London), which you can access via train from station Windsor & Eton Riverside, used millions of parts in their manufacture, and as at all, what draws most attention are reproductions-scale cities and most important monuments in the area and the world (is represented to the wedding of Prince William and Kate Middleton). Behind the Dane, was the second Park that was built, ending in 1996. It also has 58 attractions where kids pass it is great, with 11 areas differentiated ranging from pirates, to the Pharaohs, through the Castle Knights, Vikings, Lego city or the 4 d cinema with special effects amazing... that Yes, prepare the Pocket only to enter are more than €50.
It is amazing how it can be represented as certainly the details of any building. The day is exhausting in the meantime carricoche and walk, but kids enjoy like crazy. So much so that my son, a true fan of Legos, when he returned from there, even dared to make short with the creations that builds... in the end we're going to do, from caste comes it to Greyhound!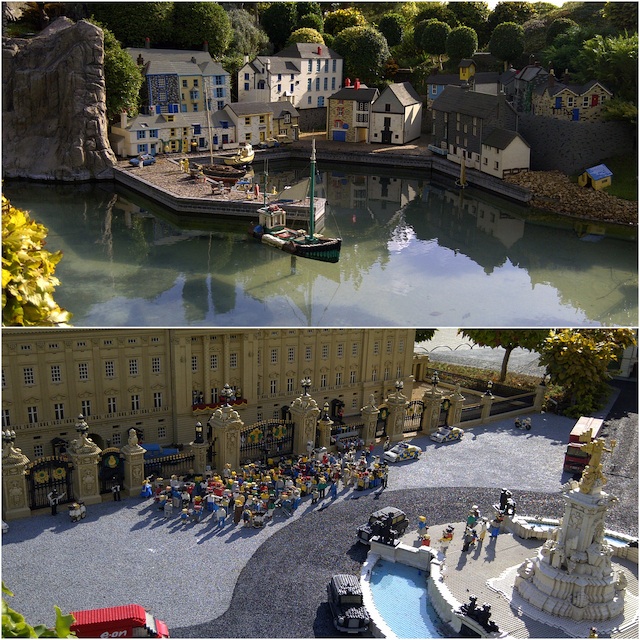 By Legoland walk the kids (aged 2 to 12 is ideal), with a mouth full of streaked from chocolate cake that reveal waffles them, chocolates and cakes that have scoffed the lot of stalls and shops that are scattered throughout the Park. That reminded me of the cake Today, chocolate with cream and wild strawberries is there anything more like a child than chocolate?... Dare to do it with me and get carried away by this cake melted chocolate leak. Are you ready?.

Difficulty level: intermediate
Preparation time: 70 min. and 30 min. fridge to cool
Seating: 20 servings
Ingredients
225 grams of dark chocolate or black semi at 70% cut with a knife into pieces €1.77
175 g unsalted butter €0.70
4 eggs €0,33
300 GR sugar €0,27
175 grs flour €0,13
1/2 teaspoon of sodium bicarbonate €0.05
a pinch of salt €0.05
235 grs of buttermilk or milk of butter (if cannot find it you can substitute the milk with a teaspoon of white vinegar.) In this case you have to wait about 10 minutes, or you can also use the same amount of nonfat yogurt creamy Vitalinea) €1.35
65 grams of cocoa powder €0.43
1 liter of cream whipping. (It must be very cold and to me the most I like is Pascual brand) €3.46
1 teaspoon vanilla essence €0,20
a handful of wild strawberries or raspberries (optional) for filling and 8 strawberries to decorate €3,50
For the frosting
250 ml of liquid cream €0.40
65 g maple syrup €0.30
350 g of dark chocolate or milk or special desserts €1.74
1 teaspoon vanilla extract €0,20
75 g of butter cut into small pieces salt €0,75
Total to 20 servings of pie: €15.63, posed by ration 0€78 (do not reach the euro). It's delicious, sweetly and forceful energy.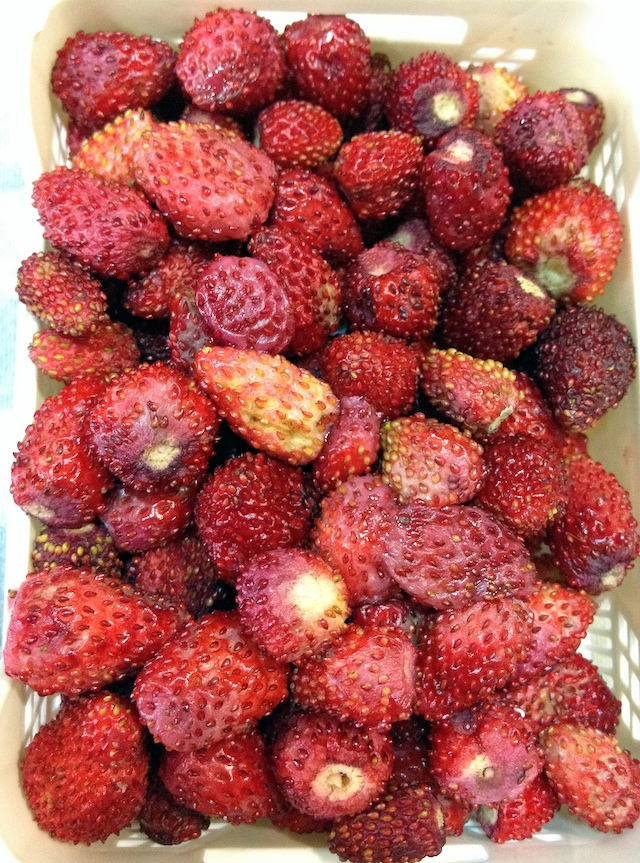 Equipment
Mixer, Kenwood or rods, or a few rods to do it by hand
Oven
Hob or microwave or electric or gas cooking.
Spoons, paddles, spatulas, containers, etc.
2 round pans of 25 cms. If you only have one, you can bake a cake first and then another, or bake all the dough in a single mold, and cut the cake in half, but this operation is complicated and difficult, so I recommend that you use a pair of molds. If you use single-use molds, keep in mind that you'll have to lubricate them well and place a tracing paper the same size as the background to not sticking and then easier to unmold the cake. There are many on the market that are not expensive, and for a layer cake molds, or multi-layered cake, are very useful.
Directions
For the biscuits:
1. heat the oven to 170 º.
2 grease well moulds or mould you are going to use with the help of a spray plant (if don't use butter and cover the entire surface with flour. It is advisable to place a tracing paper in the bottom of the pan to avoid sticking and facilitate the unmold the cake.
3. put the chocolate and cocoa powder in a bowl with the butter and heat in microwave in batches of 30 seconds until everything is well mixed and not is any piece of chocolate without melting. In case of not having microwave, use a non-stick saucepan and heat by moving with the help of a wooden spoon until the chocolate is melted and the mixture is uniform.
4. in another large bowl beat the eggs and sugar. Once creamy, add the chocolate mixture and beat until everything is well incorporated.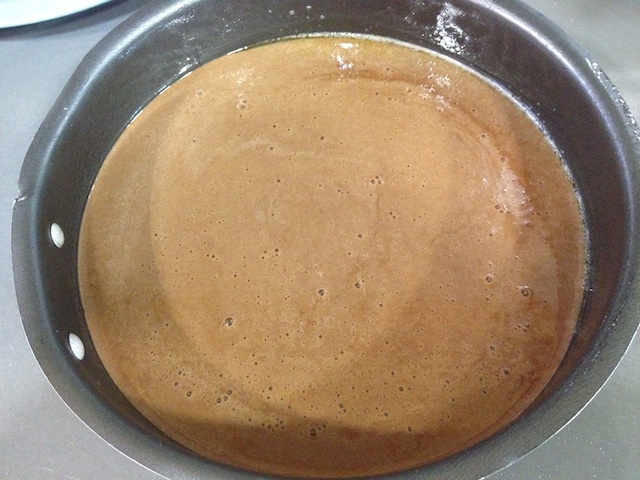 5. in a third Bowl, mix the flour, the baking soda and salt.
6. Add a third prior to the chocolate mix flour and mix well using a rod or an electric mixer.
7. Add half of the buttermilk and mix well, going down with a spatula that has been on the walls of the bowl.
8. Add another third of the flour and again taking care to always get what is in the walls so that everything is well mixed. Add the other half of the buttermilk and working until everything is well incorporated. Repeat with the last part of the flour
9 putting distributed mixture into two equal parts, because we will make two cakes. Bake in the preheated oven for about 30-40 minutes until it runs clear when pierced with a needle. Bake for 5 to 10 minutes more if necessary.
10 remove from oven and cool in pans for 10 minutes. Carefully unmold the cake and place it on a wire rack until it is completely cold.
For the cream and assemble the cake:
11. whip the cream with sugar and vanilla until it is properly assembled.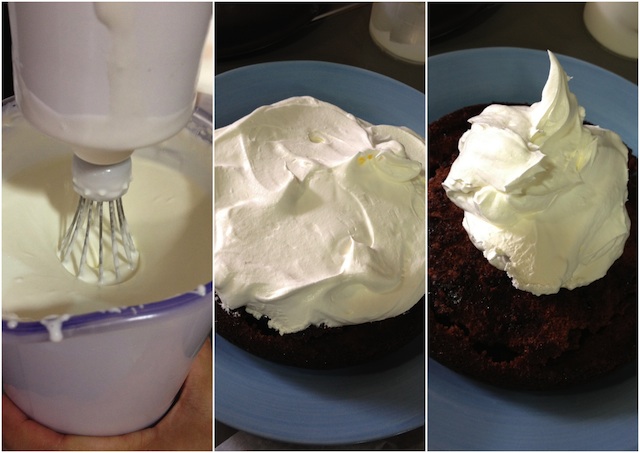 12. once the cakes are well chilled, put one of them on a serving platter.
13 cover with a thick layer of whipped cream
14 place the wild strawberries, raspberries or fresh blueberries (fruit is optional but adds a delicious touch to the cream and chocolate).
15 place the other cake carefully Center it well. Cover the cake with more cream taking care that the sides are also covered in cream. Place the cake in the freezer for at least half an hour.
16 put the chocolate pieces in a large bowl.
17 heat the cream sauce with the maple syrup in a saucepan and let boil. Pour the cream over the chopped chocolate and mix with soft movements.
18. Add butter gradually mixing well so that everything is well incorporated.
19 remove the cake from the freezer and pour the chocolate sauce over. Garnish with some fresh strawberries. If this sauce is to be cool and fit Underwire but my I like most with the texture of the sauce than with the texture of cream... Serve and enjoy!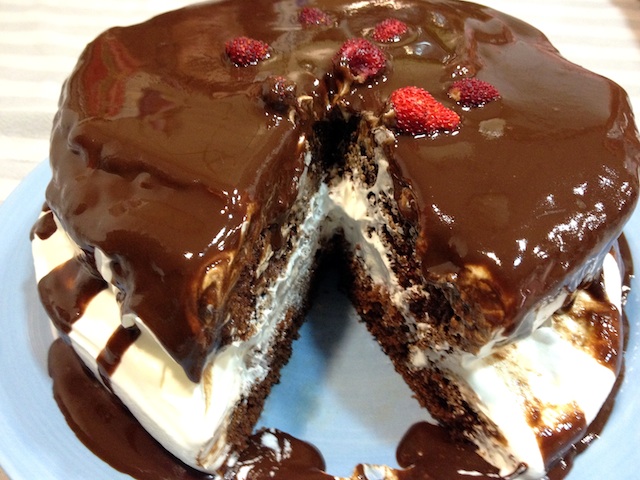 I leave the video of the photographed step-by-step, enjoy it.
PS: You should add back down in the image, the link to vote for my blog in the competition Blogs 2012, in the category Best food Blog... Let the tenths in the partial classification of this week!, so please, if you have a minutillo, pichad below and vote for my candidacy in the corresponding category. Of a truth that is only one minute. We must continue to give war, share it with your friends... Mil Gracias! for your support and for your time. Kisses