This brownie recipe gluten-free It is dedicated to all of you, that you have intolerance to gluten, to those who feel you badly and that is why you have to deprive you of many things. Many times I write asking for recipes that you can take and this is dedicated to all of you.
Three years ago, I try to find alternative recipes without gluten because I have a niece that is intolerant to gluten and the poor stayed without snack whenever we organized one at home, I was slowly making me a collection of adapted recipes, and now that we live in Madrid, one of my son's best friend is Celiac and I still search for When alternative.
So I decided to investigate for a brownie was chewy and soft, equally delicious which is made with wheat flour gluten.
It has not been easy to find a good recipe for gluten-free brownie, but at the end as simple has been the richest. No rare mixtures of flours, nothing impossible combinations for which there is to buy a lot of kinds of flour.
I use often coconut flour because I love its flavor and this time turned out to be perfect. I didn't have rice flour that perhaps would have been more logical but I had coconut flour and was a breakthrough for this dessert today. So my life gluten-free get ready to enjoy, because this is going to become the your brownie RECIPE! For her!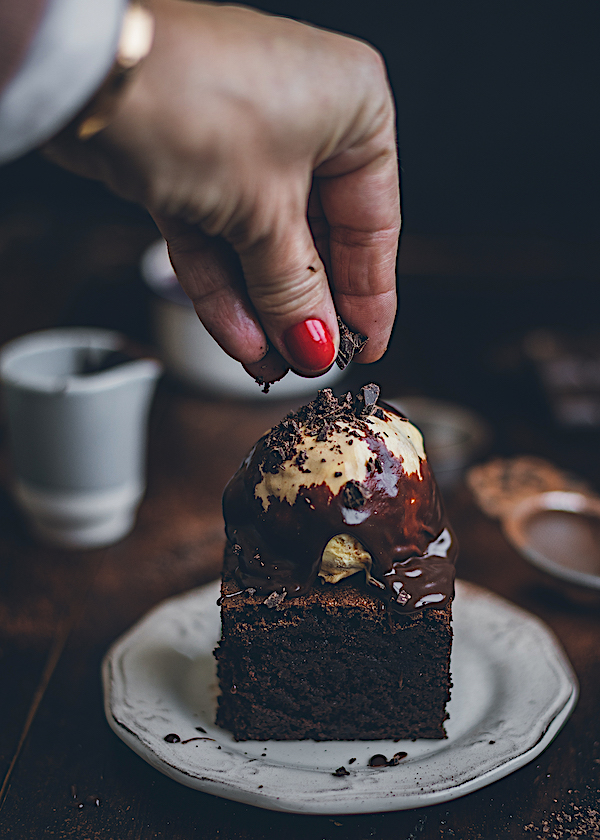 Ingredients
250 g dark chocolate
135 g butter
5 eggs at room temperature
375 g of brown sugar
110 g coconut flour (or 90 g of rice flour although the coconut flavor is worth)
30 g of pure cocoa powder
1/4 teaspoon salt
1/4 teaspoon of baking powder
60 g of dried fruits (walnuts, cashews or hazelnuts optional, I this time not put them)
Directions
Preheat your oven to 170 ° C
Cover pan for brownies of approximately 20 x 20 cm or 25 x 25 cm with baking paper, leaving a little excess paper protruding on all sides.
Put the chocolate and the butter in a medium bowl and melt in the microwave in batches of 30 seconds until you can move with the help of a spoon and form a smooth and soft cream. Book.
In a medium bowl, mix coconut flour, cocoa powder, salt and baking powder.
In a large bowl, mix the sugar and the eggs with the help of a few rods.
Add melted chocolate and beat by hand until combined.
Now add the flour mixture and using a silicone spatula, mix. If you want to add nuts now is the time.
Pour the brownie mix gluten into the prepared mold. Bake for 40 minutes (I used a mold of 20 cm so that my brownies were very high. If you use a larger mold will be lower and then will need less time - if you use one of 25 x 25 cm will need 30 minutes)
Cool brownie gluten in the mould for at least one hour.
Once you have lost temperature and is no longer hot, cover the mold with plastic wrap all over and leave them to cool in the fridge for at least one couple of hours (ideally, leave them in the fridge overnight. In chocolate desserts that are not biscuits, chocolate sits and gives much better flavor after a few hours. In addition to cool them in the fridge then it will be very easy to cut them unless you discard.
After this time, remove the brownie gluten from the fridge. Pull the corners of the paper to remove from pan it and cut into square pieces to enjoy!
Tips and Tricks
It serves this brownie served with vanilla ice cream and hot chocolate sauce gluten
Gluten-free brownie pieces can freeze well covered in plastic wrap for 4 weeks. To defrost you leave in the fridge at least 7 hours and then left at room temperature one hour before taking them. They will be as freshly made
Difficulty: easy
Preparation time: 45 minutes more time of cooling
Servings: 16 pieces