"The effort and illusion are always rewarded"
And here's my proposal today: A soft and delicious vanilla cake with creamy filling of caramel and a generous touch of toasted pecans walnuts. A wonderful alternative comopastel's birthday if you want something different from the traditional cake of chocolate and cream. The filling is a candy that does not need a thermometer with which is super easy to make. It is even better if done from one day to another because the brown sugar gives it a crunchy texture that improves if left to rest for the night.
Level of difficulty: high
Time of preparation: 1 h. processing, plus 1/2 h. rest and 1/2 h. Cook (*)
Seating: 10 servings
(*) I would also add to achieve the fullness of flavor: 24 h. minimum in freezer, more 3 h. fridge, more 1 h at room temperature.
Ingredients
For the cake:
2 cups and 2/4 flour €0.40
1 teaspoon of baking powder €0.10
1/2 teaspoon baking soda €0.05
1 cup no-salt butter at room temperature €0.98
2 cups sugar €0,50
4 large eggs at room temperature €0,46
1 cup milk €0.17
1 tablespoon vanilla extract €0.49
1 cup and a half of walnuts Pecans toasted in the oven and cut into pieces €1,50
Total €4.65
For caramel cream:
not salted butter at room temperature 2 cups €1.98

5 cups confectioner's sugar (preferably of Tate & Lyle brand) €2,00

1 cup and a half of brown sugar €0,50

1/2 cup milk €0,20

2 tablespoons maple syrup or dark corn syrup €0.35

2 teaspoons of vanilla extract €0.30

2 cups of liquid cream €0.80

Total € 6,13
Total €10,78 for a delicious pie. The portion you leave € 1.08. Dirt cheap for a dessert worthy of Kings!. Strong and delicious.
Equipment
A set of measuring cups
Electric mixer
A couple of bowls
Baking paper sheets
Oven
Several bowls
Spatulas
Spoons, cutlery, etc.
Pairing
We can take it as an accompaniment to coffee and dessert. It is sweet 100% so that we should take it with something light. I recommend a Gecko Caramel Vodka. Its price, €11.00 will give to drink "after lunch".
Directions
1 turn on the oven to 175 degrees.
2. in a baking tray placing a paper of baking. Place walnuts on top you pecabas and bake for 15 minutes, until nuts are browned and can notice its aroma.
3 grease three molds 22 cm. If we only have one we have to bake three times. You can also do if you want the cake in a cast the size of an oven tray with the help of a ring, cut three equal circles that will serve our three layer cake. Put a paper of baking at the bottom of the molds so that it does not stick and grease the paper at the same time.
4. in a small bowl, mix the flour with yeast and baking. Book.
5. in a large bowl and using an electric mixer, beat the butter on medium speed until it is smooth and creamy.
6 gradually add sugar and beat for 3 minutes until the mixture is fluffy.
7. Add the eggs one at a time beating well after each egg added.
8. Add the flour in three times, alternating each time with the milk and vanilla extract. Every time you add an ingredient should beat well until everything is well incorporated before adding the next number.
9. with the help of a spatula low everything that has been glued to the walls to ensure that all the ingredients are well mixed.

10 Add 2/3 of pecans toasted and chopped Pecans. Mix with a spatula.
11. If we use round pans, will have to divide into three equal parts. If we use a large rectangular pan or a baking tray, we will put the entire mixture into the mold.
12 bake for 20-25 minutes until Pierce with a toothpick this comes out clean and free of the mixture. Leave to cool completely for one hour in the molds if possible. Then go to a grid which will be cool at least one hour.
13. Meanwhile, we will prepare our creamy caramel filling.
14. in a large bowl Beat butter with electric mixer until smooth and creamy.
15 Add the icing sugar and the sugar moreno at low speed for two minutes.
16 Add milk, syrup and vanilla and beat for 5 minutes and get a smooth, creamy mixture.
17 spread filling into three equal parts by reserving 2 tablespoons of caramel cream.
18 mount the cream and add two tablespoons of caramel cream to the cream. Beating with rods until a smooth cream.
19. fill each layer of cake with a layer of caramel cream and caramel creme filling each layer with some of them.
20. with the rest of the walnuts decorate the cake on top. And ready!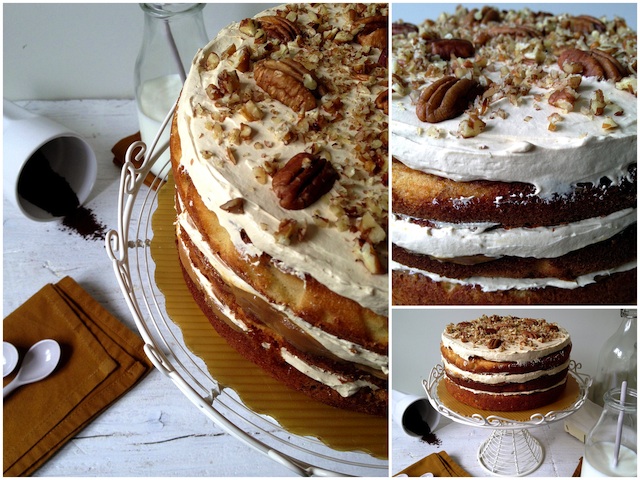 Tips and tricks:
-The filling must be used immediately or it can be kept covered at room temperature for up to two days. With this amount of can cover 3 dozen cupcakes or a cake of three layers of 22 cms.
-If you have hurry, use home sweet of milk instead of cream caramel. It is also delicious although caramel cream is... spectacular!.
In Taste Lab we will hold a practical workshop of Lebanese cuisine
Thank you!