"It takes two years to learn to speak and sixty to learn to shut up."
Frost cake and chocolate crunchies in Spanish
The list of ingredients to the shopping cart, download it in PDF
After the nice post on London: Would you like a cup of tea?, on the occasion of the Olympic Games, the bar has been high. I hope in this, to meet the expectations raised. It was the birthday one of our good friends and although there was no special celebration, stayed to eat: swimming pool, two paellitas and dessert... it was great! Summer, heat, children What a perfect dessert Frost cake?.
Diving in the network, I came with "The recipe for happiness"a blog of the essential and consolidated causing sensation (internationally famous for its appearance in the Wall Street Journal with its spectacular Brownie in egg shell) he told me several times and I had never seen. My husband loved the idea and I understood that it was time for the cake chocolate freeze, but as always with my personal touch, among others, I added you crunchies (chocolate). The original recipe is add chopped up almonds.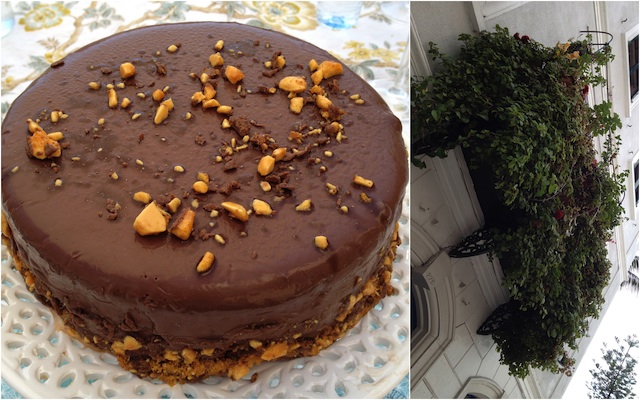 The of I also bought it, I did natural in the ice cream maker, with a delicious cream, egg yolks and... the crunchies, my chocolate bars of Cadbury favorite.
I cannot find them usually in Spain, except for supermarkets in English, so each whenever I see them out there and am able to buy 15 or 20 pull, so I keep them for my desserts. They are very good. It is a kind of candy bathed in delicious dry chocolate cake Cadbury's and they always add a lot of play because crunchy texture. Use them much bites on my cakes, but on this occasion, in addition also the pique in ice cream.
The last time that I did with a good handful, was when I went to Gibraltar. I went a little crazy collecting material in Morrison'san English hypermarket in all rule where you can buy the same that in Britain, but without having to travel to the island... until the Scottish salmon!.
As I'm close, more interesting plan is to take a walk around Gibraltar. Go shopping now is not so attractive as 20 years ago, first because here we have everything, and second because they either tend to already find attractive clothing, however, it is still a good choice to make you with perfume, tobacco, liquor and of course... the British supermarket Morrison completo products. Eat within the rock also has lost the charm that could have a priori, all fast food: Mac Donalds, Pizza Hut... that does not seem a very attractive option. However Yes can do it in any of their pubs as O'Reillys , or in some "fish and chips" as the recommended Roy's Cod Placewhere you'll find as in England without him. More category, although somewhat more expensive, the Theatre Royal Bar & Restaurant.
Unless you have the same interest as the Anglo-Saxons or Americans to know it, a time It is sufficient (I guess that being a colony and tax haven attracts enough, as we Monaco, for example). If had that spend the night there, especially in the summer, take advantage of and escape you better to Rate or Zaharafor example. They are more sections, but no color.
What is true, is that it is sympathetic and funny walking through its streets because one may believe that it is in an English town, with its details Anglo, but buildings Colonial and customs British, if it were not for the majority of its inhabitants speak the mixture between a very funny Cadiz Spanish linking it with much art with the English more...!.
What most draws attention, apart from opening the news from time to time by his situation and purchases, are the monkeys of the rock. There is a colony of monkeys impressive, thanks to which I can't take these... cute animals, that small, they taught with my pigtails, I hate them!... I flee from them whenever I find them somewhere in the world, but it is true that are attractions that most enthusiastic visitors.
Back to the cake, if you have not ice cream (I am lucky to have wonderful friends who gave me a year by my compliance), you can always buy ice cream in a good ice cream shop, choose the flavor that suits you to go well with the chocolate and I encourage to add you your topping favorito: conguitos chopped m & ms, kit-kat in small pieces... what the body ask you that you can make more fun ice cream... If it fits!
True, he had little faith at first because the cake, takes a cup of coffee or hot water which makes that mixture is as if out a chocolate to the Bowl between ingredients, but the truth is that it is very got and nobody noticed the coffee flavor (although I put only a pinch of Nescafe because the cake it would also eat children). Just one little something more... very important!: keep in mind that the cake should stand for one night in the freezer (preferable) or at least 6 hours.
In summary, thanks to Sandra for the recipe, thanks to my friends for the good time spent, thanks to those who gave me the ice cream... and of course you... Thanks for stopping by here occasionally!. Pie dazzled all who tried it, it is ideal for the summer, and sincerely only hope that you also love you. Hands on work then?.
PS: I have included a list of ingredients in PDF under the list of ingredients in order to download you at any time or place with free internet access, fixed or mobile, for example, when you go shopping, you are in the supermarket and ask you: who wore such recipe?... give you to download the List of ingredients for the basket in PDF and... you're done! you are already taking it with you. Paul recommended it to me, and I think that it is a good idea to make things easier for you. Thank you Paul.
.

Difficulty level: intermediate

For 10 people

Preparation time: 60 minutes a night in the freezer
Ingredients
For the cake:
200 gr. of flour €0.19
300 gr sugar €0.30
90 gr. of pure cocoa powder €0.25
1 teaspoon of yeast Royal €0.15
1 pinch salt €0.05
2 eggs €0.22
200 ml buttermilk (or 200 ml of milk more a tablespoon of vinegar, or a creamy nonfat yogurt Danone) €0,75
125 g butter melted €0,50
200 ml of freshly brewed coffee (or a glass of hot water, and an envelope of decaffeinated soluble, or a glass of water hot with a bit of NESCAFÉ, which is what I got) €0.25
1/2 litre of your ice cream favorite and two chocolate chopped Crumchies €4.00
For coverage:
200 ml of cream whipping €0,50
50 g butter €0,20
250 g chocolate to melt (type chocolate desserts or coverage) €1.35
2 chocolate Crunchies 1.00 €
Total € 9.71 among ten people 0€97. A very original and delicious recipe. An ideal pie for a snack or a dessert at these summer days in which both want something cool.
The list of ingredients to the shopping cart, download it in PDF
Equipment
Oven
Vitro
Dipper
Knives and cutting boards
Pan
Mold suitable for the furnace
Pairing
This dish goes well with a dessert wine. There are plenty of domestic and foreign varieties and on this occasion I prefer a sweet wine Pedro Ximénez sweet old to €8.69.
Directions
1 grease a suitable for the oven. Ideally, have two the same molds. If you don't have them you can bake a single cake and cut it in half, bake well first half of the dough into the mold and then the other half of dough, so we have two cakes. To me, if you give me a choice, I like to use two molds. Does not need that they are expensive molds, and you can even make them into moulds and throw-away of those who sell in Mercadona, for example, taking into account that there to grease them well and put them a vellum in the background so that the cake is well off. As I have already said other times, you must not use removable molds for making biscuits since the mixture comes out. Turn on the oven to 180º.
2 mix dry ingredients: flour, sugar, cocoa, yeast and salt.
3 Add the beaten eggs, the buttermilk, melted butter and mix well.
4. when everything is integrated, add coffee, and mix again. It will be a very liquid mass of sponge cake, it seems hot instead of cake dough chocolate.
5 we distributed the mixture between two pans, and bake 20-25 minutes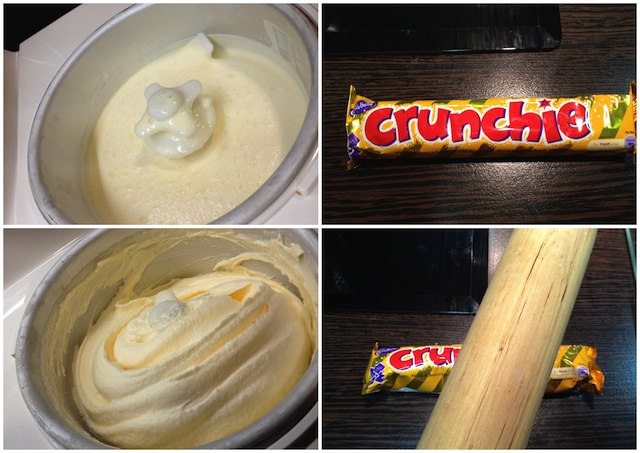 6, while both the ice cream with tips I prepared. Completion of mixed the two chopped chocolate. So I hit several times the chocolate bars with wooden roller.
7. once the cakes are finished, remove them from the oven and leave to cool for about 15 minutes in pans. In the event that you've baked a single mold, you'll have to wait until the cake is fully finished to cut it in half.
8 we get ice cream a few minutes before to be manageable.
9. we take a high detachable mould of the size of our biscuits and put a base of baking paper, so it is then easier to unmold it. My removable molds are larger than my Cake molds, so I used a paper of acetate that was saved from a previous cake (try to be very forward-looking). If you don't, you can make a ring of vellum uniting it with paper zeal.
10. place the cake into the hoop's role.
11 put the layer of ice cream over, and carefully cover with the other cake. We put it on a tracing paper. Put it in the freezer overnight.
12. on the following day we prepare the chocolate coating. Therefore we boil the cream in a saucepan, remove from fire and add the chopped chocolate and butter. Stir until you obtain a homogeneous cream and leave to cool a little.
13 remove the cake from the freezer and pour the chocolate cream on it. I used other two crunchies to decorate, sprinkle one above and one to attach to the edge of the cake. Return the cake in the freezer. Remove it five minutes before serving so that it take a little bit of room temperature and can be cut better.