"People arranged every day hair. "Not the heart?"
Do you know? was in Shanghainear the Yuyuan Gardens where I first tried a few rolls of chicken with spicy sauces. I must be honest and say that they did not seem to the Kathi, but which were also delicious. When we travel, at noon we tend to recharge in any street station and follow the route, leaving for the night a little more quiet dinners.
And there, before entering, I tried those Chicken wraps. Today I bring you these, somewhat different, but delicious. We could say that this is the Indian version of the burritos Mexicans, of the pitas Greek, of the showarmas Turkish or snacks Spanish: the flavors of traditional Indian cuisine wrapped in a delicious rolls as puff pastry.
In this recipe I have special affection him because he was the first one I developed courses in Indian cuisine along with these insurmountable Inossidable Gambas Karahi. Are you ready? We go for spices and cooking!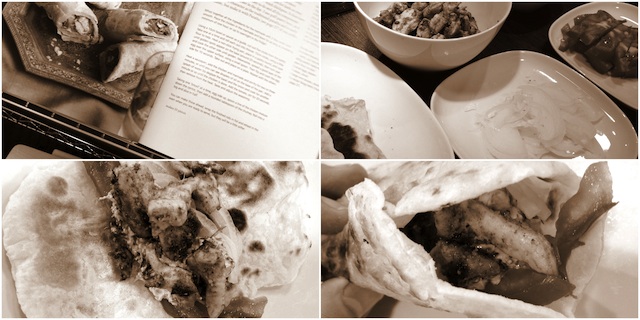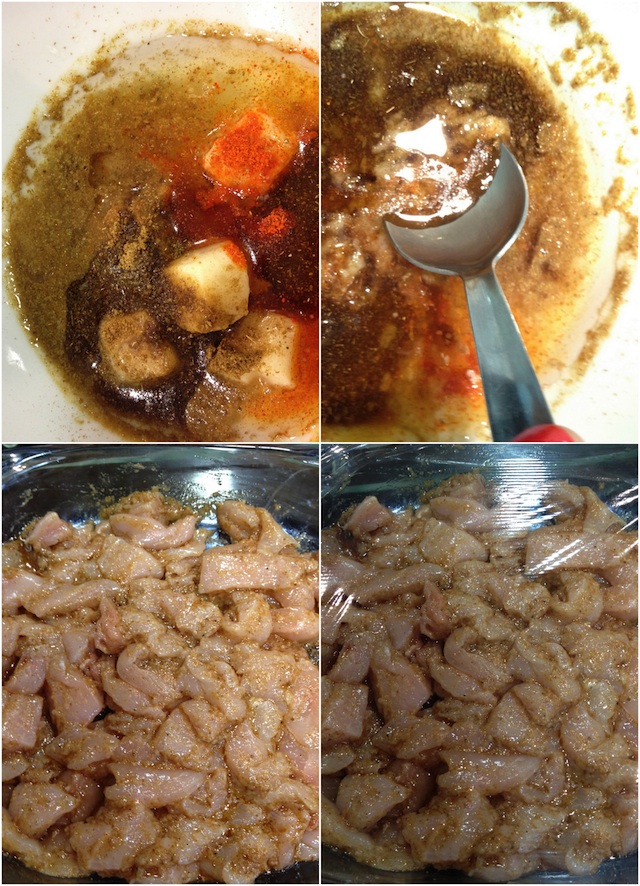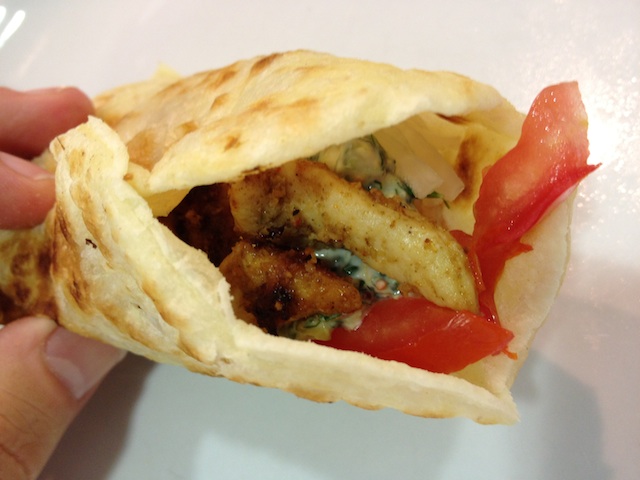 Ingredients
For the marinade:
15 grams of fresh ginger or paste €0,35 (in El Corte Inglés and supermarkets sell chilled Gourmet Garden brand already made good quality ginger paste. It is conserved in the fridge and open hard months, so if you can find fresh ginger easily, I recommend it).
4 cloves of garlic €0.25
2 teaspoons and a half lemon juice €0,20
average of cumin and 1 teaspoon ground €0,20
2 tablespoons vegetable oil (which is not olive) €0.13
1 / chili powder teaspoon €0.07
3/4 teaspoon garam masala €0.07
a little salt €0.03
a little black pepper freshly ground €0.05
For the rolls:
350 g of cubed chicken breast marinated €1.80
1 roll of puff pastry (I advise of Lidl, I like) €0.99
a little flour €0.10
2 eggs €0.21
1 sliced onion €0.15
1 large tomato without skin, cut into strips €0.40
Chutney de Tangy Herbs
For the Chutney Tangy herb:
60 g fresh coriander €0.50
half of lemon juice and 2 teaspoons €0.15
2 green chilies (optional because the dish is already spicy without them) €0.15
12 grams of mint or peppermint leaves €0.25
20 g pistachio €0,50
a little salt €0.03
As always, directions to buy Oriental products:
Madrid and Barcelona: You have a great link of Journal of Asian cuisine, my teacher Alex Zurdo which has made me addicted to Indonesian, Thai and Chinese food.
Malaga and the coast: you link this excellent map of a fantastic page where you find on the coast exotic products and spices of Land Supermarket. For this case of Indian cuisine, my recommendation is that you go directly to the shop Asian food in Torremolinos.
Seville: I also bind you another, from Hiper Oriente
Sure that the Web you find something, already rampant everywhere... we invade. If you don't have access to one of them, can make you friends of the Asians who runs the "Chinese" in the neighborhood, and ask that they provide it you, insurance that will make. Keep in mind also, that will do the purchase once every two years approximately. The spices they are not bad and last an eternity because as you can see, the quantities used are very small.
Total for six Diners €6,45, i.e. €1.07 per person. Healthy, very, very original and rich.
Preparation:
1. mix all the ingredients for the marinade with 2 tablespoons water until a homogeneous paste. Place the chicken in a bowl and add marinade. Let the chicken marinate at least one couple of hours. If we can, the best is to leave it overnight.
2. chop the onion into thin rings and tomato in strips.
3. beat the eggs with the help of a fork. Book
4. using as a template top of a glass or bowl of about 10 cm in diameter, cut circles from puff pastry. Once cut, sprinkle above and below with a little flour. With the help of a rolling pin, flatten one one all disks until about 15 cm circles.
5 we now make the Chutney of herbs: mix all the ingredients with 4 tablespoons of water in a blender until it is a smooth paste. This can take several minutes. Salt to taste. Keep a boat of glass in the refrigerator (up to a week), or freeze until we go to use it.
6 heat a non-stick pan and cook circles from puff pastry until you see spots Golden at the base (about 20 seconds). Turn them over and cook the other side. Put a tablespoon of egg beaten on the top of the puff pastry. Turn the cake so that the egg is set for 10 seconds. Remove from the Pan and place them on a plate.
7. heat a frying pan and add the chicken with the marinade. Sauté for 2 to 3 minutes or until sauce will stick a little in the background. Then add a tablespoon of water to Deglaze the bottom of the Pan (undo the sauce bonded with water), and add the onion. Continue to sauté for one or two minutes more until the chicken is completely cooked.
8 Add the tomato, giving a couple of turns (20 seconds), and remove from heat. Salt to taste. If you prefer both the onion and tomato they can be raw and are added to the roll once the chicken is cooked. In this case you must eat them at the time.
9. take a roll with the part of the egg up. Place a spoonful of chicken in the Center and a spoonful of chutney of herbs. Roll and cut in half.
If you want to can be prepared in advance and warm them slightly in the oven in time to serve them, even though the puff pastry will be then a little softer.
Ready to eat!. Encourages you, sure that you sorprendéis to your guests. Some of the students of the course of Indian cuisine already did and were congratulated. Luck!
Tips and Tricks
Difficulty level: intermediate
Preparation time: 50 min.
Servings: six
As I have already mentioned on more than one occasion, the Indian food pairs better than anything with beer. The bubbles will help lower the spicy food as well as the cold of this drink so popular in our country. I recommend Chimay, a very rich Belgian beer. Your price €2.18