"When it hurts to look back and you afraid to look ahead, look to the left or right and I will be there, by your side"
Wok noodles with shrimp and chicken with fried shallots in Spanish
Not be if you're agree with me but in the world there are some places that cause you such sensation, that you are amazing, I would say top. Today we are going to see one of my favorites, the famous Halong Bay. It is located to the North of Viet Nam, in the Gulf of Tonkin, near the Chinese border. 170 km east of Hanoi, the capital. It extends along a coast with an area of about 1,500 square km. Across the horizon is full of enormous rocks covered with vegetation that give a unique touch to the landscape. I gasped when I saw it.
Ha Long means "descending dragon"I will give you a couple of versions of its origin. The first, a local legend says that long long ago, when Vietnamese fought against the Chinese invaders attacking from the sea, the gods sent a family of dragons "celestial" to help them defend their land. These Dragons spat jewelry and jade. The jewels became the Islands and islets in the Bay, joining to form a great wall against the invaders, and in this way managed to sink the enemy ships. It finishes counting which after protect your land from the Bay formed the country known as Viet Nam. The other version targeting that fell a dragon of the sky to the sea, and the way that represent today the islets, it is that emerges from the body of the dragon that was buried in the background... For all tastes, but it gives much charm to the place.
The landscape reminds a little the coast of Krabi in Thailand, although the rocks of Halong (or Along), are much larger and are populated with native fauna and flora. This area so benefited by nature, was declared Heritage by Unesco in 1994, is also from the 11 November one of the new seven natural wonders of the world, part, as it could not be of another form of "The club of the most beautiful bays in the world".
The Bay has a population of about 1,600 inhabitants living in houseboats and sustain fishing (there are more than 200 kinds of fish and 400 molluscs) and agriculture marine algae and other vegetables, apart from tourism. They form small villages. They are as flat barges that are joined with each other to get a few hundred square meters surface. Joining them, create a kind of floating neighborhoods where several are grouped families.
Reach almost two thousand islands in total, and many of them, with gaps beautiful interior, places magic where has stopped time and the hand of man has not intervened, where we can think that we are the only inhabitants of the Earth and where the pleasure to swim and enjoy water is infinite. The high salinity of the water, also makes that you can easily float by what long baths enjoyed double. That Yes, as water is emeraldbath in the sea is not very well what's under our, which makes even more intriguing and exciting, but on the other hand, the temperature is very mild.
There is an option of knowing much more rewarding Halong: embark on an a Junk traditional Vietnamese making at least one night on board, we did it with Tropical Sails. The sunset and the sunsets are wonderful., you can not miss it. Our boat had a capacity of 8 passengers, was small and cozy. The cover Wood available solarium and sun loungers to relax the view and the spirit. It is, without a doubt, one of the most pleasant experiences I've ever had...
I noticed that the meals are served at a large table in the upper deck where all passengers sit share the dishes. A while earlier, Cook buys part of fresh ingredients to the inhabitants of the area who come in boats offering its products. Fish fish and freshly caught seafood is the star dishes that Cook for the passage. I remember a wok shrimp prepared with an incredible mastery of those times that you keep in mind what you've eaten for the rest of your life, a delight. I said to myself: someday I will get ingredients for cooking wok so delicious that I tried in Viet Nam. It is a very simple dish that all do from time to time but... I looked for recipes and found something like that... the day has come.

The Cuisine of Vietnam It is one of the great unknown in Spain, I link another of my recipes Vietnamese... The variety of dishes and ingredients makes it to be Thai, more followed throughout Europe kitchen height, combined with the Halong BayIt intoxicates visitors with its landscape, that although I have seen it thousands of times in postcards and stories, not never disappoint. Exudes peace and tranquility. Green waters and its jungle peñotes, give a unique touch to the landscape. A dream of site made reality with an Asian luxury snack

Level of difficulty: easy

For 4 people

Preparation time: 30 minutes
Ingredients
1 onion chopped €0.22
1 carrot chopped €0.15
12 prawns peeled €1,90
1 chicken breast filleted €2,30
1 teaspoon fresh ginger or ginger paste shredded €0.15. You can find it, for example, in the English Court. If you don't have the fresh or pasta, you resolveréis it with ground ginger.
1 tablespoon of shallot fried €0.20. If there is, the dry fried onions can be used
1 teaspoon garlic fried €0.19
1 package thin Chinese noodles egg of 400 Gr. (100 gr. per person) €2.40. The packages tend to be of 250 gr. Vale for example, mark Soubry, which can be found in El Corte Inglés
1 egg €0.80
a tablespoon of vegetable oil, sunflower for example (not from olive, if possible) €0.10
For the sauce:
1/2 tablespoon dark soy sauce €0.12. If you don't have, that all the sauce is clear
1/2 tablespoon soy sauce clear (the type of Kikkoman) €0.10
1/2 teaspoon sauce Sambal Oelek €0.08
Total €8.71, i.e. 2.18 if we deal between 4 servings. Great price.
A help: I put aside the list of products that you should find in Asian supermarkets (I linked below some addresses):
Apologies for the rest, but safe for the web you find something, already rampant everywhere... we invade. If you don't have access to one of them, makes you friends of the Asians who runs the "Chinese" in the neighborhood, and ask that they provide it you, insurance that will make. Keep in mind also, that will do the purchase once every two years approximately. The spices they are not bad and last an eternity because as you can see, the quantities used are very small.
Equipment
Skillet or wok. If you have the wok, better than best.
Bowls
A spatula blades of wood, knives, etc.
Pairing
With the oriental food and seafood are going very well the white wines. Let me recommend a wine of my favorites: Monopoly (D. O. Rioja), of CVNE with a fruity tinge that I like. Serve it very cool. Your price: €4.90
Directions
1. chop the onion into small pieces and grate the carrots using a knife or a grater.
2. chop the chicken breast into strips.
3 clean the prawns and Peel shells.
4 bring to a boil water in a saucepan over high heat. Once the water is boiling add the noodles and cook for a few minutes until they are tender. Drain the noodles and rinse them in cold water. Wet the tip of your fingers in a little oil and fingers through the noodles. Book.
5 make an omelet: beat the egg in a bowl using a fork and Pan fry the tortilla. Chop it into small pieces. Book
6. in a wok or large skillet Sauté to fire in a bit of vegetable oil (preferably not from olive) carrot and Ginger paste. Sauté for one minute.
7. then add the chicken breast into strips and give a couple of turns. Then add the prawns and saute for a few minutes until they are cooked. Season with half a teaspoon of sauce Sambal Oelek (care because this sauce is very spicy)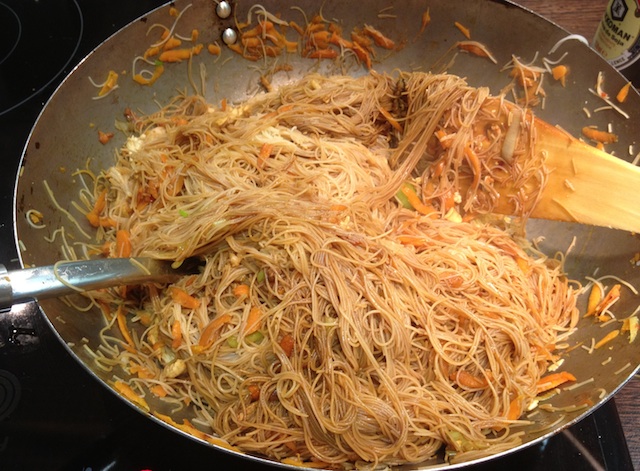 8. once the prawns have changed its color to an orange pink (signal that are cooked), add the onion so it crunch, with noodles and sauté.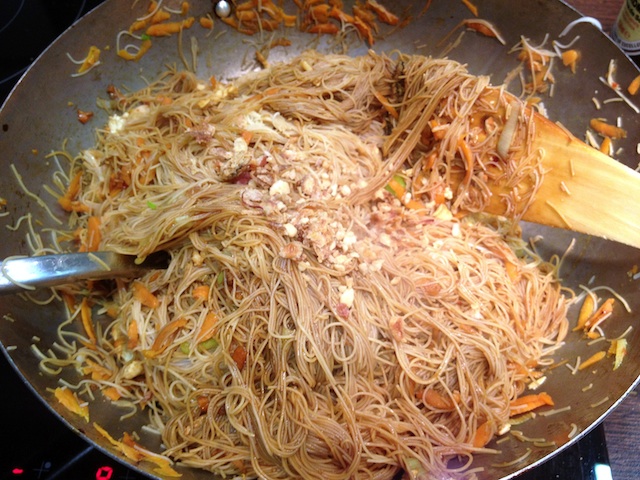 9. Add the tortilla chopped and followed the clear and dark soy sauce. Linking well
10 garnish with shallot fried and fried garlic.
I leave the video of the photographic sequence of the step of the execution: