""What curious is the man, does not ask for birth, live does not know, die does not want!"
The list of ingredients to the shopping cart. Download in PDF
You know of my fondness for Oriental cuisine in general, and the discovery that for my was the hindu, in particular. In fact, me not deprive of cooking it again and again because at home it is much more than good received. To my kids (large and small) fascinating, and it is never a bad time to take it, whether on special occasions or because he has given me out there. It is rich and spicy cuisine, spicy and intense flavors, but I think honestly, that we have too much respect to cook it at home, much more than they really after is. That Yes, a good foundation is needed for spices and some techniques simple learning, the rest, apart from your knowledge do, I assure you that it is easy and the food not easily found, don't worry too much that you can replace them with others from the West with one more than satisfactory result. If you want to see some of my first published recipes, enlazad here the TIKKA Masala hinduthe Thai Jasmine Rice, or the Vietnamese squid salad.
And is that following discussions on travel Asia with family members, and spinning it with the cuisine and typical dishes of that continent, we agree that there is ingredients repeated in all cultures, but that are somehow different to the are cooked differently in each place. It is the case of the o squash langostinosMultipurpose where exist, also in contrast to other ingredients, does not give me qualms some take it in Asian dishes... that of others, I can't say the same thing.
Before these today, I took a few prawns with green curry rice in Krabi, Thailanddon't forget me. They come to mind whenever I try the shrimp or prawns in some Eastern dish, were just... unbeatable!. Krabi is a typical target Southeast Asia, between the main Thailand offers in its magnificent offer from sun, beaches and nature, together with Ko Phi Phi (worldwide known for having been the scene of the famous movie"The beach"), Phuket, and Koh Samui perhaps form the beautiful places that that any Western succumb in the photos in magazines and ads to evade a holiday.
Krabilocated in the Andaman Seanotable for its impressive nature, with a lush jungle, beaches, Islands and islets, and its important tourist infrastructure. The white sand of the beaches and the turquoise Crystal Waters evoke the most suggestive postcards of the most beautiful corners of the planet, but the amount of tourism that is capable of hosting, also can become so inconvenient for the traveller.
I'll stick with the positive. They are one scenery precisosos with a bays wonderful, rugged peaks of stone karst limestone and calcareous beaches dream. I liked to go canoeing discovering coves close to the hotel looking for beaches populated, virtually inaccessible from the ground. I also liked to know the Islands around, with small tongues of sand fine and soft cut by vertical walls of vegetation and limestone.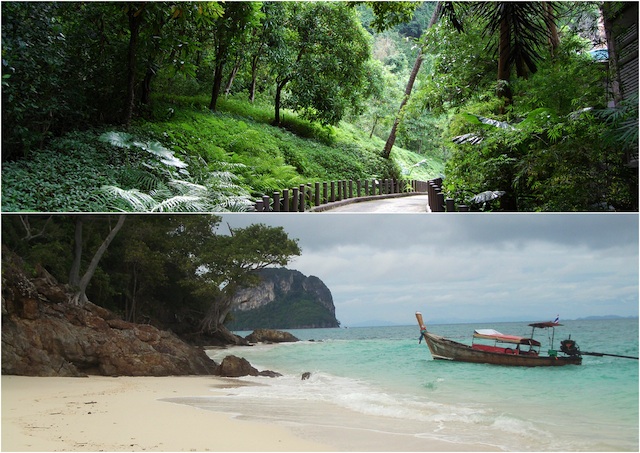 Longtail boat seafood (has no page on the internet) is the name of the restaurant that I told you, where you must not fail to try the magnificent Green curry rice and shrimp, that you serve presented vividly (as always seems to make the Thai people) covered by a banana leaf cone that keeps the heat of the dish to its consumption. Aside from the great food, the service is impeccable and an exquisite kindness. I liked it so much that I repeated in the same restaurant the next night... a discovery!. Is located in Ao Nangjust between the beaches of Noppara Thara Beach and Phai Pong Beachon the corner where many local restaurants are grouped on the promenade and seafood that offer the traveller the delights of Thai cuisine. There everyone knows it, so in any hotel or local you can ask for it.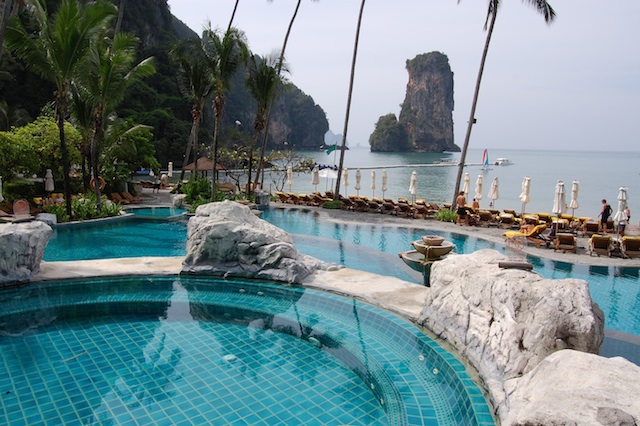 Would not be fair if I leave to spend one of the hotels in costa that has most impressed me by its location and Majesty, the Centara Grand Beach Resort & Villas Krabilocated in the middle of a nature reserve, surrounded by a suggestive nature, with private beach and exclusive access by boat through a floating pontoon. The location of the Hotel is simply spectacular, and well suited to be a point of departure for visits and excursions to the surrounding area. Apart from its price only has another disadvantage... is surrounded by monkeys, so you'll see them more than once on the terraces of the rooms.
Back to the recipe, the karahi that gives name to this recipe is a pan deep, like a wok that is used in India and Pakistan. It is usually of cast iron. As I don't have any I've used my casserole Le Creuset which is made of iron and I assure you that there have been incredible. If you don't have any of the two options, you can use a wok or a frying pan or large casserole.
Are you ready for the Indian dish? Come on, cheer up, I put it to you easy.

Level of difficulty: easy
Preparation time: 50 min.
Guests: 5 people
Ingredients
5 tablespoons sunflower oil
1 minced onion
20g grated ginger, crushed until it looks like a paste
7 garlic cloves, chopped and crushed until a paste formed
1-2 chopped green chillies (optional, because the dish is already spicy without them)
6 small tomatoes peeled and chopped into small cubes
1 teaspoon ground coriander
1 teaspoon of ground cumin
1/4 teaspoon chile powder
400 grams of peeled and devenated prawns (the prawns have a black tummy on the curved part that should be removed so that it does not brown)
2 tablespoons liquid cream
salt and freshly
a handful of chopped fresh coriander leaves
1 tablespoon of lemon juice
50 ml water
2 teaspoons crushed fenugreek leaves
1/2 teaspoon carom seeds
1 teaspoon garam masala
Forgive the rest, but safe for the web you find something, already rampant everywhere... we invade. If you do not have access to one of them, there are two options: first, make friends of the Asians who runs the "Chinese" in the neighborhood, and ask that they provide it you, insurance that will make. Keep in mind also, that will do the purchase once every two years approximately. The spices they are not bad and last an eternity because as you can see, the quantities used are very small.
Total for four Diners €6.65, i.e. €1.33 per person. Healthy, cheap and very, very hindu.
The list of ingredients to the shopping cart. Download it in PDF
Equipment
carerola a wok or a large
a saucepan
a wooden spoon, bowls, tables of cutting, knives.
Pairing
The oriental food goes well with beer. To be a spicy dish, gas and cold will help appease the fire in your mouth. On this occasion I recommend a hindu, refreshing and traditional beer for Hindu dishes: Cobra €1.75. (You can find it, for example in the gourmet of El Corte Inglés supermarket)
Directions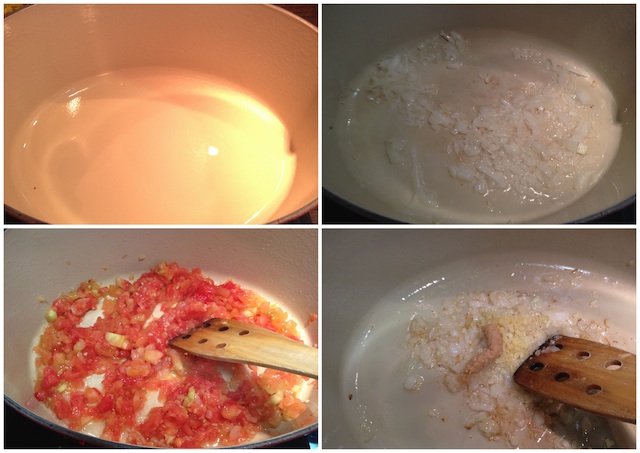 1. in a saucepan heat the sunflower oil. Add the chopped onion and raise the temperature of the heat until browned.
2. Add ginger, garlic and chillies (if you are going to use). Sauté for a few minutes until the garlic smells fried.
3. Add the tomatoes sliced into cubes, ground coriander and cumin, carom seeds, crushed fenugreek leaves and chili powder.
4 Cook at low medium for 15 minutes stirring from time to time, until you have formed a homogeneous paste and tomato is undone and acquired a dark color.
5 If the Pan is large, set aside this mixture on a side and add the prawns to make browned. If it weren't so great, remove the tomato sauce (which at this point is called masala), and set aside. In the same Pan sauté the prawns for one minute.
6. Add the masala (tomato sauce), cream and 50 ml of water and leave to cook for a couple of minutes more. The sauce should be thick.
7. taste sauce and adjust salt and pepper. Add chopped fresh cilantro leaves and serve with long rice (me in this case coloreé it to give an exotic touch)