"If your work is not fun, it works the unspeakable for fun".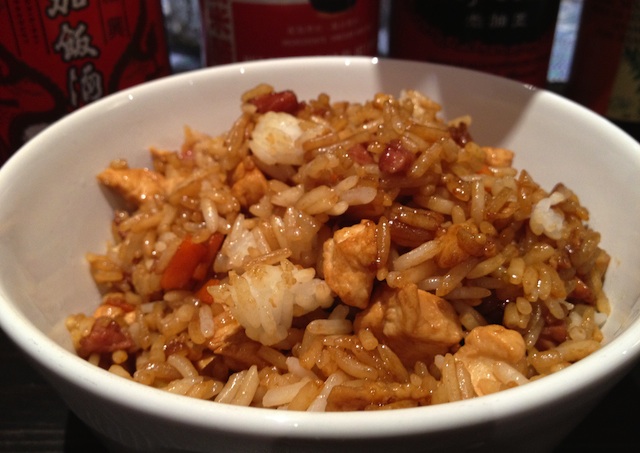 Jasmine rice fried with chicken in Spanish
The rice from jasmine It is the type of rice used in Thailand. It is a type of rice long grain and fine, but a delicate taste and sweet aroma. It is cultivated in Southeast Asia and is named, would how not?, its relationship with the Jasmine Flower. Thailand is the most important of its cuisine, combining ingredient with everything: pork, veal, seafood, fish, vegetables, etc. in the end never ceases to be like bread in the West, indispensable.
Thailand It is the tourist epicenter of Asia by excellence, the Asian Spain. The truth is that never I was disappointed, nor the capital Bangkok, nor the endless shores and Islands that surround it. It's a trick!. In my opinion is the ideal country to learn as door input Asia. Its culture, its gastronomy, spirituality, the beach and inside are part of the idyllic image of the Asian continent.
Bangkok It is its capital, has more than 8 million people and turns out to be a vibrant city as well as charming, chaotic but relaxing. It has complex Templar and palaces more rich and colorful in the country. From the famous 1980s song "One night in Bangkok" he was eager to meet her, and admit that I was impressed. Mithical places such as the Royal Palace, a dazzling complex of buildings that began to build in the 28TH century and not ended until the middle of the 20th, when it ceased to be headquarters of the residence of the monarch. Stupas and the characteristic pointed roofs topped in their application by decorative gold pieces make the complex a place hard to forget, the paradigm of the Eastern.
I will focus on the restaurant Vertigo and Moon Barlocated outdoors on the terrace on the top floor of the Hotel Banyan Tree Bangkok. Recommend me it my friends dawn and Manolo that were before Moon of honey... and what last site!. Hotel is of contemporary architecture, concept clean and impeccable, but the restaurant is of the few in the world that even if they tell you about it (like in the movies) you can reach what you imagine. Think, plant... 61, an outdoor terrace (pergolas you have no roofs or anything) and tables distributed at that height exposed night views of Bangkok magic and impressive (give you up to a flashlight to read the letter). Next to the tables, the Moon Bar, where you can enjoy a snack or a drink after dinner. The experience is exciting, and the meal is worth (us, a little hartitos Asian we chose Western) very, highly recommended for a romantic special dinner, because prices are at the height of the site, but you don't go if you visit Bangkok as a couple. That Yes, nothing advisable for people who suffer from... vertigo!
Join me with the recipe... it is simple, just have the ingredients. When you try it, you llamareis no more Chinese, believe me. Let's go!

Level of difficulty: easy
Preparation time: 30 min.
Seating: 4 persons
Ingredients
400 g of jasmine rice €1.00 (in the cut English or for example Mercadona)
4 Chinese chives chopped €0.50 (replaceable by Spanish if you don't)
2 carrots, chopped in small cuadraditos €0,10
1 chicken breast chopped into square €1.20
1 egg made chopped omelette €0.09
1 thick ham slice diced €0.90
2 tablespoons sunflower oil €0,10
1 tablespoon soy sauce clear €0.10 (in stores specializing in Chinese food)
1 tablespoon dark soy sauce €0.10 (Idem)
1 tablespoon of oyster sauce €0.10 (Idem)
1 tbsp Chinese wine €0.15 (Idem)
To buy Oriental products:
Forgive the rest, but safe for the web you find something, already rampant everywhere... we invade. If you do not have access to one of them, there are two options: first, make friends of the Asians who runs the "Chinese" in the neighborhood, and ask that they provide it you, insurance that will make. Second, we give up and we turned to lifelong soy sauce, do not get the same but... There's always a way out!
Total for four Diners €4.34, i.e. €1.09 per person. Healthy, cheap and very oriental.
Equipment
wok o un una sartén
a saucepan
a wooden spoon, bowls, tables of cutting, knives.
Pairing
The oriental food goes well with white wines. For this rice, I recommend one of my favorites, Viña Esmeralda, that very cold is almost unbeatable and a great price: €6.50.
Directions
1. in a saucepan, measure the rice and put the same amount of rice than tap water. Begin to cook over high heat until water has evaporated. Then remove from heat, cover well and leave to stand for 10 minutes covered. Pass into a bowl and put it in the refrigerator at least 4 hours.
2. Remove rice from the fridge. I recommend that you cocinéis more rice count have always at hand for other dishes that you will come from wonder of bottom of fridge.
3. in a bowl, mix the soy sauces, Chinese wine and oyster sauce. Do it with the help of a fork. Add 4 tablespoons of water to dilute it, mix and set aside.
4 cut the omelet into small pieces and set aside. It should be noted that before the development of the recipe, the ingredients must be already sliced and ready to be added in due course to the wok or skillet. The oriental food has some cooking very short times that food may be kept all their vitamins, so therefore we have to be prepared in advance all ingredients.
5. in a wok (when I did this recipe had it because I was at a friends house, so I used a large skillet but comes out much better in wok, frying pan or pan that is not non-stick), put the oil to be heated over high heat
6. when the oil is smoking, add the chopped carrots. Give a couple of laps and add the chicken (unsalted), salt is the soy sauce aprotara.
7. when the chicken is almost fried, add the Chinese onion and cooked ham. Give a couple of turns.
8 Add the sauce and mix well. Then add the cooked jasmine rice moving well so that everything is well mixed. If it was a little dry, add a little salsa (the same amount of each of the ingredients). To facilitate the rice to soak well, it is best to add the rice to the Pan twice. Add salt or soy if need be. Serve immediately. Let me advice: I prefer to serve rice dishes or bowls because it is easier to eat. Enjoy!