I discovered this chocolate cake with olive oil by accident. Some friends of my son came home and asked me a chocolate cake. Couldn't have done it with butter or coconut oil but the olive oil in the baking is my doom and East of Arbequina My weakness.
Those who know me know that I love the olive oil. That in my house is almost a religion and that I like to use it at all. It is also true that I really like the flavor that butter gives the biscuits, but over time I have mind that texture, biscuits with chocolate changes if a good olive oil is used in addition to your taste of course.
Importantly, as always the quality of the oil and of course chocolate. In this case I have used pure chocolate powder that gives a very dark, beautiful color and an aroma and flavor unmistakable. I assure you that it is pure gluttony.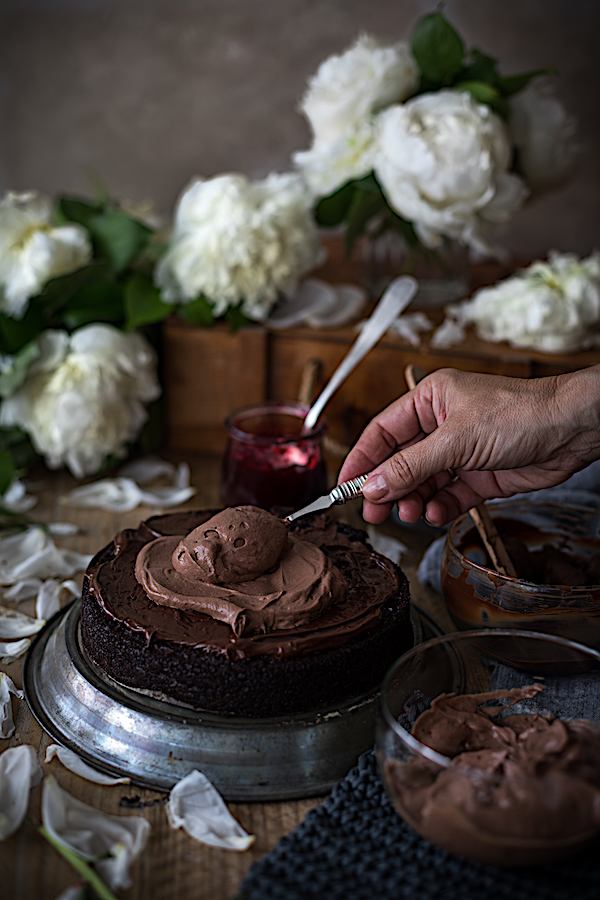 C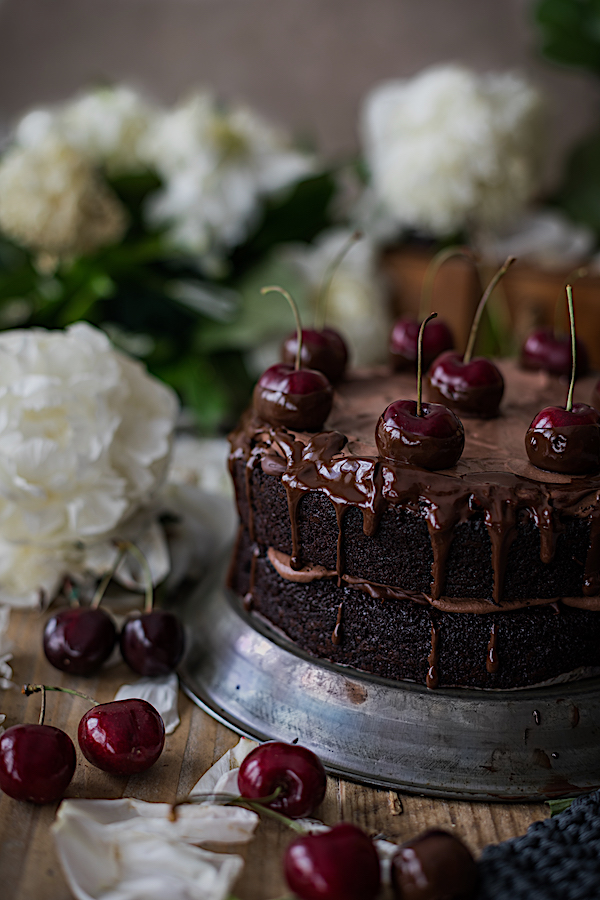 Ingredients
For the sponge
350 g sugar
200 g flour
120 g of pure cocoa powder
2 teaspoons of baking soda
1 teaspoon of baking powder
1/2 teaspoon salt
2 large eggs, at room temperature
250 ml buttermilk – sold in English supermarkets and English grocery stores, and if you don't have it, you can replace it with the same amount of milk with a splash of vinegar, or creamy skimmed yogurt.
250 ml of boiling water with a teaspoon of instant coffee
190ml of extra virgin olive oil OMED OIL Arbequina variety It's my favorite for my cakes and tarts
1 tablespoon vanilla extract
For the chocolate truffle
250 ml liquid cream
3 tablespoons icing sugar
2 tablespoons pure cocoa powder (if you want a taste more cocoa can add one tablespoon extra)
For chocolate
300 g dark chocolate
75 g butter
Directions
Preheat the oven to 180 degrees.
Grease two 20 cm diameter moulds and place in the base of each a role of baking. If you have a mold as I need to do the first one and then bake the other. Book.
In a large bowl combine the flour, cocoa, baking soda and yeast and spoon mix all well.
In another bowl mix the oil and vanilla with buttermilk or yogurt or milk with the vinegar.
In a large bowl put the eggs with the sugar and beat on high speed until eggs are fluffy.
Begin to add the flour mixture alternately with the buttermilk mixture. When everything is well integrated, add water warm with coffee taking care to not jump mix. Divide the dough and two equal parts and put each one in a mold. Bake for about 35-40 minutes or until you click the center of the cake with a toothpick comes out clean.
Place on a wire rack and let cool completely before removing from pan.
Meanwhile, melt the chocolate with the butter a30 seconds in the microwave. Move well until all the chocolate is melted. If it is necessary to repeat another 30 seconds. Book.
For the chocolate truffle, mount the cream with the icing sugar. When loud peaks have formed, add the pure cocoa powder using a sieve and mix well. Book
When they are cold, remove from pan and cut top so that the cakes are flat and evenly matched.
Cover with cherry jam, and then a layer of chocolate cream. Finish with a layer of chocolate truffle and cover with another cake. Repeat with the next layer and finish with another layer of filling.
Swim a few cherries in chocolate cream and place on our cake. Bullies enjoy!
Tips and Tricks
This cake freezes well so feel free to do it when you have hollow and freeze it until the day that you go to take it
You can substitute cherries for strawberries or raspberries
Preparation time: 60 minutes
Dificulotad: average
Servings: 10