This sponge cake with strawberries extra virgin olive oil is the ideal now that we are in full season of strawberries. The first time I prepared it was for an excursion to the field with my friends. We were a lot and I wanted to bring something to accompany the coffee.
I thought a cupcake, but I decided that as a cupcake for every one would be too after the barbecue going to prepare others, so I dismissed the idea and I decided on a cake under that would be easy portioning.
But a normal cake could be too dry for a coffee in the field. That is why I chose this of EVOO. The cakes that are made with oil instead of butter, are more humid inside. strawberries did the rest of the magic. When it came time for coffee, and although we had eaten much, Baba flew. A success of recipe and my friends were delighted.
Since then, this cake of olive oil extra virgin with strawberries repeat over and over again because it is delicious and is very simple. The only thing that must be taken into account when doing so is that the oil should be of first quality. Not only for the taste that gives him, which of course is basic in this recipe, but because the scent and color are completely different if extra virgin olive oil is used.
As I comment is a recipe very simple, but precisely for this reason we must care for the ingredients. How much better are the ingredients added flavor will have our dishes. In this recipe I decided by a variety extra virgin olive oil arbequina because I love as in pastries, and I used the of OMED Oil because it is what I like the most and makes Biscuits are a delicious and beautiful color.
If in addition you sustituís wheat flour for corn flour, you'll have a cake without gluten that can take people with celiac disease. A sponge cake with fruit and oil that you are going to fall in love with. You will see!
Ingredients
180 g extra virgin olive oil OMED Arbequina Oil
400 g sugar
3 eggs camperos
1 teaspoon of vanilla extract
300 g of wheat flour
1 teaspoon and a half of baking powder
¼ teaspoon of salt
1 yogurt
120 ml of milk
300 g fresh strawberries
80 g of sliced almonds
30 g icing sugar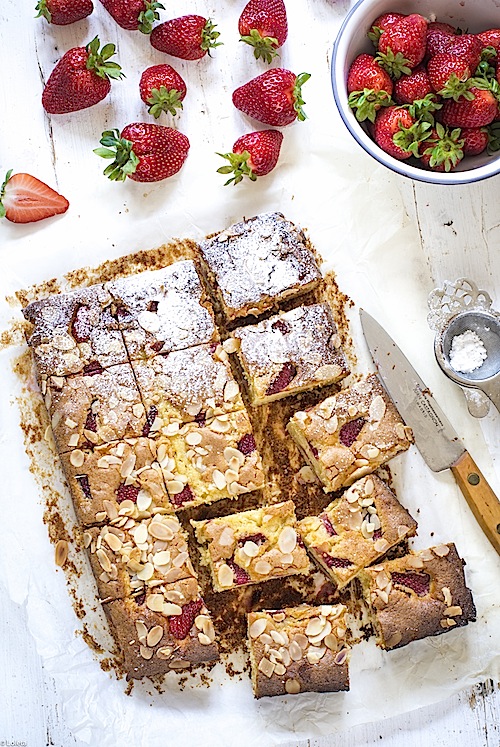 Directions
1 wash the strawberries. and cut. Book. Grease a mould. I used one rectangular can use to have a cake low, but which you like the most. Book. Preheat the oven to 175 ° C.
2. in a bowl, beat oil, eggs and sugar. Beat using an electric mixer for at least 4 minutes to get eggs espumen and mixture is fluffy.
3. Add the flour with the yeast and vanilla and beat until well integrate all ingredients and no lumps of flour.
4. then add the milk and yogurt and beat to get a homogeneous mixture. When you are ready, add the chopped strawberries and mix with a spatula.
5 turn dough onto greased mold and cover with sliced almonds. Bake for 45-50 minutes until the cake is cooked (when her prick with a toothpick in the center of the cake, comes out clean).
6. let cool and unmold. Sprinkle with icing sugar and enjoy!
Tips and Tricks
You can use raspberries or blueberries if you prefer
It replaces wheat flour for corn flour or flour in gluten to prepare a version suitable for Celiacs
Preparation time: 1 hour
Difficulty: easy
Servings: 10
Omed-Oil-sponsored post