These Macarons of olives black with smoked olive oil and cream cheese are a weakness. You know that I love the macarons. They are one of my weaknesses and had long been looking for a place to make them.
They are not something that is impossible to achieve, but yes it is true that they need some technique and above all much precision in the measurement of the ingredients and lots of patience. We must be scrupulous in steps and the times, and even then, and having them made many times well, might one day play it you and for some reason you do not come out.
These of today those I made with an oil of olive Virgin very special of Omed-Oil. It is of the first oil of olive smoked with bone of olive. And it is that you recycling the bones of the arbequina olives that used in one of their Virgin olive oil extra, decided to go further in the care of the environment, and incinerated bones olives for the production of energy. In that same process, leverage for smoking with the bone of olives this oil of olive Virgin, which you brings a flavor different that I love and that use for surprise to all.
I love to use it in salads and toast, but in this recipe borda the flavor of these special macarons, I elaborated with freeze dried black olives. Are those prepared to my mother and besides suck is them fingers, is led my oil. Less evil that I can buy more HERE.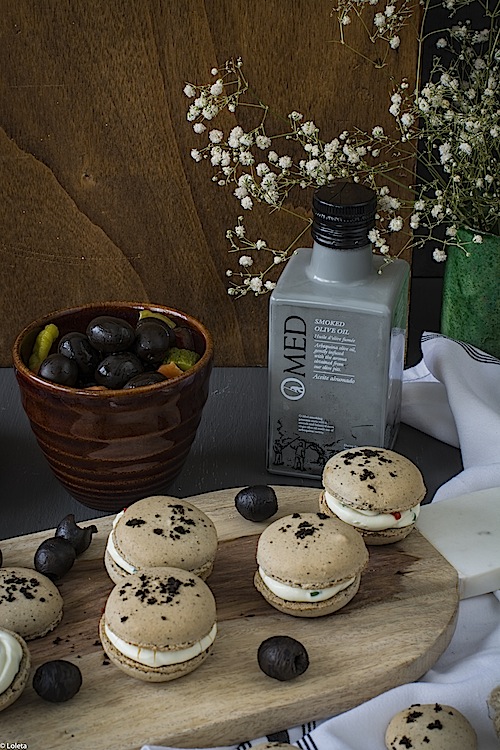 Ingredients
For the macarons cookies
125 g almond powder (also called almond flour) €3.60
30 g of freeze-dried black olives sprayed €015
15 g of olives black freeze-dried powdered to decorate 015 €
150 g of icing sugar. Not serves or which is made in house in the thermomix or which sold in the supermarket. The grain of these sugars is much thicker to that which is required to make macarons. I use one English called Tate Lyle Icing Sugar €0,50
55 g of egg whites. Ideally, as old whites: they freeze a few days and then are thawed and are 4 or 5 days in the fridge. Whites endure up to 10 days in the refrigerator €0,20
150 g of white sugar €0.34
38 g mineral water €0.02
55 g egg whites €0.15
For the cream cheese frosting
Total €7.36 per 40 macarons that will come out if you do them small. i.e., €0.18 each macaron.
Directions
1. preheat the oven to 165 ° C in function convection (air hot) if not have oven with function of air, then, there is that raise the temperature to 170 ° with heat up and down
2. spray the olives black freeze-dried ones seconds with help of a robot of kitchen or of a grinder of coffee well clean. Add the powder of almonds and the sugar icing to get the texture more fine possible. Sieve over a large bowl.
3. make a hollow in the Centre of the Bowl leaving something of the mix of flour and sugar glas in the background, and dump 55 g of clear of egg and combine with the spatula. Mix well, making sure that it is not anything on the walls of the bowl without mixing. cover with a plastic wrap so that the mixture doesn't dry out (egg white dries quickly), and book.
4. put the other 55 g of egg whites in bowl of electric mixer. Book
5. in a saucepan, put to simmering between the 38 g of mineral with the 150 g of sugar water until the syrup (and called to the water with the sugar mixture).
6. when the mixture reaches 90 ° C, begin to beat on medium-high speed until they reach soft peaks. Then add a pinch of sugar which will help to heat the egg whites and prevent protein separates from water containing when we batamos too.
7. when the syrup reaches 120 ° C, remove from heat and lowering the speed of the mixer to medium-low power. Add the syrup little by little. The meringue will come down but is normal. Then increase mixer speed and beat for about 5 minutes on high speed. After that time, the whites should be firm and shiny and although Bowl will still be warm to the touch, merengue temperature will be lowered to room temperature (at least to 45 degrees). If it is not, continue beating until the temperature has fallen.
8. using a spatula, turn over one-third of the meringue in the mixture of almond powder. Mix with outflanking. Continue adding meringue to our mix that should not be not very smooth or very hard, so if we make a curl with a spatula, keep the form without moving or RID.
9. pass the mix to a sleeve pastry with nozzle of a centimeter. Place our template of circles on a sheet of oven. Place a paper plant clean on the template so can see perfectly the circles drawn below.
10 place the sleeve filled to 1 cm above the oven plate and begin to press the sleeve by moving it circularly until we fill the circle. Stop pushing the sleeve. Lift and move to the next circle. Sprinkle with the help of a sieve a little powdered olives. This operation is optional but adds flavor to the macarons, and they are very nice.
11. when we have all made circles, carefully slide the template under the macarons and pull it out. Tap firmly on the countertop oven tray so that the peaks that have been left to make the circles disappear.
12 there who let it rest 30 minutes macarons, but I just leave you 5 minutes because I have not found a difference between stand them longer or not. Bake for 10-12 minutes until surface is bright. The first shelf needs about 12 minutes but the following tend to be good with 10 minutes.
13 put the tray on a rack until is cool completely. Place in the oven the next tray of macaroons. Repeat until you have baking all the macarons.
14. While we can make our cream of cheese: beat the cheese cream with the oil smoke. Then take a rich taste smoky.
15. when the macarons are completely cool, fill with the cream cheese. I put them in the Middle a piece of piquillo pepper but such which are delicious.
Tips and Tricks
Can fill them with paste of tuna smoked with the oil of olive Virgin smoked if you prefer
It is used also for your salads smoked olive oil
Difficulty: high
Preparation time: 90 minutes
Portions: leave about 40 macaroons