With this olive oil with yuzu ice cream we continue with the ice cream from the blog and I present a new collaboration. It is of O-med, Those who know me, you know of my love for good extra virgin olive oil.
We could say that in my house the extra virgin olive oil It is almost a religion. It comes from family tradition, and is that we were producing oil in MartosJaén, the people of my grandmother. So this new partnership comes to be something very desired and I am delighted to be with O-med.
O-med is a family business dedicated to whose mill is located on Acula, Granada extra virgin olive oil. Located at 700 m above sea level, is in the foothills of Sierra Nevada in a beautiful setting.
For generations, the family García Casas has dedicated its efforts to the olive trees. Since 2005 combines the passion for olive oil extra virgin and work, with a few magnificent oil production internationally awarded.
JuanDe and Paula have taken the baton from his father Juan de Dios, perpetuating their love for oil, olives and things well done.
They are extra virgin olive oils of harvest very earlyrich in aromas and complex flavors. It is finishing oils, ideal to give a distinct touch and quality to your salads, and more fun, to your desserts.
My favorite is the Picual, that although it seems incredible, tastes like pure tomato, but oils which have presented new in food (smoked oil and oil with yuzu), are amazing.
In this recipe from olive oil with yuzu ice cream, I give a different use. From now on, you will see many recipes a sweet and other salty, which will dominate the touch of these oils of high quality and unique selection.
But apart from extra virgin olive oils, O-med has a great selection of Gourmet Vinegars (8 different vinegars), of the highest quality and very fun to use in your recipes, and a salt flower that you have to try.
Today I declined by the olive oil with yuzu to make this ice cream if I neglect you eat my child in a sitting. It is a creamy and sweet ice cream but with a delicious touch of citrus fruits coming from yuzu, a Japanese citrus, which I love for its subtlety
Without doubt, this olive oil with yuzu ice cream has been a discovery to my. I love the touch that this oil gives in salads, but I love the flavor that gives chocolate and ice cream. Use it non-stop and discover the subtle touches that you can get with it.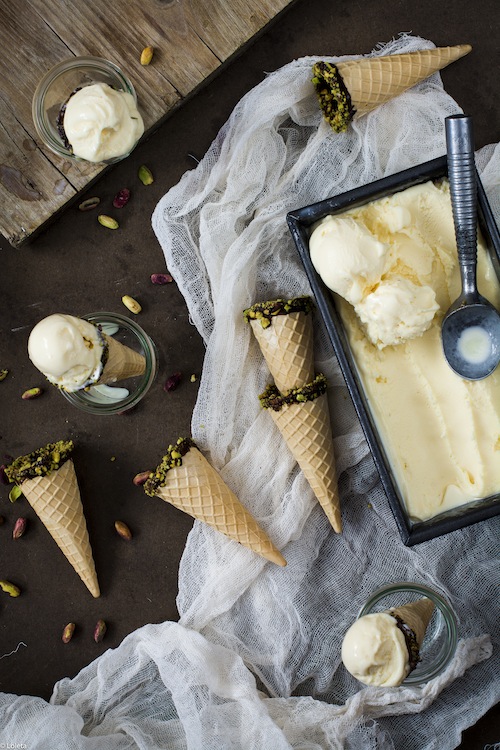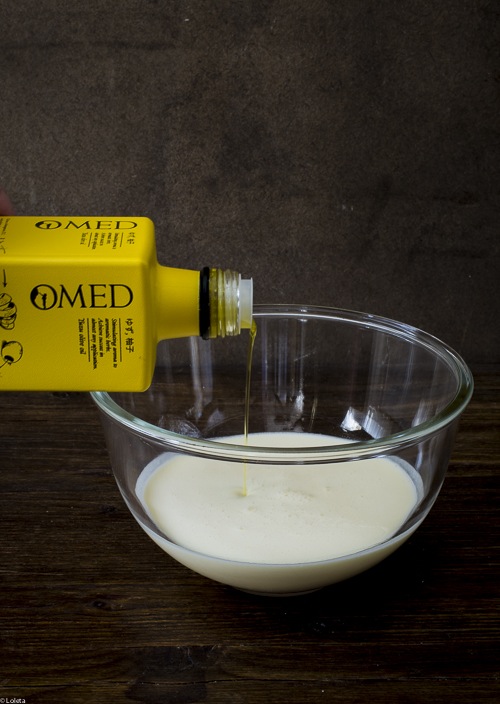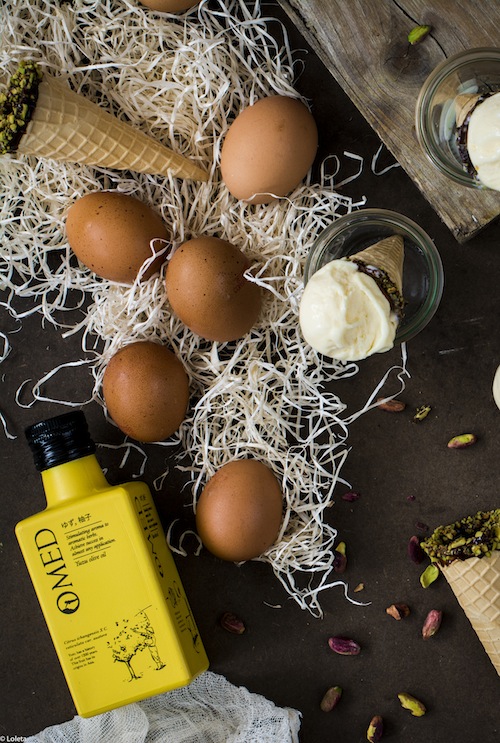 Ingredients
500 ml milk whole €0.33
7 camperos egg yolks €0,75
1 tablespoon and 2 teaspoons of cornstarch €0.25
a pinch of salt fine €0.01
45 ml of pure vanilla extract €1,50
400 g of cream double €1.00
160 g sugar €0.14
30 ml of glucose or corn syrup (this ingredient will help us to avoid the ice cream to crystallize and is creamy and smooth) €0,20
100 ml of oil of olive with Yuzu O-med €5.20
To serve
1 box of waffle cones €1,50
6 ounces of black chiocolate €0.25
10 ml oil dede olive with Yuzu O-med €0.52
50 g pistachios crushed €0.80
Total €12.25 for something a liter and a half of ice cream that will leave you speechless. Creaminess and flavor and 100% natural homemade
Directions
1. Prepare an ice bucket with ice and put aside.
2. prepare the pastry cream first. In a medium bowl, pour two tablespoons of milk, yolks and cornstarch and mix until the cream is well integrated with rods. Book.
3. in a medium saucepan over medium-high heat, heat the remaining milk, sugar and syrup of maize (glucose). When break to boil start to move and leave to cook for about 4 minutes until sugar is completely dissolved.
4 remove from heat and slowly pour this milk boiled over the bowl of yolks stirring constantly to prevent the yolks are cooked.
Return to putting this mixture into the saucepan to fire environment for 5 minutes. The average temperature is 84 degrees, which is the temperature that the egg yolks and milk must arrive to avoid poisoning.
5 strain this mixture and add the oil with yuzu and mix very well. Put in a bag of frozen and let cool completely on the ice for 30 minutes.
6. in a bowl, beat the cream until it is assembled. Gradually add the custard so is a cream evenly.
7. transfer to cool our ice-cream maker in the freezer Bowl. After 30 minutes, pour our ice cream mix and let it stir. Thus he calls operation freeze non-stop moving, until ice cream has the proper consistency.
To keep ice cream maker, you'll have to remove the ice cream last 60 minutes and mix with a spatula. There is that repeat this operation every time as many times necessary until ice cream has the proper texture.
8. Meanwhile prepare the cornets for oil ice cream. Crush the peeled using a mortar pistachios. Melt the chocolate with 10 ml of olive oil with Yuzu O-med in the micro for 15 seconds.
We move well to make a smooth and shiny chocolate. If necessary, heat a few seconds more but caution that chocolate can burn.
9 passing each cone for the chocolate and then the crushed pistachios and let cool completely. Remove ice cream and with help of a spoon of oil ice cream, make a ball for each cone.
Tips and Tricks
You can substitute the corn syrup for the same amount of honey or syrup
Accompanied by a few almonds if you gustsn pistachios and served in glasses with chocolate melted on top
Difficulty: easy
Preparation time: 15 minutes longer than ice cream
Servings: 1 litre and a half of ice cream