This pavlova of cherries with homemade jam was on my list of recipes for this summer from last year.
And if you remember last year I was on vacation for the Basque country French and Spanish, and I got home from Basque cake. Again I did you, but as Cherry season was over, I made it with red fruits jam.
I was riveted Thorn and was sure that this year would prepare it you, because one of the jams seems richer you can do at home, but how to make it without more?
You know that I love the pavlovasso more than a cheesecake that was around my head, I imagined this cake as is, as well, and the first time I did it was a resounding success among my friends. but last Sunday I repeated it, and it made the delights of the family in our monthly meal of brothers.
And I have called it cake story because when my niece saw her is what he said: "Aunt Lola is so beautiful to think of story" and it is true, the cake is much easier than it seems, and however has an amazing look don't you think?-
The meringue this pavlova of cherries with this sublime homemade jam (cost me the same life that my child does not eat it is whole before baking) and the mixture with cream and jam makes it salive just thinking about it.
A very easy recipe that you can prepare in phases to simplify it, so I hope to do it again and again, and that I send the photos to enjoy with you.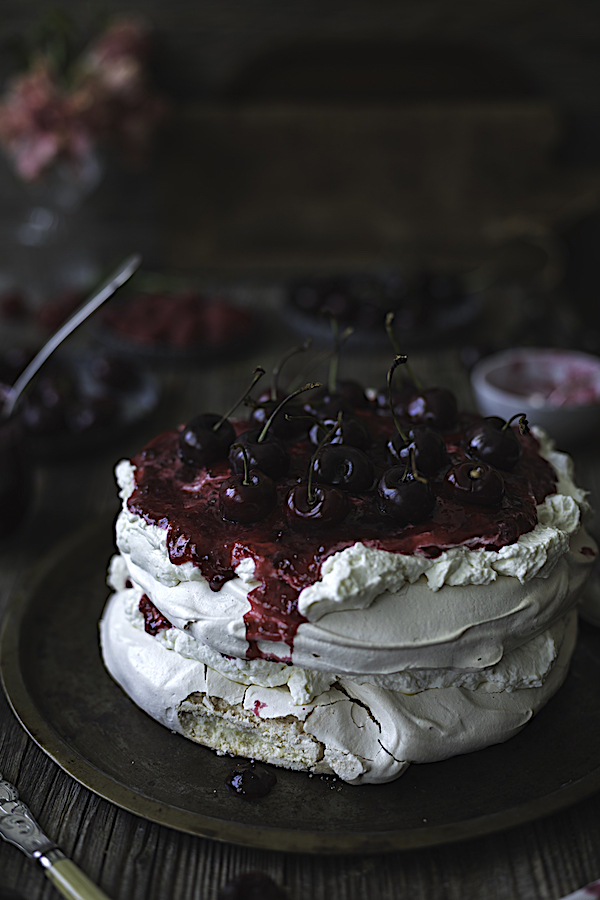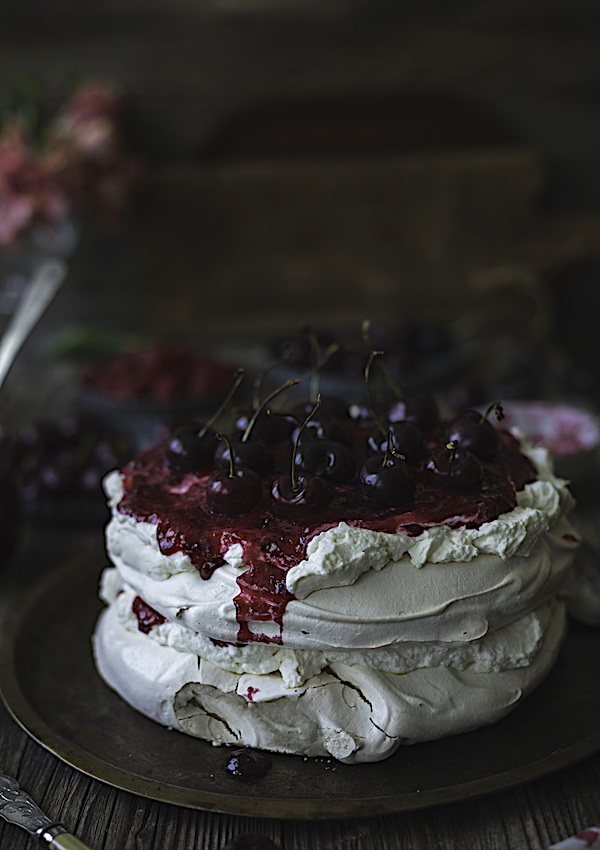 Ingredients
For cherries jam
350 g of cherries
250 g sugar
30 ml Apple juice
the juice of half a lemon
For the meringue
6 egg whites
330 g of sugar
2 teaspoons of cornstarch
1 teaspoon pure vanilla extract
For the cream
500 ml of liquid cream with at least 33% of very cold fat
3 tablespoons of sieved icing sugar
1 teaspoon pure vanilla extract
Directions
It is best to prepare the meringue and jam the day before, because in order to use both preparations must be completely cold.
We will begin with the jam. Wash and remove the bone to the cherries. We put it with the juice of lemon, Apple and sugar in a saucepan. If you like the jam without pieces of fruit as my son, it passes the mini pimer to undo the larger pieces.
When it begins to boil, let simmer 5 minutes non-stop moving. This past time, with a spoon, remove the foam that is on the surface and add pectin. Simmer a few minutes more. Book while it cools completely.
Put the egg whites at room temperature in a bowl of electric mixer and start beating on medium speed. After a couple of minutes the egg whites will be already very gasketing. Lower the speed of the mixer but not stop it, and start adding the sugar gradually. When we added it all, Add vanilla and raise the speed to medium-high. Continue beating until a firm, glossy meringue. When we have it, add cornstarch and mix for 1 minute.
Put a baking envelope paper a baking tray. Place a ring of 20cm at one end. If you have no ring, you can draw two circles of diameter 20 cm on the paper. It should point out them well and turn the paper so the ink does not touch the merengue. Preheat the oven to 150 degree air.
When we have it, we will divide the meringue into two parts which we will put on the circles. Bake for two hours. This past time to cool inside the oven already off.
When the jam and the meringue cool completely (two hours approximately), assemble the cream that must be very cold.
About the bowl of electric mixer, put very cold liquid cream with sugar and vanilla and beat on speed medium to firm peaks (3 minutes depending on the type of mixer).
Now assemble our paulova: on a table or a dish, place a first disc of meringue. Cover with half of the cream and with the help of a spoon, cover with marmalade. I had to warm it up 10 seconds in the microwave to make it easier to use it.
Now put another layer of meringue over and repeat with the other part of the cream and jam. complete our decorating with some whole cherries cherry pavlova. It is absolutely delicious.
Tips and Tricks
Prepare meringue and jam the day before, and assemble the cherries paulova only takes 10 minutes
You can freeze the jam and the meringue discs are well a couple of days if stored in an airtight Tin once of cool.
Preparation time: 30 minutes longer baking (2 hours)
Difficulty: easy
Servings: 10