"Despair is founded on what we know that it is nothing, and hope in what ignore is everything".
The macarons they are a French pastry made of egg whites, ground almonds and powdered sugar that emerged in the 17TH century. A few small meringue cakes that appeared in the French court although some signs date first macarons in Syria in the 15th century.
Originally they were single-sided, and it would have to wait until the 18th century the first macarons Double stuffed. The Temple of macarons is Ladurée Paris, which makes thousands of colors and different flavors. Go to one of their stores throughout the world is a real pleasure for the senses. The colors and aromas have a spectacular combinations. They are currently fashionable, in Madrid, for example, you can find them very good Patisserie Majorca.
Not to be confused the macarons with the macaroons, which are very thin cookies made from coconut and that are filled with cream, cream or ice cream (will upload soon a delicious recipe for macaroons).
With the macarons should have patience because normally they go not the first, if that should not repeat them two or three times until one catches the point to the mass, to the oven temperature, cooking time... But you not despair and try it because the satisfaction once they leave is very large. I will try to help with this foolproof recipe, perhaps, the best recipe for macarons to begin with these cupcakes.
Even in the case that you do not come out with "foot", i.e. that you go flat and do not raise, they will be very good and little by little you will see as the result improves. It is not that the procedure has much difficulty, but yes you should sift and mix very well the almond meal and sugar icing, and you must be careful to mix it with the mounted egg whites so they don't fall much and at the same time is all perfectly mixed.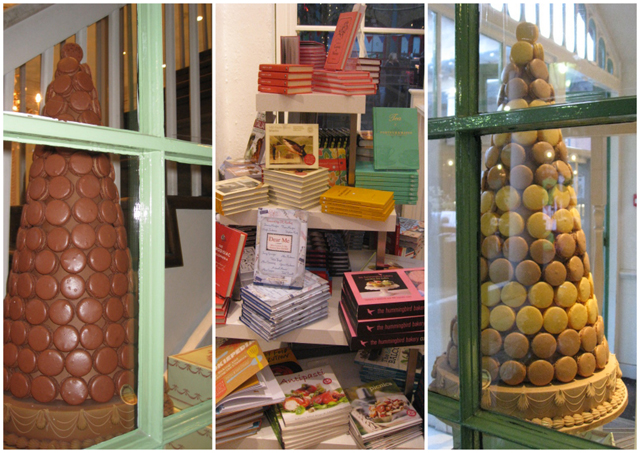 Another important thing to keep in mind to make them, is the weight of the quantities (is the key). The weight of the ingredients must be as accurate as possible. Why I do not use, nor recommend it to you, the weight of the thermomix to weigh ingredients. Invest in the purchase of a weight is a great option since for many recipes, especially of pastry, use the correct quantities is very important. There are very cheap in the market weights so encourage you to buy you one.
Finally, whites nor are mounted very well in the thermomix, so you will need a blender with mounting rods. You don't have to be a robot of kitchen type Kitchen Aid or Kenwood (which are the best to beat), but yes you must have rods with thermomix whites not mounted properly and therefore the possibilities that you leave the macarons, are fairly minor. A simple mixer with attachment of rods is sufficient.
You do not deprimáis and think that if you don't go well at first, it already is less so that they come out you perfect and remember that in any case they will be delicious and very colorful. Much encouragement!. Let's start with the best possible macarons recipe

Level of difficulty: difficult
For a few macarons 20
Preparation time: 60 minutes (30 minutes of preparation more other 30 minutes of rest of the macarons)
Ingredients:
60

Gr. flour almonds (ground almonds). In any super. €1.45
140 g of icing sugar. It doesn't which is made at home in the thermomix or which sold in the supermarket of sugar Spanish. The grain of these sugars is much thicker to that which is required to make macarons. I use one English called Tate Lyle Icing Sugar (in the photo). You can find it in El Corte Inglés and in American and British stores. It also serves Argentine icing sugar but it is more difficult to achieve. €0,75
2 egg whites. They can be fresh eggs or whites selling pasteurized in supermarkets, the best whites for the macarons are the old clear: separate the egg yolks are kept in the fridge up to 15 days or in the freezer up to 2 months. then left at room temperature, but in any case it is better to be at room temperature. Some say it's better than old whites (separate the yolks are left in a bowl in the fridge for a couple of days), but my have always gone me well with clear fresh or the pasteurized. €0,20
1 tablespoon of sugar €0.05
1 pinch salt €0.05
4 drops food coloring gel (can be purchased at El Corte Inglés or specialty stores). I've used the rose because the filling will be Strawberry €0.10
Ganache or White chocolate cream with strawberries or the chosen filling (there are who uses to Nutella). €3.25
Total: 20 macarons £ 5.85, but above all, much love to make them.
Equipment
Electric mixer

If you have a thermomix, well, but a coffee grinder.

Sifter

Manga pastry with smooth nozzle 1 cm. of diameter (or poke to sleeve pastry a hole of 1 m in diameter)

A couple of bowls

Vegetable kitchen paper or a silpat or a rug for macarons (at kitchenware stores). I used the mat.

Oven
Preparation:
1 preheat the oven to 150 degrees.
2. prepare two oven trays lined with foil and place in the oven tray bake empty because we are going to bake with double sheet.
3. prepare a manga pastry with a smooth nozzle 1 cm in diameter approximately.
4 weighing almond flour. Go to the thermomix, and grind a little taking into account that they must be only a few seconds or a paste will be (10 seconds in speed turbo). If we don't have a thermomix, a grinder that is well clean, can be used but in this case we have to sift it a couple of times before joining it to sugar.
Icing sugar is weighed and passed to a bowl. It joins the ground almonds and are they sift together twice. It is important that we mix well until all well integrated.
5. Assemble the whites beating with rods mixer. When the egg whites begin to froth (as if you have soap scum), add the pinch of salt and the spoonful of sugar. Continue beating for 4 minutes. Add the colouring (Pink in this case) and mix well with mixer. The result should be a shiny and firm meringue. After many tests I have come to the conclusion that the best mixing process should be starting in an Italian meringue. So I leave the link to the recipe for macarons of butter which is the first where I followed this procedure which has proved foolproof to me https://www.loleta.es/?p=5858/macarons-mantequilla-salada-caramelo
6 remove immediately the mixture to a bowl and we will adding him spoonfuls of the mixture of almonds and icing sugar. We will mix with the spatula very delicately; with outflanking by turning the bowl until all the mixture is incorporated.
7 pour into prepared sleeve and quickly small mounds of 2 cm in diameter are forming approximately. We will leave a minimum of 4 cm. separation among them baking don't stick with each other and are perfect. We can use a rug special for macarons, which is marked the place where do each macaron. But if we don't have it, we can use a silpat or a role of baking, but taking into account that they must be the same size and be separated each other.
8 raise the tray a little countertop and let it fall on it again to make the macarons to extend and smooth. Once formed, it is very important to let stand about 30 minutes so that they form the characteristic scab. Passed this time, bake for about 12 minutes at 150 degrees.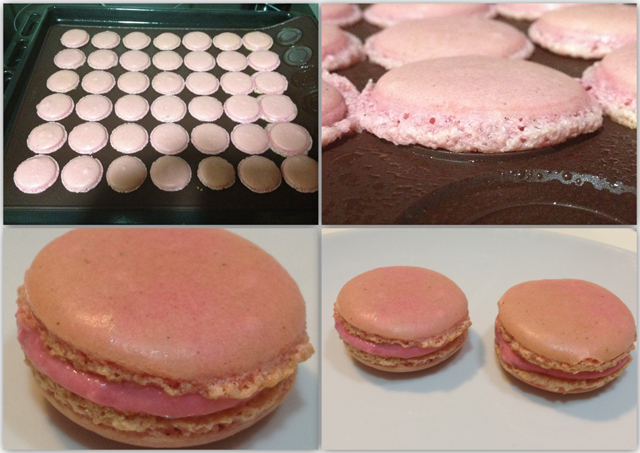 9 allow to cool in the same tray. When the Macarons are cold, we proceed to fill them. We take one sleeve using fill them the ganache pastry or white chocolate and strawberries and we put another up as if it were a cover. And so one after the other. How is it going? Have done you good?. I hope that they are delicious.
If you have already dared with these and want a more advanced recipe, this impressive linka's Chewing gum macarons
If you also want to know all my tricks and secrets to get the perfect macaron linka Macarons: My shameful secrets.