This is the best recipe for Basque cake stuffed with red fruits and the more simple to prepare. This summer I visited the Basque country, and although the Spanish I also tried this rich cake, I liked more the version of the French Basque country, jam instead of with custard filling.
Is not that there are no cream pies in the French Basque country, that yes there are, if not it was more common to find it stuffed with jam, at least where I've been.
Almost always the of strawberry jam It was cherry. Not is if because in summer there are many cherries everywhere, or because the Marmalade of cherries there are long ago, that also.
The truth is that after trying 6 different, I hesitated between prepare it with jam of blueberries or red fruits, because the two were my favorites no doubt, but as I had never prepared jam with berries, I decided for this (although I think do it soon Blueberry jam filling)
When I looked for a recipe, I sought to bring almond flour because that I liked when I was testing different versions, carried almond flour. you ad a different touch to the ground so that it was clear that my Basque cake would have almond flour.
After several tests and read and read, stayed with this recipe. It is an adaptation of Pierre Hermé, one of my favorite French pastry and to which I owe my passion for the macarons. He adds a bit of baking powder to the dough, but I not got a different result without adding it, so I decided to ignore it's my ingredients because I liked more texture without yeast.
I hope you enjoy it so much as my. Enjoy!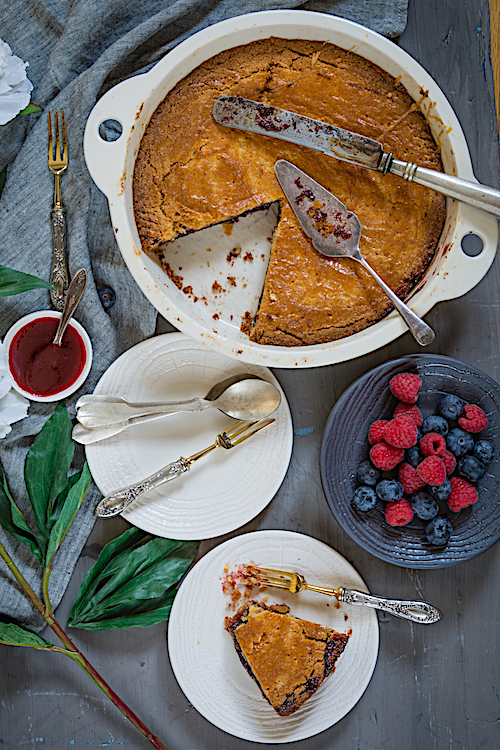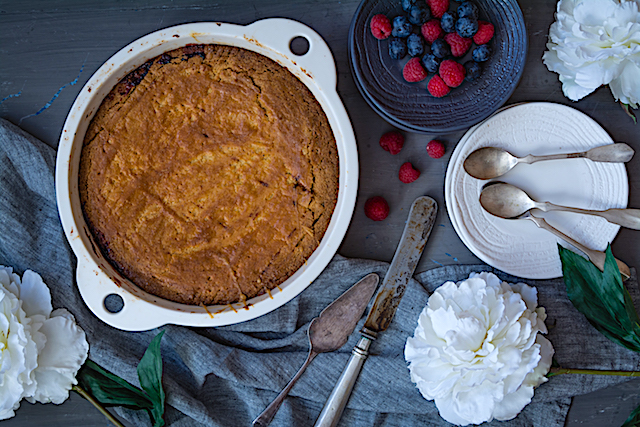 Ingredients
260 g of cold butter
320 gr of flour
200 g of sugar
125 g almond flour
1 egg (+ 1 yolk)
1 pinch of salt
1/2 teaspoon vanilla powder
For the red fruits jam
300 grams of red fruit (fresh or frozen)
130 gr of sugar
All utensils and used moulds with Revol, my favourite porcelain brand
Directions
In a bowl mix the dry ingredients in the dough. Add the butter cubes and with help of the fingertips and a few knives (I used this gadget so cool that got me this summer), mix until dough is sandy. Then add the egg and egg yolk and mix well. Form a ball and divide the dough in two. Wrap in plastic wrap and chill a couple of hours in the fridge.
Meanwhile, we will make the jam. Chop the fruit and place it in a pan over low heat with the sugar. To my I like to muddle the fruit well because then the cake part better, but you can make it as more like it.
It must be done over low heat until the fruit water evaporate and the jam to form. book.
Cover mold greased with mass mass up the walls can use a detachable although to my I love to use this because I'm trafficking directly to the table.
This is the part that should be more patience because mass happens to be handy to be too melted, so if you can see that it is too soft to be able to line the mold, again put in the fridge 15 minutes until it hardens a little.
When we have lined it, pour a generous layer of jam.
Bake at 180 degrees for 40-45 minutes. The final time will depend on, among other things, the size and mold you are going to use.
Let cool on a wire rack until the next day. You can take it on the same day but this cake wins in all directions if we do it with time. Even two days. Pastel perfect lasts 4 days so there is no hurry to finish it as soon as we start... If you are able to not finish it clear.
Tips and Tricks
Try to fill the cake with pastry cream or your favorite jam.
Prepare it in advance. It is rich from one day to another
Preparation time: 1 hour more 1 day of rest
Servings: 15