With these pancakes of quinoa will learn to give a new use to this cereal that already know is one of my favorite.
Today I bring it you from the hand of El Granero Integral, a brand of organic products of high quality.
And it is also in the seeds and grains is very noticeable the difference between normal products and organic, and they are worth. Their products them will find in health food stores and shops ecological.
They also have a wide range of products refrigerated vegetable base like burgers for vegetarians and various kinds of tofu, but my I have fallen in love from long ago his dry food products.
The Integral barn has a long tradition and was a pioneer in dealing with bringing home organic, natural products which until recently, they were very difficult to obtain.
It currently has an extensive catalog and increasingly incorporate environmentally friendly products of own production that are amazing.
I will not say that everything you buy is organic but in theme of flours and grains, and infusions among others, I am a little bit special and I like the quality and flavor above all, and in these quinoa pancakes, they make the difference.
You have the range of cereals and flours, which I love because they also offer products that are not common and that you provide.
But in addition, have with range of products special for allergies and intolerances that both costs sometimes find.
And going back to my pancakes of quinoa with coconut and red fruits you can assure you success. There are a few original pancakes that are in addition to rich, precious because they inflate more than traditional pancakes.
Already know that I love the pancakes of cookies, but these pancakes of quinoa, with quinoa ecological, are even more healthy and are delicious.
The mixture of vanilla and coconut put the icing to this super recipe that it serves you breakfast that Rica snack.
Let's get them!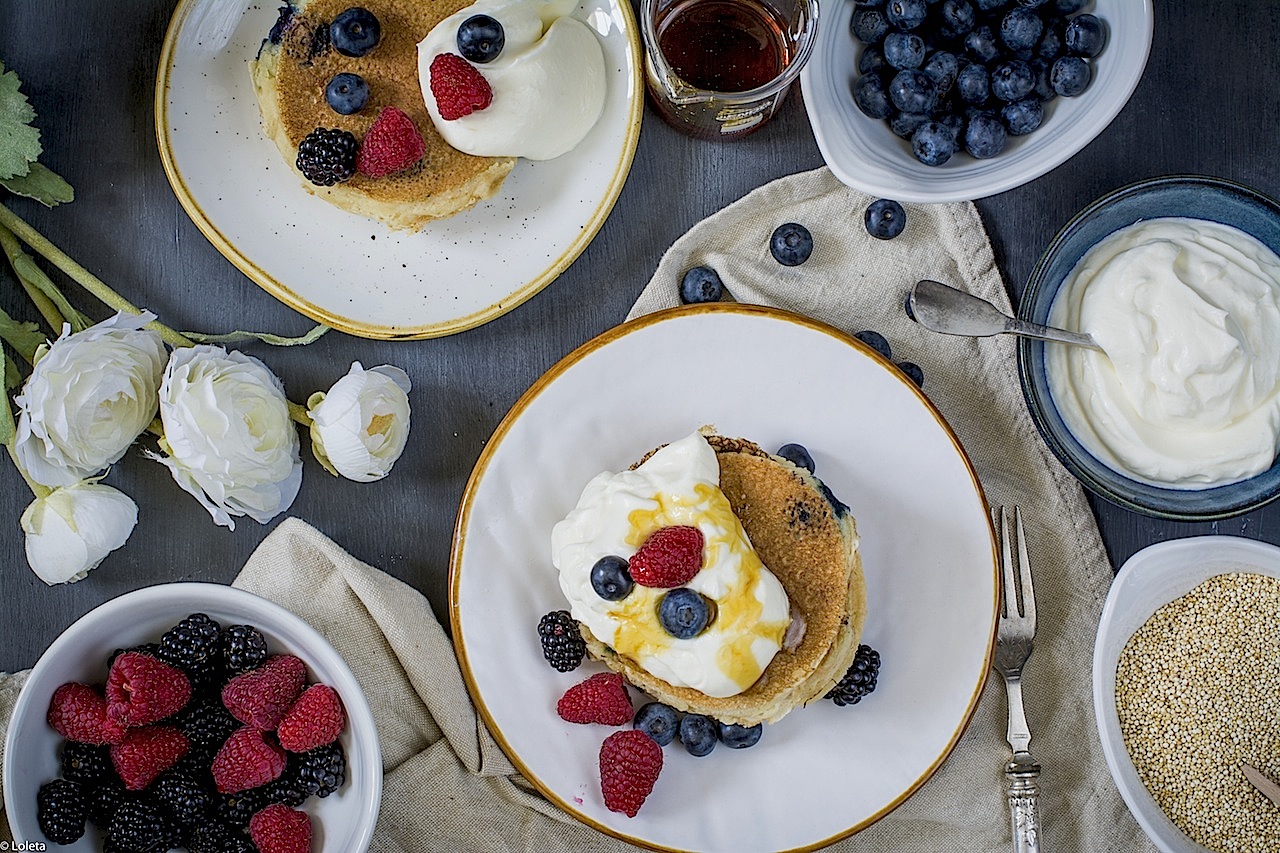 Ingredients
1 ½ cup flour (can use comprehensive if you prefer it but my I prefer use the white because I like more color)
3 tablespoons sugar
1/2 teaspoon salt
2 teaspoons of baking powder
1 teaspoon of baking soda
1 tablespoon and a half of grated coconut
2 large eggs
250 ml of coconut milk
250 ml buttermilk - if you don't have buttermilk, you can replace it with the same amount of milk with a dash of vinegar, or creamy nonfat yogurt. €0.24 •
1 teaspoon pure vanilla extract
1 cup of previously cooked quinoa El Granero Integral
1 ½ cup blueberries, strawberries and raspberries
3 tablespoons of oil seeds (sunflower, corn, canola, grape pips...)
Directions
1 sift together the flour, yeast, baking soda, sugar, coconut and salt.
2. in another bowl, beat the eggs. Add the buttermilk, coconut milk and vanilla extract and mix well.
3. mix the wet ingredients to flour mixture, and beat. When is the mixture uniform, add the cooked quinoa following the instructions that you will find in the package of El Granero Integral
4. heat a griddle or skillet over medium until it is well hot. Add a little vegetable oil and 3 tablespoons of batter onto the griddle or skillet very hot.
5. put 6 or 7 blueberries (or slices of banana, blackberries, raspberries or strawberries) on each pancake. Cook on one side until we see bubbles in l surface (two to three minutes).
6 then turn it over and cook the other side about a minute until well browned. Remove from heat and place on a plate. Repeat the operation until we have finished the entire mass.
7 serve quinoa pancakes warm, accompanied by butter or whipped cream and maple syrup.
Tips and Tricks
These quinoa pancakes they hold in the refrigerator for one day to another and we can heat even in the microwave. Also can freeze them can include some nuggets of chocolate if you prefer
Difficulty: easy
Preparation time: 15 minutes
Servings: 15 pancakes