Angel Food Cake is a North American biscuit which is so light that he is called angel food cake, and has several features that distinguish it from the rest of biscuits.
The first is that it makes riding the whites, making a Meringue with many whites. Then hand the rest of ingredients, are incorporated which makes it very light.
It is a cake that is made in a mold of bundt, of those that has a hole in the Center but that is flat on the bottom. As it is not grease (don't forget that it is not greasy or not you will get), should be a completely smooth mold.
Finally is a biscuit that cool completely in the Pan but upside down. As the cake needs air to cool, we need to raise the work surface mould. For this purpose there are some Angel Food Cake molds, or angel food cake that have some legs on which put them upside down. But you need not buy a special mold. Also you can use a bottle to fit the mold so that the surface of the cake will not touch work surface and will air in through.
The result is a perfect, very light and delicious tasting cake. A mi me gusta flavoured with vanilla, but also is rich with cinnamon powder, a little ground cloves and cardamom powder, although my favorite is that I bring you today.
To finish it, you can use a bit of icing sugar, but we can make other very easy decorations, like mine today, and which are precious. I've used some whipped and I decorated it with strawberries, raspberries and a little chocolate chopped with a knife, and has been so nice, but you can also do a lemon and garnish with lemon slices and mint leaves, for example, or with orange icing. Invent your own decoration, ' imagination to power!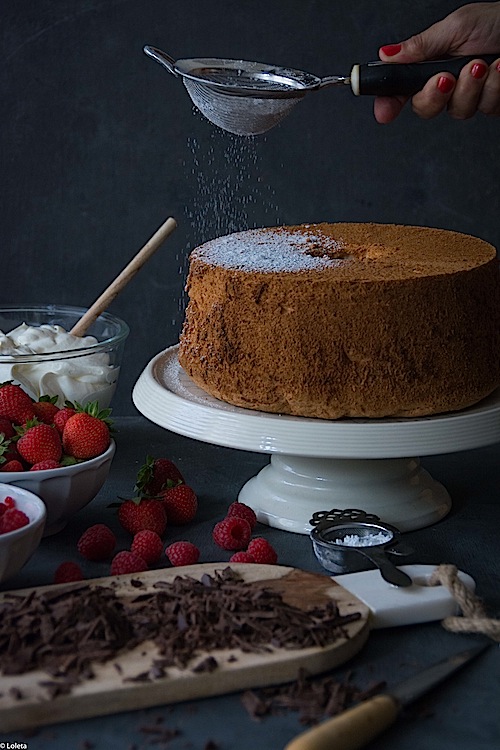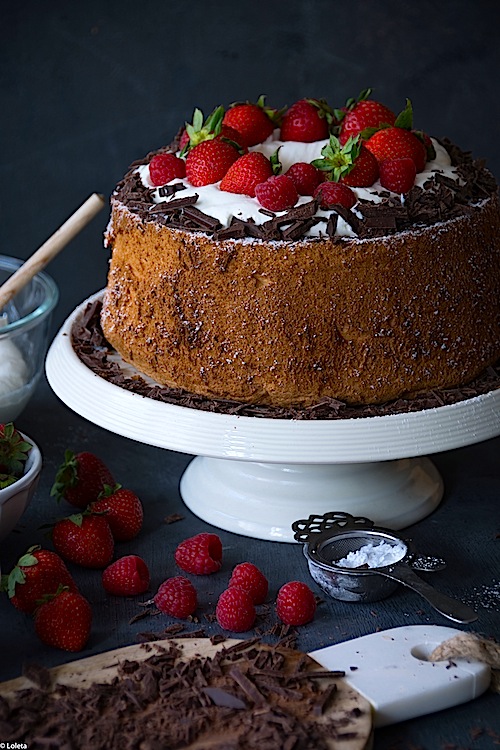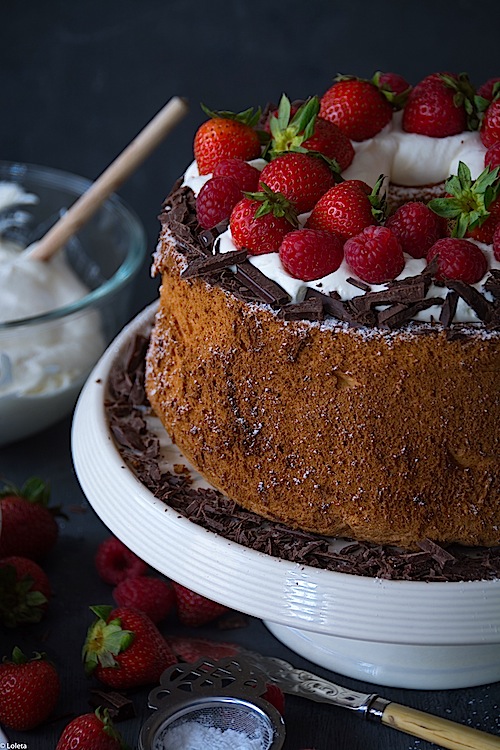 Ingredients
185 g of flour
25 g cornstarch
14 egg whites (large size eggs L)
370 g of icing sugar, divided into 2 parts
1 teaspoon cream of tartar
1/2 teaspoon salt
3 teaspoons of pure vanilla extract
icing sugar for sprinkling
Directions
1.Precalentar the oven to 180 degrees with air preferably hot. In a large bowl, we tamizaremos the flour, cornstarch and a part of sugar icing. There is that sift it two times to be well United and well loose. Book.
2. in bowl of electric mixer (bear in mind that we will assemble 14 clear so we need a big bowl), beat the egg whites with the cream of tartar and salt on medium-high speed. When they begin to make soft peaks, add a part of glas (185 g) sugar, and pure vanilla extract and continue beating until you have a glossy Meringue with strong peaks but without passing us.
3. when the meringue is ready, we will go to a bowl bigger in which to be able to work well. With the help of a spatula, begin adding the flour mixture. We will do this 2 or 3 times at and with outflanking, taking care that whites will not fall.
4. once we have well uniform mixing, we fill our mold without grease it (don't forget which not OILED), and hornearemos for 45-50 minutes. Last this time remove the furnace mould and give back, leaving it to cool completely on a wire rack (if the mold has feet like mine), or on a bottle in case that does not have. Let cool at least one hour and always until it is completely cool before removing from pan.
5 we passed a knife tip around all the mould and the gas inside. Then by the lid and unmold. We sprinkle with icing sugar.
Tips and Tricks
Garnish with a little whipped cream and berries
yonlo surrounded besides a bar of chocolate which I cut with a knife and it was so pretty.
Preparation time: 75 minutes
Difficulty: easy
Servings: 14