With this cake in white chocolate and berries. We started to prepare for Valentine's day. It's beautiful and is very rich, and is also very easy so you have no excuse.
I've done it in the shape of a heart for Valentine's day, but white chocolate and red fruit cake it can make them into round or square mold, and if you think much multi-storey as do it only as a cake. This today is for my son. That always complains of that when he made his first communion I did you a cake of several floors as I do that now for the first communion.
He then studied and we lived outside, so first communion celebrate it at a very nice restaurant. It was a communion very discreetly but very nice, where his father and I that did a book with your best photos and a video that we devote to their best moments, but where there were several floors but a very rich dessert cake.
Since it rained a lot, and although I have always done their cakes for your meets and festivalsIt had never made a cake of several floors, so this I did to it, a delicious cake of chocolate and berries and I desquité. Although it seemed very nice and loved the flavor, I admit I not put flowers.
You know that in San Valentín I like to organise a dinner with friends or family and celebrate this day together. I'm not romantic dinners or things like that, not on this day, but since my son is small like you prepare something special and celebrate it with the House full of people.
Today these flowers are for you so you can see that at home we can also prepare very nice cakes and this cake in white chocolate and red fruit today is for our party of Valentine's this year. In love congratulations!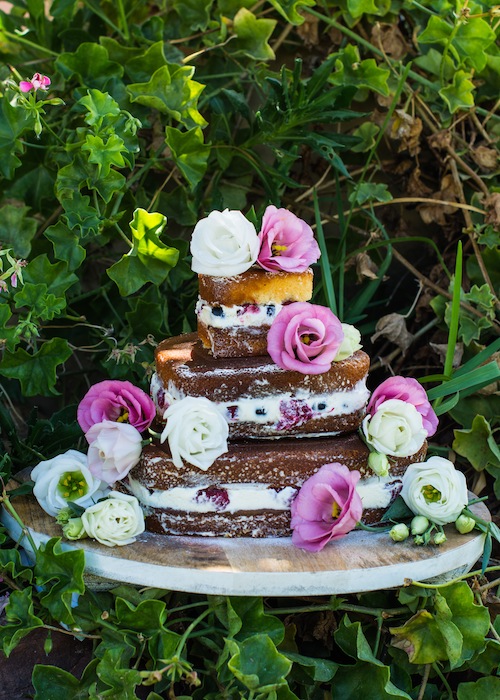 Ingredients
For the white chocolate and red fruit tart
7 large eggs
500 g sugar
360 ml of milk
180 g butter without salt at room temperature
1 tablespoon and a half of vanilla extract
380 g of flour
15 g baking powder
a pinch of salt
For white chocolate cream
170 g of white chocolate
450 ml of liquid cream with at least 35% of very cold fat
For the filling
200 g of blueberries
200 g raspberries
Directions
1. in bowl of electric mixer, combine the eggs and sugar until the mixture is foamy, switched to a paler, and has increased its volume (about 4-5 minutes).
2. Meanwhile, in another bowl, mix the milk with the vanilla and butter. Heat in the microwave until the butter has melted completely. Book
3. mix the flour, yeast and salt in a bowl, and add to tablespoons egg mixture, gradually so well-mixed and down occasionally with a spatula that has been on the walls.
4. remove a ladle of the biscuit dough and mix it with the milk and butter mixture. Mix particularly well with the help of a few rods.
5 return the mixture to the bowl of the mixer and mix until everything is well integrated.
6 fill the three molds 2/3 parts, handing out the dough between them well. Bake at 180ªC for 30 minutes or up to that prick biscuits needle comes out clean. It is likely that large mold will take 5 minutes in baking than the other two.
7. While Biscuits are baking can make rows it. To do this in a bowl, heat chocolate with 100 ml of cream in the microwave at 30-second intervals. Mix with a spatula after the first 30 seconds and if necessary to heat a few seconds more. Let cool to room temperature.
8. when the chocolate cream is tempered and has lost all the heat, mount the cream very cold with the help of an electric mixer. When the cream is mounted, enter with a spatula white chocolate cream. Reservr in the fridge.
9. once baked biscuits, should wait until they are completely cold to fill them. Cut each cake in half. Cover with a layer of white chocolate cream and distribute over blueberries and raspberries. Cover with the other part of the cake. Proceed thus with three biscuits.
10. to assemble cake of chocolate and berries you must enter round wooden sticks in the center of the largest cake. To do this, we will measure the height of the cake and make sure you cut the stick at that height. 5 sticks for the cakes will take more randa. Now we will introduce them in the Center, so that they do not protrude above. Now we can already put the second heart over and over it, the smaller cake.
12 put a little icing sugar over the cake of chocolate and berries to decorate. I used flowers for decoration, but if you want to give it a more simple, you can decorate with blueberries and raspberries that you have left over. To enjoy!
Tips and Tricks
Ideally, bake the cake and make the cream a day, and expect to assemble the cake the next day. Thus we make sure that all the ingredients are cold
If you don't like white chocolate, assembles the cream with sugar (about 4 tablespoons) and decorate with fruits
Difficulty: easy
Preparation time: 1 hour plus time of cooling
Portions: 22