Curry massaman (or mussaman) is the curry that takes more time to prepare but the richest and most complete of all. Its origin is located in the Siam peninsula.
There are two ingredients that especially characterize this curry that are tamarind paste and Palm sugar, and of course spices such as cumin, cloves and nutmeg that Thais did not know until the Portuguese carried them from India
Thais have been gradually changing this recipe with ingredients used depending on the area in which it is made. The version that I bring you today is the more traditional, a curry massaman chicken with potatoes, but there are others including pineapple, eggplant or radishes, and others which are prepared with veal, pork or even duck.
It's an ideal recipe ito have after a long walk by The Ciudad EncantadaHave a cold beer with it to help calm the spicy chilli. I hope you enjoy it so much as Ido!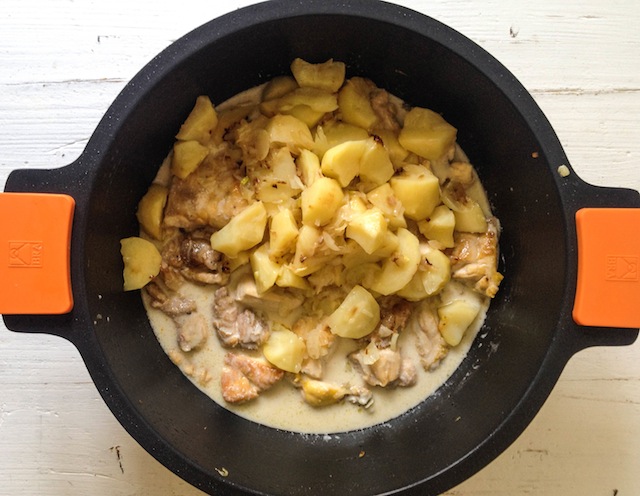 Ingredients
1 chicken breast €2.00
2 chicken quarters €2,80
5 medium potatoes €0.35
4 shallots (actually you can use here onions instead, but I prefer the flavor of shallots) €0.70
40 ml sunflower oil €0,20
3/4 liter of coconut milk €1,30
Black cardamom seeds (must open the sheath and remove the seeds) €0.25
4 bay leaves €0.10
2 tablespoons Palm sugar (you can use sugar moreno or even white sugar, but they use Palm sugar) €0.30
5 tablespoons fish sauce€0.25
3 tablespoons tamarind paste €0.35
200 ml of pineapple juice €0,20
For the pasta of massaman
1 teaspoon of chili (or 3 chopped chilies) €0.15
2 shallots, grated or very finely chopped €0.35
5 chopped garlic cloves (or 3 teaspoons garlic paste) €0.35
2 tablespoons tamarind paste €0.45
1 tablespoon coriander seeds €0.15
1 teaspoon salt €0.02
1 teaspoon of cumin 0.05
5 nails (or 2 teaspoons ground cumin) €0.10
1/2 teaspoon of Walnut nutmeg €0.10
4 black cardamom seeds (must open the sheath and remove the seeds) €0,20
1 can coconut cream 1.00
Total €13.70 from 8 servings you get, assume €1.71 per serving. A price of laughter do not you think?
Directions
1. Remove skin from chicken. Cut it into pieces about the same size.
2. Chop the potatoes into medium size pieces. Chop the shallots.
3. In a saucepan, heat the oil and fry the chicken until it is well browned. Then remove the chicken and add the potatoes and chopped shallots and sauté until well browned vegetables. Remove the vegetables and set aside.
4. Add the chicken back to the pan. Cover with coconut milk and boil. Then add the bay leaves and cardamom seeds and cook over medium heat for 10 minutes.
5. Then add the shallots and potatoes back into the pan. Cook over heat medium as we prepare the curry paste.
6. In a mortar crush the cilantro with the cumin seeds and black cardamom seeds.
7. In another bowl, mix the chilli paste, with garlic, tamarind, crushed cumin, cardamom and coriander, nutmeg and very chopped shallots, Mash to a paste.
7. In a saucepan, heat Coconut cream and add the curry paste. Heat cream until all the ingredients are well integrated. Add sugar gradually, tasting before adding more sugar. The exact amount of sugar will depend on the intensity of the pulp of tamarind (which is very acidic). The flavors must be balanced so that neither predominates over another.
8. Once well cooked and the sugar has dissolved completely, pour this mixture over the chicken pan and add pineapple juice. Boil to combine all ingredients well. The flavor should be sour, sweet and spicy at the same time. A delight!
Tips and Tricks
If you don't have time to make the dough, buy it already made. It is not the same, but the taste is also very rich. Sold it in Asian food stores. My favorite brand AROY-d.
If you want the vegetarian version, remove the chicken and add eggplant, Zucchini and a fruity touch with a few pieces of pineapple.
It accompanies boiled basmati rice and a very cold beer to calm the spicy!
Difficulty: easy
Preparation time: 1 hour
Seating: 8 people