It is better to travel with hope to get
One of my favorite places is Burma. Filled with thousand awesome places, upon arrival I visited the Stupa of Shwedagon Pay, in Yangon.
I wondered why we had stop at the hotel and delay the visit of this magnificent temple, but when came the fall of the Sun I could understand that everything had been carefully planned so that twilight has caught us there: an of the sunsets amazing the world with light shining above the dome of the stupa in 100 meters bathed in gold. A marvel for the eyes and soul. If you could go back!
We spent a lot of heat, but it was worth every second that we spent there. This curry spicy has a deep and aromatic flavor that is simply delicious. Accompany rice and enhances or softens the spicy and function of your own liking. They say that against the heat, is good the spicy... well here is the answer.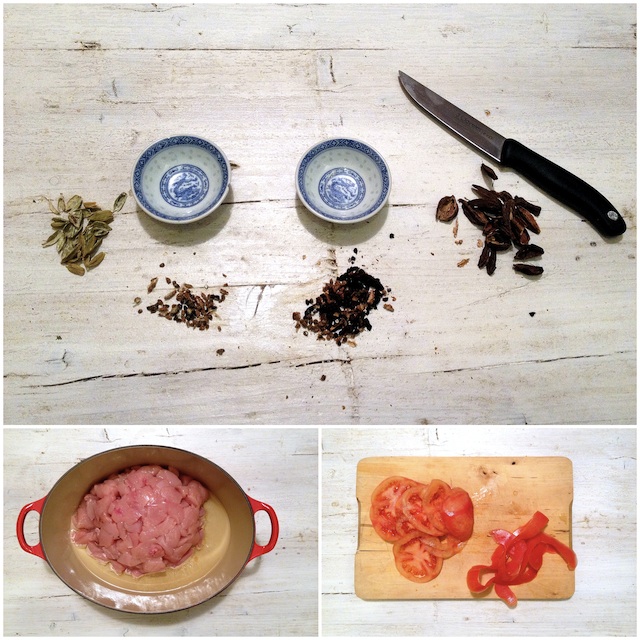 Ingredients
15 gr of grated fresh ginger (can use grated ginger which sold in tubes or jars but can not use ginger powder. This should limit it to pastry) €0.10
10 cloves garlic, minced (you can also use garlic paste which is what I used) €0.45
5 tablespoons vegetable oil (not olive or sesame because they are very strong flavor oils) €0,20
a stick of cinnamon €0,20
3 black cardamom seeds €0.15
4 green cardamom seeds €0.15
4 nails €0.05
1 onion chopped €0.25
1 or 2 chopped peppers (be careful because these chiles are very strong, so you can add one or medium and depending on how see you it spicy add more if you like) €0.25
3 ripe tomatoes €0.80 €0.03 salt
2 tablespoons coriander ground €0.30
2 teaspoons of cumin ground €0.15
1/2 teaspoon of turmeric (if you cannot find you can use turmeric, but the Eastern turmeric is much more aromatic than our turmeric) €0,20
a tip of chili powder (if you want to get the spicy, you can do so: once the sauce has cooked you try it, and if you see her little spicy add a little more and let cook 3 minutes to prove it.) Thus you will have the ideal point of spiciness without be too) €0,20
1 teaspoon and a half of garam masala €0.25
750 g of chicken parts €3,50
a handful of chopped fresh cilantro (depends on what you like you can use more or less.) A. my as I love put you enough...) €1.00
Total €8.43 per 8 servings, which means that only €1.05 per ration. Intensely spicy and incredibly affordable.
Directions
1. with the help of a mortar make a paste with ginger and garlic mixed with a little water. If you use garlic and ginger and crushed as that sold in cans, this step you can jump it. Peel the tomatoes and remove the water. Book
2. heat the oil in a nonstick pan.
3 Sauté chicken so browned a bit. Once browned, remove from pan and reserve.
4 Add spices (cinnamon, black and green cardamom, and nails) and let FRY for 10 seconds.
5. Add the chopped onion until golden.
6. that currently incorporate the garlic, chili paste and saute until the garlic is cooked.
7. with the help of a wooden spoon, add the tomatoes, salt, and species in powder (coriander, cumin, turmeric, chile powder and garam masala) and saute for about 7 minutes, until everything is well integrated.
8 Add chicken and simmer for 5 minutes so that you take well the taste of masala (tomato sauce).
9 past this time, cover with water and cover, and cook over heat medium for about 20-30 minutes until chicken is tender.
10 past this time, uncover and increase the heat. Cook moving from time to time so that it does not stick until the water has evaporated and sauce is thick. This will make that sauce is homogeneous and that the flavors are more intense.
11. the sauce should have a creamy consistency, so if we see that it is too thick, you can correct it by adding a little more than water. Verify that salt is ideal.
12 sprinkle po over chopped cilantro and serve with basmati rice. Deliciously spicy!
Tips and Tricks
Add the chile gradually to get your ideal point of spiciness. So you will not go, or you will be short.
You can substitute pork for veal and even prawns.
You can do it in advance - freezes it you on. Then defrost in the fridge for 24 hours and regularly heated in microwave or kitchen. It will be equally delicious.
With this rich and spacing dish goes great beer that calms the spicy, so I am going to recommend a new craft from my homeland of type pale ale flavored with mango and citrus: Axarca, a newborn Malaga beer, which will bring much tail and flavorful to Malaga. Price €2,90 33 cl bottle.
Level of difficulty: easy
Preparation time: 60 minutes
Seating: 8 people