"Luck is not the secret of success, but consistency"
That strong! Let me a special appreciation for the occasion deserves it. Even I do not credit... among the more than 700 blogs submitted, TV Channel Canal Cocina awarded me Blogger Cook gold 2013. I am super excited! I never thought that we could get this far, after a little over a year and a half working with all the enthusiasm in the world on this project, trying to make different and originalcombining recipes and travel; completing and improving what we can every day, be recognized by the professional jury of TV Channel Canal Cocina It is an honor and a responsibility to follow. Thank you for this billion injection of enthusiasm and new... and not get tired, thanks really to each and every one of you who are back there. Loleta would be nothing without your positive energy: Work, delusion and constancy. Come with the post!
There is a neighborhood Paris that has changed so much in the last 20 years that if he had not seen it with my own eyes not you would have believed it me. It is of The Marais (The Marsh in French), and which is located between the districts 3 and 4 from Paris on the right bank of the Seine (Rive Droite). Take, for example, the metro station of Saint Paul.

His heart is focused on Vosges Squareof which I already spoke on this postthe Picasso Museum and the Jewish quarter. Worth a go drifting through the streets that in them you will find secrets and little treasures, whether buildings, a square, a building or a shop.
In this neighborhood the population resides Jewess most important in Europe, and for years they could be jewelry shops, clothing stores and complements to the wholesale. He also had, and there are still many grocery stores and gourmet specializing in Jewish foods that are well worth a visit. The amount of food will surprise you Kosher that it can be found. Delicious patisseries and restaurants where you can enjoy the Jewish food. Now, you can find also some of the best shops of fashion Paris, ons, galleries art, cafes and restaurants they will do will meet your expectations and much atmosphere in the streets.
So today we're going shopping and I'm going to focus on one of my favorite streets: Rue des Francs Bourgeois. It is best to access directly from the Vosges square by its North side.
Just log in, in the number 7You'll find the boutique Majestic, a store of luxury with timeless design knitted garments. Linen and cashmere: a taste for the skin.
A little later, in the number 12, you will find Autour du Monde, the flagship of Bensimon in Paris, brand of clothing and accessories for all ages, but that above all is famous for its footwear. In it you will have a good time among their bags for travel, handbags, shoes and boots and snap-ins that you will not find at any other store brand. They have in addition a section of household linen and furnishing with such as Parisian French chic.
In the number 20 find The Chaise Longuea shop of fun objects and design for the House where to find informal gadgets good price. Furniture of Italian design, toys and kitchenware among others
Later, in the number 22 has BA & shan of those shops that whenever you enter you find many things that you buy. It's 100% Parisian style clothes with this decadent point that I like so much. Thread, fine linen, silk, and cashmere garments woven rich which will enchant you in subtle colors. 100% France.
In the number 24 the street is it Creperie Suzette, a creperie unpretentious in which can calm the hunger with a good nutella crepe or a ham and cheese to follow our journey.
But you have to hurry, to get to the number 41 with Les Petites, a clothing brand also French and that delights the Madridians where it opened now three years ago. This boutique however is much bigger and more pleasant, and its clothes will make you feel hyper feminine.
We continue to number 47 where is a store where can chop for one euro. It is of Muji, the better-known Japanese store specializing in stationery and Home: paper and pen, all sorts of notebooks, gel pens, markers, binders and folders in which you bet that you are not able to enter without purchase.
And finally we come to number 51 where Fragonard. A French artisan perfumery only in his knowledge and in his search for the perfect perfume. Queen among the French perfumeries, has its own workshop of production at its factory in Grasse from 1,782.
Finally number 53 find a charming Bistro: Dome du Marais. His entry never reveal the best-kept secret of all this magnificent Street. Opened in 1777 local retains all the glamour and elegance of the 1930s with pieces of furniture of the 18th and 19th century. Its dome is one of the most beautiful examples of circular neoclassical buildings that you can find in Paris. Your dining room where the black velvet is the undisputed star, offers brunches, lunches and dinners in an environment of luxury and the Parisian chic to price restraint considering where we are. It also has a lovely tearoom located in a winter garden that you fall in love.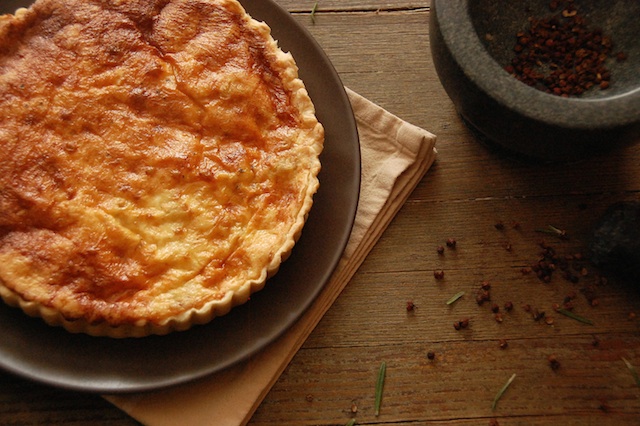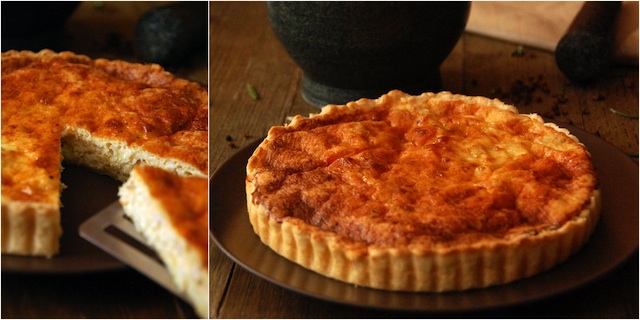 Our tour was completed by this street so incredible that left me hungry. Do you think if we prepare a delicious chicken and Leek pie? The secret? The curry that gives you a super original point. You can surprise your guests. Let's go for it!

Level of difficulty: easy
Preparation time: 50 min.
Servings: six
Ingredients
1 package of pastry (approx. 230 gr.) €1,00
3 leeks €1,30
a bit of butter (1 tablespoon) €0,20
2 chicken breast fillets €0.70
3 eggs €0.46
250 ml of liquid cream €0.45
a little salt €0.03
1 teaspoon curry powder €0,20
10 grains of €0.25 Szechuan pepper
a little nutty nutmeg €0.05
2 tablespoons cheese grated €0,80 (in this case, I used a piece of emmental, another Orange English cheddar and other Maasdamer because I wanted to give you an extra bit of flavor, but you can use any that you like you)
Total for six Diners €5,44, i.e. 0€90 per person. Original and very economical.
Equipment
a pie pan
several bowls
frying pan
mortar
basting brush
Pairing
There is a wine that in addition, recently in a tasting, I confirmed his good looks. It's a red wine of a Málaga winery based in Ronda which makes very good wines, and this in particular, endorsed by Juan Manuel Vetas, has a quality relationship unbeatable price: it is The Pediments, Crianza 2008 Bodegas excellence. Made with Cabernet Souvignon, Cabernet-Franc, Syrah and Tempranillo grapes. It pairs well with all kinds of meats, cheeses, vegetables and rice. It will do very well to this dish. Your price: €14,95.
Directions
1. heat the oven to 180 º.
2. cut the chicken into small cubes.
3. in a frying pan, heat a tablespoon of oil and when hot add the chopped chicken and curry powder. Move well with wooden spoon so curry is distributed by all the chicken. Once Golden, book.
4. cut leeks into julienne strips.
5. in a frying pan, put a tablespoon of butter and saute leeks until they are soft. Book.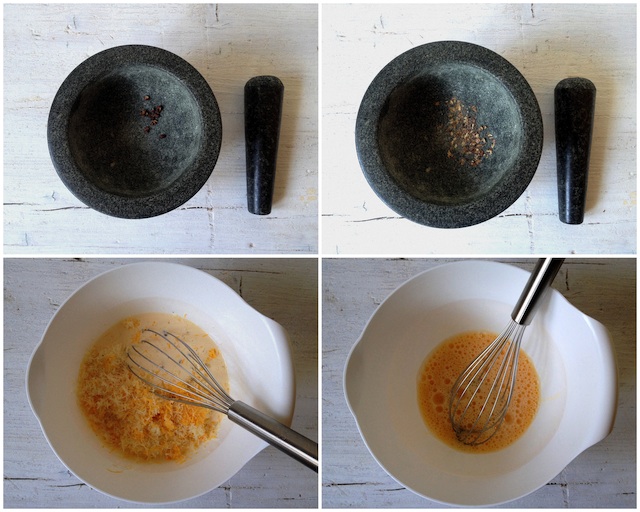 6. If there is no pepper, grind it with the help of a mortar as thin as possible (although to my love find me bits of pepper in this type of cakes).
7. in a bowl, beat the eggs. Add the cream. Beat.
8. Add a bit of salt, ground pepper and a little nutmeg. Beat well.
9. with the help of a grater, grate the cheese. If you prefer, you can use already grated cheese.
10 Add the grated cheese to the mixture of eggs and cream.
11 cover with the pastry mould for cake. As this mass carries much butter, it is not necessary to grease the mold before covering it.
12. carefully pour this mixture over the mold we have prepared with the shortcrust pastry.
13 Hornar at 180 ° C for 25 minutes or until fruit set... Bon appetit!
Tips and Tricks
1 accompany it with a salad. It's going great
2 take advantage of some bottom of refrigerator you have and wide range of content. Sure that you guess
Want to see all the recipes I have related to France?... Et voila! Check them out here.
You can follow the blog day also in the social networks:
We encourage you to contact me for anything you need! You can also subscribe to receive updates in your mail, do it HERE.
Loleta News! Again I submitted my blog to the contest Blogs 2013, in the category Best food Blog. Please, if you have a minutillo, linkad below in the picture and vote please my candidacy in the corresponding category (gastronomy). If you have friends, you know, to give war and share the link to get more votes. Ton thank you for your support, and your time! Kisses