"Life ceases to make sense when you stop believing in it"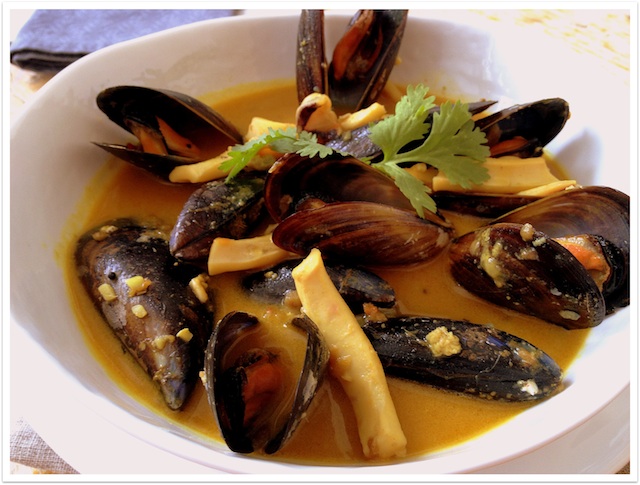 The word curry it comes from the India, and despite the confusion generated in the West where it is believed that it refers to a particular spice, curry means salsa thick or stewed. It's more or less spicy sauces accompanying dishes. In the India is a mixture based on different spices (masala) which are used for stews or casseroles.
The curries of India differ widely depending on the geographical zone It concerned. The curries of the North are stronger, with a base of tomato, thick and dark, while the southern curries, tend to be lighter and with a base of coconut milk.
In the South of the India, Thailand and China is customary to use one of my favourite spices: the tumérico or Indian turmeric. It is a perennial plant that grows primarily in India and Pakistan.
You're on the street walking and you love the smell of turmeric: is deep and soft at the same time. It does have a few like mad to eat whatever (usually with fish or seafood), you drunk... and although it can also be used fresh for cooking food in the same way that banana leaves, are used i.e., wrapping food in foil and cooked, here only find it ground. At end East especially the grated root is used to add it to stews.
In the India part from hundreds of years of medicine Ayurvedic thanks to its medicinal properties and is also used to dye saris and dresses of Buddhist monks, but its main use is of course in the cooking. Indian turmeric has a slightly bitter taste, piquant and a smell of mustard seeds. Its smell, ummm!... has a very characteristic odour. I recommend to always keep it in a glass jar, because as you have it in a packet, your kitchen will soon transform in the best restaurant of exotic food... The other main feature is its beautiful yellow. That Yes, if use the hands care!, because he colorized maintained this color what you touch.
The tumérico It is best to buy it in stores specializing in Indian food. Which can be found in traditional supermarkets is Spanish and is not so fragrant, has almost no flavor, and certainly no chop. As soon as we use the turmeric or Indian turmeric, the kitchen will smell to oriental food. Spolight can not for nothing because no spice seems to you, giving a beautiful color to coconut-based sauces.
And that will just do. We are going to develop a curry of coconut milk soft which goes great with seafood. The different textures make this recipe a delight for the senses and you can use any kind of seafood or white fish. It is wonderful to serve with rice. This recipe is typical of the South of the India... do you dare? Let's go!

Level of difficulty: easy

For 4 people

Preparation time: 30 minutes
Ingredients
5 tablespoons vegetable oil (not from olive because it would give it too much flavor) €0.15
1 tablespoon mustard seeds €0,05
10 grains of black pepper €0.08
15 curry leaves €0,20
1 onion finely chopped €0.15
2 green chiles, chopped without seeds (optional) €0,20
20 g of grated ginger or ginger paste €0.25
5 cloves of garlic grated or 1 teaspoon garlic paste €0.15
2 tomatoes, chopped very fine €0.25
1⁄2 teaspoon of chili powder €0.10
1 teaspoon of turmeric €0.05
1 tablespoon coriander ground €0.05
1 tsp. cumin ground €0.05
a pinch of salt €0.03
400 ml coconut milk €1,65
250 ml water €0.07
1 teaspoon tamarind paste €0.22
500 g of shellfish: mussels, prawns, squid... or white fish, what you most enjoy €2,00
Total €5,70. I.e., €1.42 if we deal between 4 servings. And you can not imagine how good that is.
Support: as on other occasions, I put aside the list of products that you should find in Asian supermarkets (I linked below some addresses):
Apologies for the rest, but safe for the web you find something, already rampant everywhere... we invade. If you don't have access to one of them, makes you friends of the Asians who runs the "Chinese" in the neighborhood, and ask that they provide it you, insurance that will make. Keep in mind also, that will do the purchase once every two years approximately. The spices they are not bad and last an eternity because as you can see, the quantities used are very small.
Equipment
a wok or a large cacerola
a saucepan
a wooden spoon, bowls, tables of cutting, knives.
Pairing
With the oriental food and especially the seafood dishes are very good white wines. I would recommend a white: Condes de Albarei, of the designation of origin Rías Baixas. Serve it very cool. Your price: €8,99.
Directions
1 heat the oil in a frying pan or large casserole. A wok is ideal.
2 sauté the squid to fire medium until they are golden brown. Remove from skillet draining oil and book apart.
3. add black peppercorns, mustard seeds, and after half a minute, put the curry leaves, onion and chilies. Cook until the onion begins to Brown.
4. Add the ginger and garlic and saute for a few minutes over medium heat.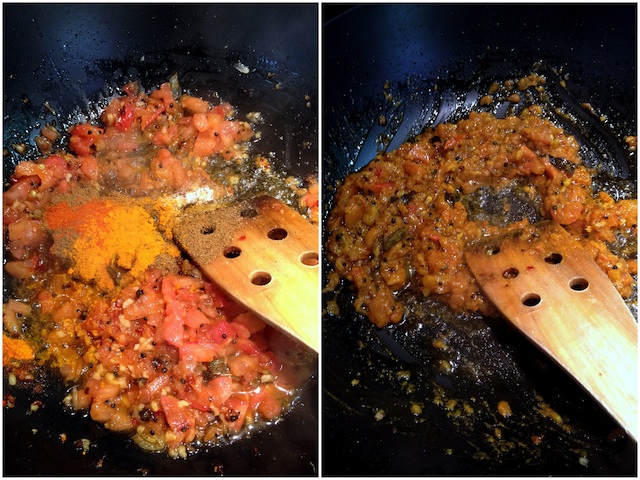 5. Add tomatoes, dried spices (chili powder, turmeric, coriander powder and cumin powder), and salt and cook for 6 to 7 minutes until the dough release oil.
6 pour the coconut milk and 250 ml of water. I would add the shrimp shells to make boil, and once they have released all the juice neck them to drip the sauce well. Stop breaking it to boil for 5 minutes. The sauce should have a creamy consistency as the cream. If it is too wet, allow to reduce the sauce a little so that it thickens, or if it is too thick, add a little water to rinse it.
7. Add tamarind and then the seafood. Cook until the seafood is cooked and tender.
8. Add the cream of coconut. Adjust salt, tamarind and chile.
Tips and Tricks
-A my I liked to combine mussels, squid and prawns, but you can delete or add white fish or other seafood.
-A soft rice Acompanalo
Do you want to see the rest of Indian recipes posted on the blog? Linka here
– You can follow the day-to-day of the blog also on social networks: Facebook, Twitter, Pinterest, Flickr and Instagram
-Also you can subscribe to receive news in your e-mail, Subscribe HERE.
Thank you for your support!