This potato and mayonnaise is the cream we take at home at Christmas always. It is a recipe very simple but delicious and with a completely different flavour thanks to the mayonnaise that is mixed once.
I have prepared it with the Cook, Magimix Expert, so I present the third recipe of my collaboration with this super robot that I have love. This time I used while preparing this cream for steamed shrimp and eggs always we serve at home as a garnish.
As I say, this cream is super rich, but best of all is how easy and simple to prepare. Because just like the cream of carrots with crispy bacon or the chocolate brioche, which I prepared a few weeks ago, is made with my Cook Expert cooking robot.
A super robot that has me in love but I want to introduce you because at this time it seems more than ever a perfect choice to make life easier in the kitchen and to my has simplified me every one of the recipes I prepare with it.
Often I write to ask me to recommend you a good restaurant, a brand of sugar or a good investment in the kitchen. Like everything in life, I am more than have quality than quantity in the kitchen: I prefer two good pans to a dozen of bad quality, two molds instead of many pans but non-stick and a good robot that makes everything instead of several appliances in addition to res expensive Ultar, never use because they end up and the bottom of the table and not remember that I have them
And so is the Expert Cook of Magimix: a robot that has it all and all the functions that can be useful in the kitchen to me: a pot of induction of slow cooking that can be used to also steaming, a kneading as you saw in the recipe of the brioche, a blender to make smoothies, ice cream, creamy soups, mayonnaise, whipped or best merengue. and a thousand other things.
It has besides a food processor, in which we can prepare a creamy hummus, chop ice, meat, grind nuts and an endless possibilities.
This cream to taste, which is what we call at home this potato and mayonnaise, is a cream that is prepared in my house from generations ago. A recipe very economical to prepare that is also very simple, but that will change the perspective of as creams at home because its texture is completely different from that they've tried so far. And it is a homemade mayonnaise changes its texture and its creaminess. And I'm going to show you right now!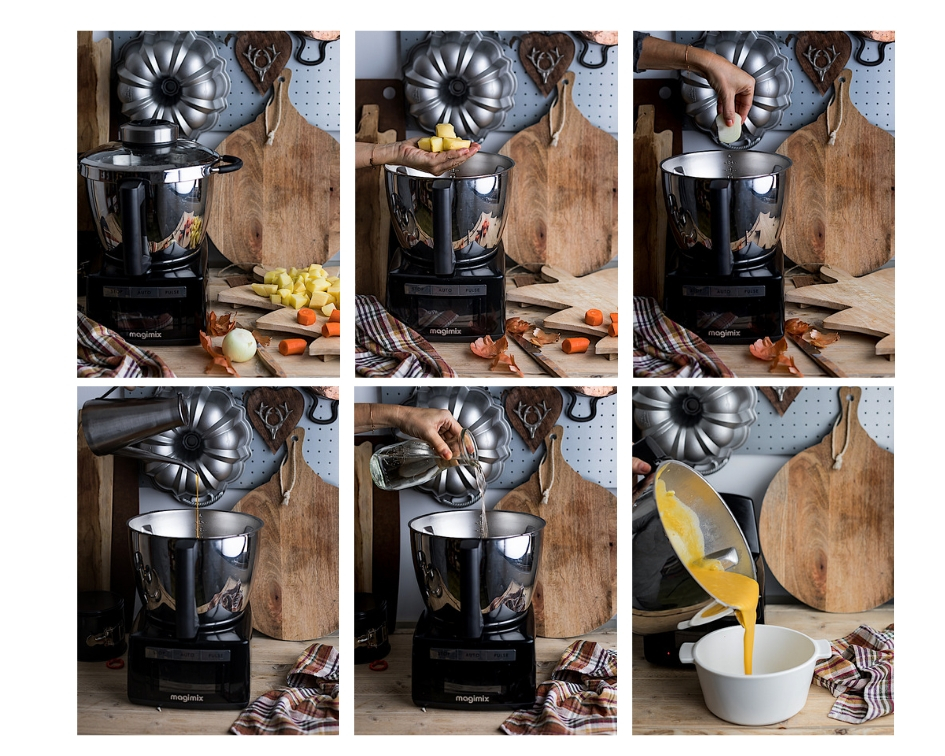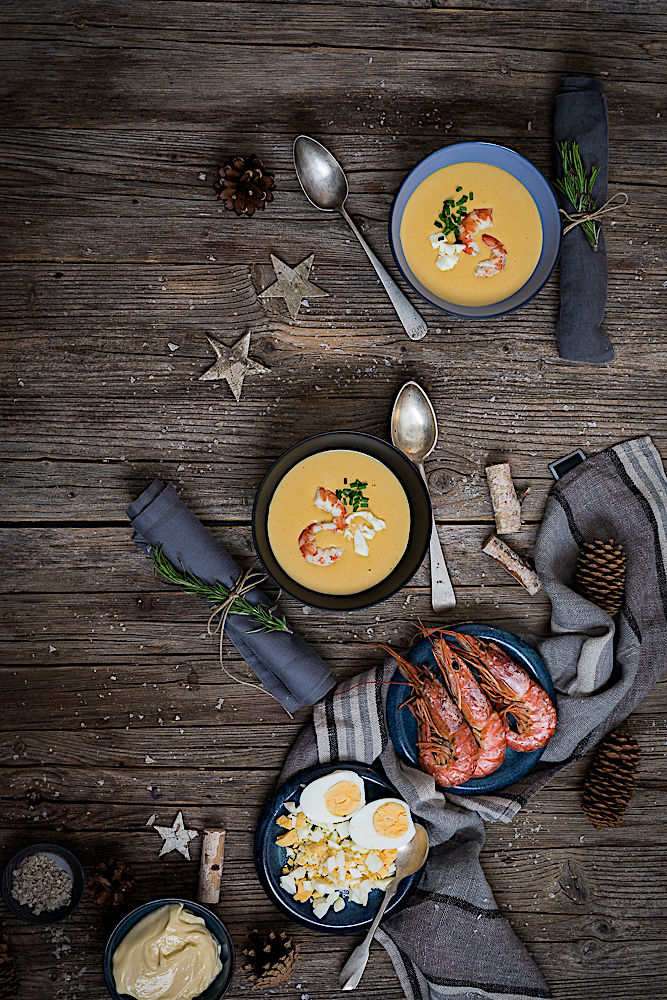 Ingredients
500 g of potatoes
2 carrots
1/2 onion
1/2 teaspoon salt
300 ml water
For the mayonnaise
1 egg
150 ml extra virgin olive oil
150 ml sunflower oil
salt
For the garnish
6 large shrimp
2 hard boiled eggs
Directions
In our Cook Expert, put carrots, onion, water, potatoes and salt in the saucepan. We program the function creamy soup (it takes a total of 30 minutes) that it will first Cook vegetables in induction and then once they are tender, grind them, before starting the program, place the steamer basket and put all the shrimp in it. Close and she alone does everything with this program!
If you don't have Cook Expert, just for all the ingredients in a saucepan and cook the vegetable until well soft. You can also use it if you have an express pot. In this case, cook the prawns in a saucepan and plenty of boiling water for a few minutes until they change color and float slightly.
Once we have the soft vegetables, we crush it until we get a very fine cream. Once we have the crushed cream, we overturn it over a saucepan.
While making the cream we prepare our mahonesa with the help of a hand blender. In a glass we put an egg and a little oil. Gradually add the rest of the oil until a creamy, thick mayonnaise is achieved.
We can also prepare it earlier with the help of our Cook Expert with the butterfly on and emulsifying the oil with the egg until we get a creamy, thick mayonnaise.
When is the cream ready remove the prawns and peel them. Book.
Slowly mix the mayonnaise with the cream, adding one tablespoon each time and mixing with rods by hand so that you do not cut.
Serve the potato cream with mayonnaise with the chopped hard-boiled eggs and chopped shrimp. Merry Christmas love!
Tips and Tricks
Add some fished Serrano ham to potato and mayonnaise cream as an accompaniment
If you do the mahonesa with water and oil you will have a 100% vegetarian version
Difficulty: easy
Preparation time: 35 minutes
Servings: 5