These are best patatas bravas I have ever tasted in my life and always a guaranteed success. We make them at home following this recipe that my husband decided to make a day having cravings for spicy potatoes and I was busy on other tasks.
Had been eating a few days before in Drift, Carlos Caballero in Malaga restaurant (and I love), and among other delicious things, ask the potatoes bravas. And is that there are dishes that I always ask when I go to a restaurant because I say a lot of the kitchen: croquettes, potato salad and patatas bravas. Of this mode, testing those dishes, can make me to the idea of how is kitchen, but them ask mostly because I become crazy.
And I have that tell you that the potatoes bravas of Carlos I loved. Also have two sauces, a below the potatoes spicy and another over creamy and soft. I was also reminded of patatas bravas of whip that I love and after giving a few turns we decided to do our version of best patatas bravas, mixing what had most liked each.
Juanje began by make a sauce of tomato thick, of much chup chup in a frying pan large where put to fry slowly tomatoes, a bit of pepper green and onions. Then, with a little of this and a little of that, it came to a spectacular sauce. But I have to warn you that it takes its time, although there are trick and you can pick up an express version of best patatas bravas that won't let you down. Go with the recipe that already I'm salivating!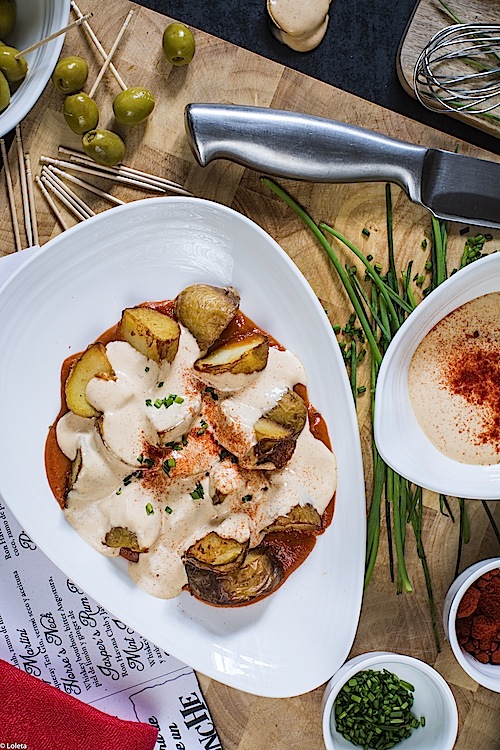 Ingredients
1.5 kg of potatoes - if they are small and it is important that all are the same size so they cook evenly. -1,70 €
300 ml Virgin olive oil for frying €0.95
Salt €0.01
For the tomato sauce
3 cloves of garlic €0.25
2 onions €0.40
700 g of homemade tomato sauce (also voucher which you buy in the super type home fried in olive oil) €2.06
2 red chilli €0.45
1 tablespoon of oregano dry €0.10
2 Bay leaves €0.04
1/2 teaspoon cumin powder €0,05
1 teaspoon of paprika spicy 0.08 €
50 ml of white wine vinegar €0.02
1 teaspoon sauce sambal oelek (chilli sauce) €0,20
1 nora 0,10 €
3 tablespoons extra virgin olive oil €0.15
For the mayonnaise
400 ml of oil from sunflower 0,48 €
100 ml of oil of oliva virgen extra 0.35 €
1 egg €0,13
Salt €0.01
(40 ml of sauce Kimchee-because pica much can add more or less depending on your taste) 0.47 €
1 / 2 teaspoon of paprika sweet 0.04 €
a few sprigs of chives chopped 0,20 €
a bit of paprika for garnish 0.02 €
Total €8.26 posed among the 15 caps you'll have these delicious potato, €0.55 pot lid that you know a little and you'll end up taking a whole serving. Now you see!
Directions
1. first, put the potatoes in a pan, add a handful of salt and cover with water. Let Cook until they are tender (if in pressure cooker pressure 2-5 minute, and if in pan 20 minutes)
2. Meanwhile, finely chop the onion and peel and chop the garlic. Book.
3. in a saucepan or large skillet with oil, fry the garlic, fresh chilli and onion over medium-low heat until the onion is golden.
4. then, add the paprika and the nora and give a few turns. Then add the tomato sauce, vinegar and sambal oelek along with spices and oregano and let simmering soft for about 30 minutes until the tomato is well thick. A time the sauce is list, retired of the fire and with help of a robot of kitchen or blender, grind to get a sauce fine. Book & salt to taste
5. in a tall glass, and using a hand mixer, we make the mayonnaise with egg, adding the oil slowly until you obtain a thick and hard mayonnaise. Add the paprika and the sauce kimchee and mix well by hand. Book.
6. when the potatoes are ready, strain them. We open the potato into two halves. Each half in two pieces and these in others two. in this way the pieces fry at the same time equally.
7 well heat the oil and fry the potatoes until they are a uniform golden color and crisp on the outside. Put on a paper absorbent to remove the excess of oil.
8. on a plate, place a few tablespoons of spicy tomato sauce. Put potato chips on it and end up napando with the mayonnaise of kimchee. Finish with a little chopped chives and a little paprika sprinkled on top and here you have best patatas bravas. Haven't tried anything like!
Tips and Tricks
For a quick version and light best patatas bravas, buy fresh potatoes ready to microwave. There are some bags that come with raw potatoes unpeeled and ready in 3 minutes. Then pass them by a pan with very little oil for Browning the
I use the tomato sauce home type of supermarket. It sold in boat of glass and me saving have to fry the tomato in House that always takes much time
Difficulty: easy
Preparation time: 30 minutes
Servings: 15 caps well served