Today I bring potato chips accordion. Last week caused a sensation mandolin used for them. At home we use not only for these potatoes, and especially for salads, or as my son, picnic a few carrots.
And this is how I showed you in stories and how the uproar was formed. So by popular acclamation, today we have new video-receta with them. I tried them in London, on my last visit to the city, driving by the area of Portobello Road, almost reaching Westway when we stopped at a street food stall. Some Romanians (asked their nationality), were selling a few precious, cut fries as I had not seen before. They are frying the potatoes after cutting with a mandolin, and served them with spices. I loved the potato and of course the mandolin, so I asked them where I could buy one, and it turned out that the girl's side had them bingo! I got it and I got super happy home.
There are a few chips that are very crisp and today we will be accompanied by two of my favorite recipes.
The first is a Honey Mustard or sweet mustard sauce. Super easy and so it always use ready-made pot mayonnaise because it holds much better and is much more comfortable. The second is a traditional sauce that I love to use in my dishes of grilled vegetables or roasted. A homemade romesco sauce that goes well with these potatoes.
Can of course use the sauce that you like, or simply sprinkle with paprika, freshly ground pepper and salt, also my sauce of brava potatoes that it is phenomenal. I hope you like them. Let's go for these accordion potatoes!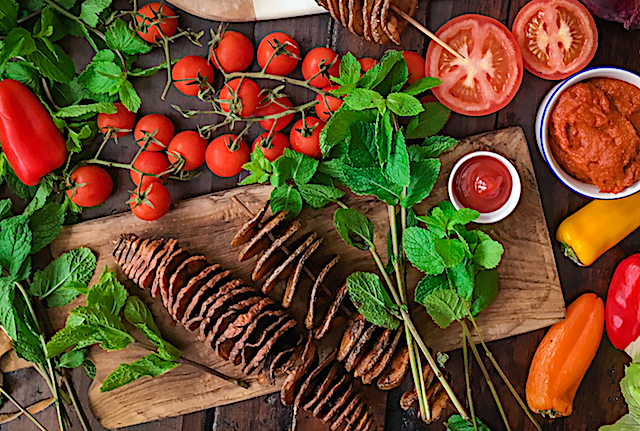 Ingredients
2 blue or purple potatoes
2 new potatoes
2 sweet potatoes
1 litre of mild olive oil
For the sweet mustard sauce
2 tablespoons of prepared mayonnaise
1 tablespoon of mustard or Dijon
2 tablespoons honey
For the romesco sauce
50 g almonds
350 g of homemade tomato sauce
1 slice of bread
2 cloves of garlic
120 ml of extra virgin olive oil
Directions
Wash potatoes and sweet potatoes and with help of the mandoline to cut them. Insert the skewers sticks in the Center and open the accordion of potato. Book.
In a bowl mix all the ingredients for the sweet mustard sauce. reserve in the fridge
In a frying pan without any oil, Brown the almonds. book.
In the same pan, in a bit of olive oil fry the garlic and bread until well browned.
In a bowl with the help of a food processor or hand blender, blend almonds, bread, tomato and garlic sauce. When crushed, add the remaining olive oil and emulsify until obtaining a fine and soft without chunks of almond sauce. Salt to taste if necessary. Book
In a large skillet, bring abundant olive oil to heat. When the oil is very hot, put a potato and carefully go spinning so it is golden and crispy. If you are not crisp, soon it will be soft and without body.
Place on a paper towel and serve accompanied by the two sauce, tomatoes, or little onion and a little chile pepper.
Tips and Tricks
Use mandoline to cut carrots and Zucchini salad
Cover the chips with a mixture of your favorite spices for a version without sauce curry powder, chili powder, cumin...
Preparation time: 15 minutes
Difficulty: easy
Servings: 6