These potatoes stuffed with prawns with tuna opened the recipes for this Christmas season. They are very easy to prepare but are especially delicious.
They carry a filler that it serves you for filling potatoes than any other vegetables such as aubergines or courgettes, but potatoes are perfect. With this recets, I present the first of the two that I have prepared for the fish Cookbook Pereira and Conservas Portomar.
It's a recipe book in which we have participated Tere the Maria kitchenettes, Isabel de Frabisa and Raul Raul cuisine on the beach with rich recipes for everyone all prepared with fish freezer and fish conserrvas.
This today is the first of the two that I have prepared and I hope you both like to prepare them this holiday season. It's potatoes stuffed with prawns and a béchamel sauce covers. They are creamy with a rich taste of sea and filling can freeze before filling the potatoes. A recipe that I hope will accompany your table. Let's get them!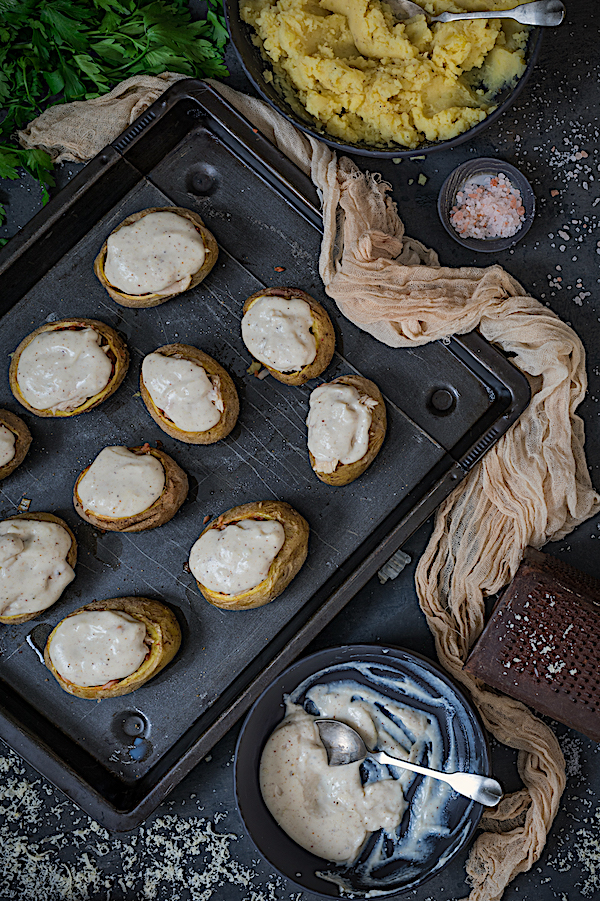 Ingredients
6 medium potatoes
3 tablespoons butter
1 leek
2 cloves of garlic
300 g of frozen southern shrimp Pereira
1 can of tuna in oil of olive Portomar
1 splash of brandy or cognac
Half teaspoon Tabasco
300 ml of broth to cook the prawns
60 g flour
500 ml milk
1 teaspoon nutmeg
Salt and pepper
1 bunch of fresh parsley
Directions
Defrost the prawns.
Make a cut on the top side of each potato. With the help of a spoon, drain the potatoes. Rinse well. Place in a baking tray. Season with salt and pepper and drizzle with a little olive oil extra.
Bake at 180 degrees for 20 minutes until the potatoes are tender to Pierce them with the tip of a knife.
Peel the prawns. Put all the shells in a pan with half a liter of water. Bring to a boil. Book.
In a saucepan, Cook pieces of potato in the broth of having cooked prawns. When the potato is tender, add half a tablespoon of butter and salt to taste. Book
Chop by separate most thinly garlic and Leek. Book
In a saucepan, put a tablespoon of butter. Brown the garlic. Add the leeks and sauté over low heat.
When the leeks are tender, then add the prawns and a few turns. Add salt and pepper. Add the tabasco and brandy and bring a boil. When the alcohol has evaporated, remove from heat and set aside in a bowl.
In the same Pan put to heat the rest of the butter. Add flour and brown slightly non-stop moving.
Start adding the hot milk slowly making sure there are no lumps. To do this move with the help of a few rods. Add the nutmeg and cook gently for 15-20 minutes. Salt and pepper to taste.
Mix 4 tablespoons of mashed potatoes 4 tablespoons of bechamel.
When the potatoes are tender put on the bottom a tablespoon of the potato and bechamel mixture. Put a tablespoon of the prawn mince on top. Finish with another tablespoon of bechamel and ventress over it.
Sprinkle with the grated cheese and au gratin in the oven for a few minutes until they are well browned.
Serve with a little parsley chopped on top.
We can join with the rest of the hot bechamel.
Tips and Tricks
Try to fill a few Zucchini instead of potatoes
Preparation time: 50 minutes
Difficulty: easy
Racion:6