"All humans are made of the same clay, but not from the same mould"
The past 24 Saturday was a great day: I continue with my courses of Indian and Vietnamese cuisine in Inossidable, I had my first cakes workshop in Cuco Eventswhich fortunately it was great, and opened in Malaga, one of my favorite stores.
When you live out your town a season, and at the end of the time you come back, you realize the things that become part of your routine, not value, to which you've become accustomed and that suddenly no longer have because you have moved you, and in the other city there. I could list lots of things that I miss, starting with each of my friends, but I also Miss less stores he frequented certain routine. Power, one of them is undoubtedly Taste of America. An American supermarket where I can find an endless number of fads and products coming from the other side of the pond. Well, in fact, missed it, because no longer.
On 24 November we were in luck in Malaga: Taste of America opened its first branch in Andalusia, in the comedies street number 11, so that we have easier to be able to buy my whims: from kitchen utensils, to the most original of American cuisine and authentic products. For me, another must on the list of shopping centre, together with the Central Market, Inossidable, the Temple of wine, The beekeeper, etc.
What where is...? Look at the map:

See location of Taste of America's largest
Those who know it already know their benefits, and those who do not, do not hesitate to do so. So the same Saturday afternoon I rushed to visit the store, crowded of people browsing and buying everything a bit. I went to my delicious nachos (once you try them, others already do not mean anything...), the cereals My son's favorite (have all American cereals that you may know) and paste in sandwich making tasty Big Mac all patties that you put it (seriously, you can imagine how knows).
They have a very large variety of sauces for meat, barbecues and salads (the sauce Cajun Paul Newman, it becomes a sad chicken breast in a ten, and vinaigrette of figs for what count...) and many spices so that not there will be to go to the outskirts to be able to cook good Indian, Chinese or Mexican food.
Another thing you'll find incredible is the well loved by my natural vanilla extract. They also have a very wide selection of fondants, frostings and prepared for muffins and cakes, and if you like really pastries, there also can take with molds Nordic Warethe best for baking cakes, especially the Bundt.
Chocolate bars and marshmallows,... as well as all the artillery of American junk food make up much of the rest of the products, but what I most enjoy is the bagels as crazy me again. Weekend is a pleasure to taste one of these warm muffins: onion, cinnamon, Sesame, or nothing, simply bread. You can add it: philadelphia cheese and salmon, butter and marmalade, cream of cocoa or even cream of peanuts which also have.
Americans who live in the area and the coast are in luck because they will no longer have so much homesick, and who are here, also what we are because we can continue enjoying these pleasures, that not to be small, are less pleasures. In the times that run we need to learn to be happy with the simple things, and small, and with these Caprices I it infinitely. Take a ride, snoops and pica. You will not regret
De cocina americana a recetas de Thanksgiving o Christmas. Are you ready to cook?... Think of these simple recipes for the special days of festivities that lie ahead

Level of difficulty: easy
Preparation time: 60 minutes
Servings: 12
This dish can be prepared in advance, since before baking and paint the pastry with egg, you can freeze wrapped in plastic wrap. In this case, when we go to use it out of the freezer, is painted with egg and bake at 175 degrees about 35 minutes.
Ingredients
2 apples, peeled and cut into small cubes €0.35
1 tablespoon butter €0.15
200 gr sugar €0,26
a pinch of cardamom powder €0.10
1 round Brie cheese €1,05
1 sheet of puff pastry (to my you know I like Lidl) €1.10
1 beaten egg €0.12
a little cinnamon €0.08
1 tablespoon water €0.01
1 packet of biscuits for cheese crackers €1.49
Total €4,71 between 12 people out at €0.39 per person. It's less impossible!
Equipment
Oven
Brush, knives, pans, bowls, etc.
Directions
1. in a skillet over medium heat, melt the butter. Add apples cut in small cubes and saute, moving from time to time until the apples are tender and have released all the juice (about 5-7 minutes). Add cardamom and move until own sugar is dissolved and almost all of the juice has evaporated (about 12 minutes).
2 remove from heat and let the apples is atemperen.
3 preheat the oven to 170 º.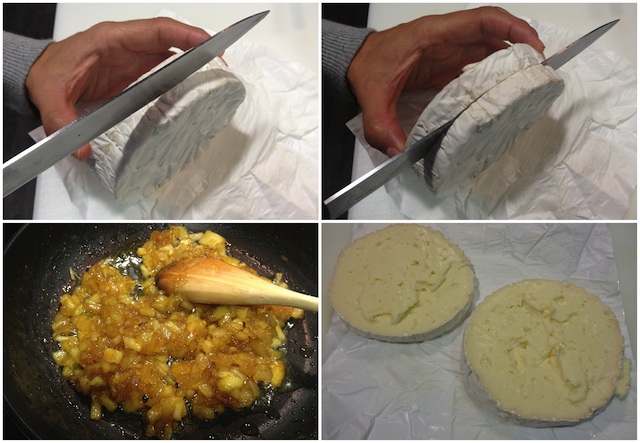 4. with a sharp knife cut the brie horizontally in half.
5 cut the puff pastry sheet in half also.
6. place on each half of the puff pastry, one half of brie cheese. Spread the applesauce among the two halves of cheese.
7. cut the puff pastry rounded shape so that a circle is as large as possible. Close the puff pastry on the cheese so that is a hole in the center that applesauce is visible.
8 paint the pastry with beaten egg.
9 move to a tray of oven and bake at 175 degrees for about 35 minutes until the pastry is golden and crisp. Let stand a few minutes before serving.
10 serve with crackers of cheese crackers.
Potato crisp (Crispy Smashed Potatoes Rosated)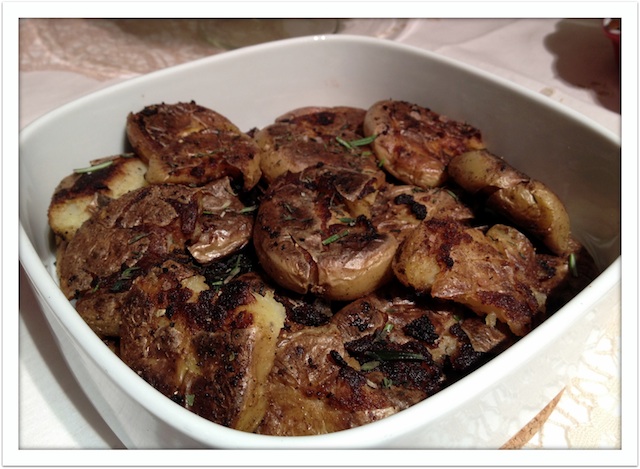 Potatoes are another lining that can not miss at any Thanksgiving dinner and why not?, not at Christmas. There are thousand ways to prepare them, and all are delicious with Turkey and sauces. Simple mashed potatoes is delicious, but I wanted to surprise my guests, and I got it. The potatoes were a success, they do not have to have the seal of dish cheap, and all came to an end. Delicious, light and original.

Difficulty level: intermediate
Preparation time: 60 minutes
Servings: 12
Ingredients
1 kilo of potatoes small €1.70
1 tablespoon of fresh thyme chopped €0.15
1 tablespoon fresh rosemary chopped €0.15
2 sprigs of fresh rosemary €0.15
a handful of coarse salt €0.05
a handful of normal salt €0.10
Half a glass of olive oil €0.60
125 g butter €0.48
a little black pepper freshly ground €0.05
1 tablespoon fresh parsley chopped €0.10
Total €3.53 which are €0.29 per person. You have 3 Bes: good, nice and cheap.
Equipment
Oven
Knives, frying pans, skimmers, bowls, etc.
Directions
1. place potatoes in a saucepan with water. Water should cover about four inches above the potatoes. Boil for about 10 minutes until the potatoes are tender. To find out if they are not, after 10 minutes since you have begun to boil over, puncturing a potato to see if it is soft.
2. once potatoes are done, drain them of water.
3 dry thoroughly and with help of a slotted spoon crush them with care until they are a centimeter thick approximately.
4 Preheat oven to 100 °.
5. in a large skillet, heat the olive oil with the Rosemary sprigs fire until Rosemary begins to Brown (about two minutes). Move the oil to a bowl and reserve.
6. in the same pan and in batches, Brown the potatoes to high temperature. To do this we will add a tablespoon of oil and other butter. On the one hand we Brown the potatoes until well toasted and crunchy. Brown on the other side.
7. once well toasted, to move to a grid to drain any excess oil.
8 repeat steps 6 and 7 until all the potatoes Brown.
9 pass the potatoes to a baking dish and season with coarse salt and freshly ground black pepper. and heat in you oven until they are going to take them.
10. when present them, pass them on to a source and sprinkle the Rosemary, thyme and parsley chopped on top.
Watch out!, take note of the trick, you can prepare them in the morning and heat them in the oven (160 degrees) before serving.
They are delicious and crunchy and will never do enough because they will end up safe!.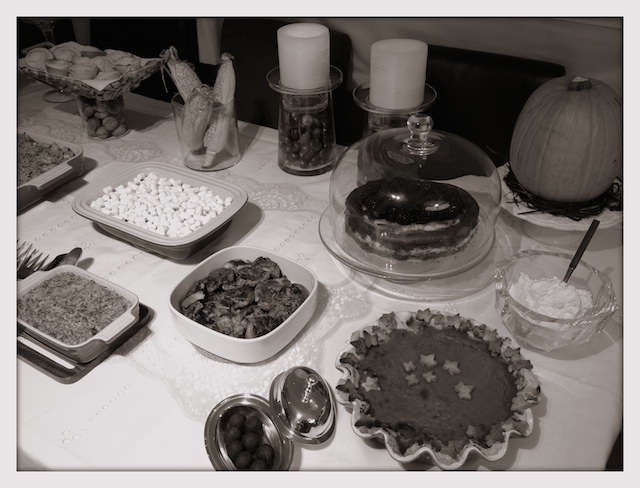 – You can follow the day-to-day of the blog on social networks: Facebook, Twitter, Pinterest, Flickr or Instagram
-Also you can subscribe to receive updates in your email HERE.
Below is the new Christmas cooking workshop: Gourmet Christmas We will make Saturday 15 December morning in Cuco Events. Five recipes special surprise this holiday season looming us. Do not miss it.
I also leave you the report here of the Asian Cooking Classes in Inossidable; and the photos of the Loleta Tarts Workshop in Cuco Events, if you want to see how we made the cakes so wonderful that you put on the album Sweet Dreams. Thank you for everything!