This cream of curried carrots and crispy bacon is one of those creams when do it already you can not stop repeating it.
It's funny how each much have eaten when it is small. In my house my mother passed it fatal to us eating vegetables, so when I had to Javi I had it clear: fight by to eat them but would invent to not suffer. And so it has been all these years. Developing with thousand and one hidden vegetables tomato sauces, by thousand vegetables besides l tomato gazpachos and creating new vegetable creams.
Javi is a child who has grown up with food and international cuisine: the spicy and acidic flavors to your taste buds so familiar as the op omelette are lentils.
That's easy ta turn a boring dish into all a palette of flavors with spices. Curry is part of our day to day just like the siracha and soy and yuzu. And so I recognize that everything is easier.
and this cream of curried carrots and crispy bacon, it came in the most stupid and when autumn comes and the cold begins to tighten, at home we are very of hot cream for dinner. I usually buy vegetables specifically, but on this occasion I threw what was in the fridge and was a complete success.
Carrots and onions is what I had and what appears to be a priori a bland cream and became a delicious cream that House make me the wave. Magic make curry, cumin, and of course the crispy bacon and coconut accompanying it.
I have left the video on my channel of IGTV split that you can see how I've prepared the crisps and you will see that it is super simple and very effective.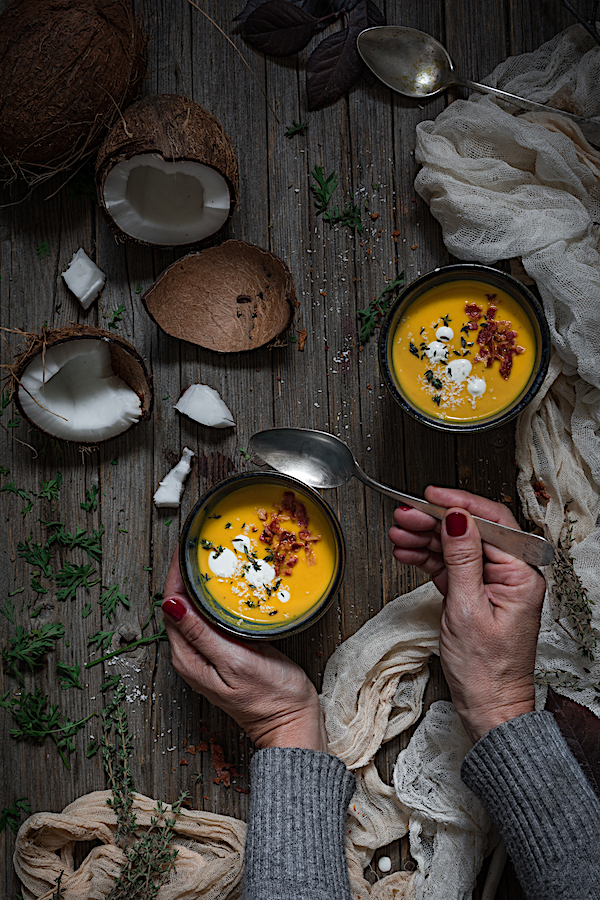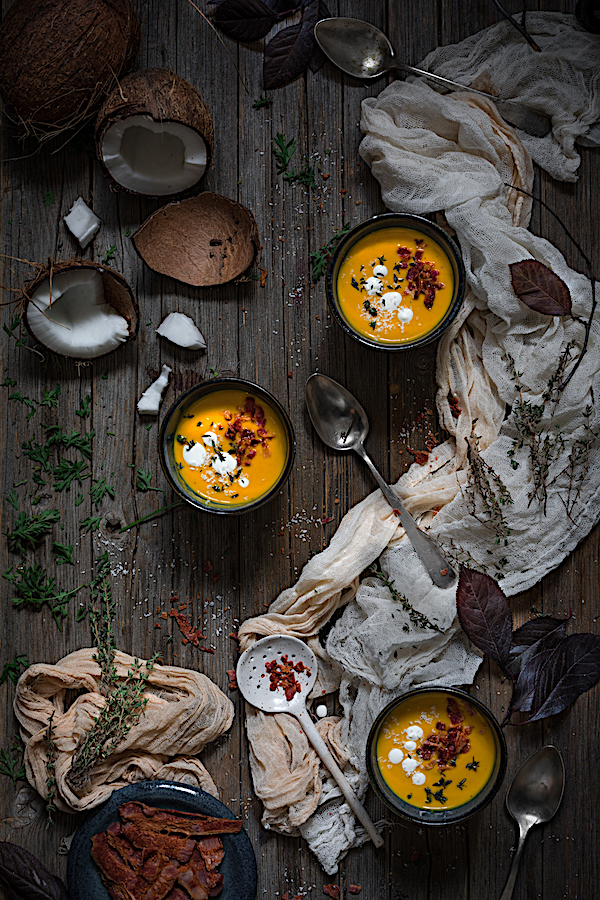 Ingredients
Split cream
600 g of carrots
2 onions
100 ml of olive oil (optional extra if you want to Sauté vegetables before cooking)
1 teaspoon curry
1/4 teaspoon chile powder
1 teaspoon of ground cumin
1 teaspoon salt
1 liter of water or broth
300 g cream cheese low fat
To accompany
200 ml of cream or coconut milk
1 tablespoon of grated coconut
6 slices of smoked bacon
a few sprigs of fresh thyme
Directions
If you have a food processor, put in the saucepan carrots, onion, spices and salt with the oil. Cook a couple of minutops. Add the water and cook for 30 minutes. This past time blend all ingredients.
No food processor: place all the ingredients except the cheese and water in a saucepan and cook over medio-suave heat for a few minutes. Passed this time add the water and let Cook for 30 minutes until the vegetables are tender. Passed this time add a cup more than water (approximately this is the amount of water that will be evaporated). Using a hand blender, blend.
Once you have the cream crushed, add the cream cheese. Blend again and book.
While vegetables Cook to make our carrots with curry cream, we prepare the crispy bacon. They are traditionally dried in the oven but it is hours and microwave's done in two minutes, literally. You just put two slices of bacon between two paper towels.
We put in the micro 1 minute and a half. Remove from the microwave and wait a few seconds to cool it because just off of the microphone are not crispy. They are crunchy losing temperature. If cooled they were not crispy, then takes a few more seconds to dry and become crusty.
Serve carrots with curry cream well hot, with some shredded bacon chips, a bit of coconut milk and a little shredded coconut. Finished with fresh thyme leaves.
Tips and Tricks
You can change the carrots by your favorite vegetable
carrots with curry cream freezes very well
Difficulty: easy
Preparation time: 35 minutes
Servings: 5!