This is the best super easy homemade almond milk recipe with no waste and ready to drink
As I have already mentioned several times, I have a niece who cannot take lactoseso i when she comes home for the day, I have always some vegetable milk.
Her favorite is the macadamia nuts milk, but they are expensive and not easy to find here, so I decided to prepare the same recipe but with almonds.
I know it is easier to buy it already prepared, but this is super easy and really nice. You can do it only with almonds and water, but I prefer to prepare it with spices and some sweetener, so I just chill it and it ia ready to drink.
I have also left you below some other flavored versions that you can easily make. The strawberries one is really yummy and you can also make it with berries, and my niece loves the chocolate version. So I have left you below some other options for you to try if you feel like it.
In addition, in my case, and as you know I don't like to throw away anything in my kitchen, so this recipe of the best homemade almond milk, will be followed next Sunday with a new video recipe in which we will make a no waste almond pulp recipe. So stay tunned!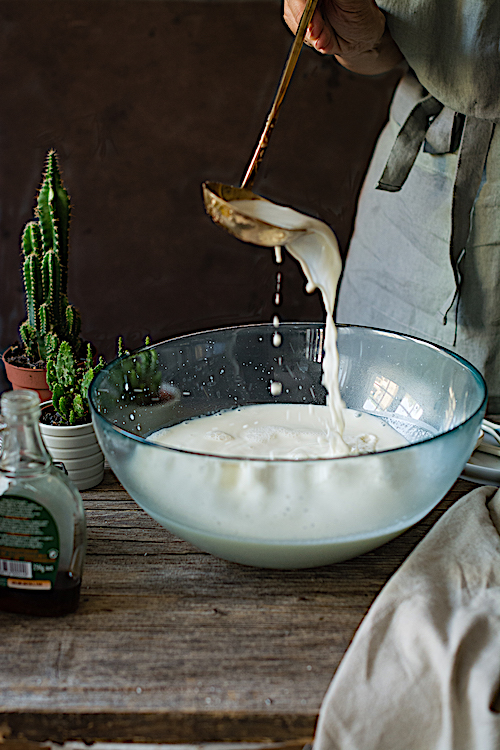 Ingredients
For the sweet milk of almonds
250 g almonds (I bought them peeled, but if you cannot find them you can use them also with skin)
1/2 litre of mineral water to cover
1 liter and a half of mineral water - if you want a texture more creamy adds only 1 liter
a pinch of cardamom powder
1 teaspoon pure vanilla extract
1 pinch salt (only want to add flavor but not salt so only a little bit)
1 teaspoon maple syrup or agave syrup or honey (if you like it sweeter you can add a little more)
For the cocoa version
sweet almond milk
2 tablespoons pure cocoa powder
For the cinnamon version
sweet almond milk
1 teaspoon of cinnamon powder eb
For the strawberries version
sweet almond milk
300 g fresh strawberries
Directions
We put in a bowl to soak almonds overnight. It should well cover the jar or bowl we go to them.
The next morning drain them and rinse them well. We threw that water because it is full of impurities and do not want to use it. We will now put the almonds with a litre and a half of water. With help of a processor of food, grind during one 3-4 minutes to get a cream smooth and fine.
Over a large bowl, place our gauze to milk (you can also use one for cheese but milk are more dense and the milk will be much cleaner). On the mesh, we volcaremos the mixture and with help of hands go rolling gauze and pressing to let out the milk little by little.
Once we have finished, we will keep the pulp of almonds in a pot or glass bottle. We will hold without using it up to 3 days in the fridge, but I use the pull in several recipes. Next week we will have the video recipe of the first, so attentive.
When we list all the milk we can divide and put different flavors. You can join them just before crushing the almonds, but in that case, all the pulp will come out with that flavor (cinnamon, chocolate, strawberry), and I don't always take it to sweet recipes (can do for example a) Genoese pesto almond which is perfect for your salads and pasta dishes), so I prefer to flavor milk once because I crushed it.
Once you have a list of almond milk, add the ingredients of each variant. For example, in the case of Strawberry almond milk, add the strawberries a vex the milk is ready, and trituráis well. You coláis to remove any piece remaining unground and presto! a delicious milk from strawberries to make ice cream, shakes or simply take it as is. Enjoy!
Tips and Tricks
You can follow this same recipe with macadamia nuts. I love its soft taste
Use this milk in your cakes and Cupcakes recipes and you will find one more way to add flavor to your preparations
Difficulty: easy
Preparation time: 10 minutes more soaking almonds overnight
Servings: 1 litre and a half of almond milk